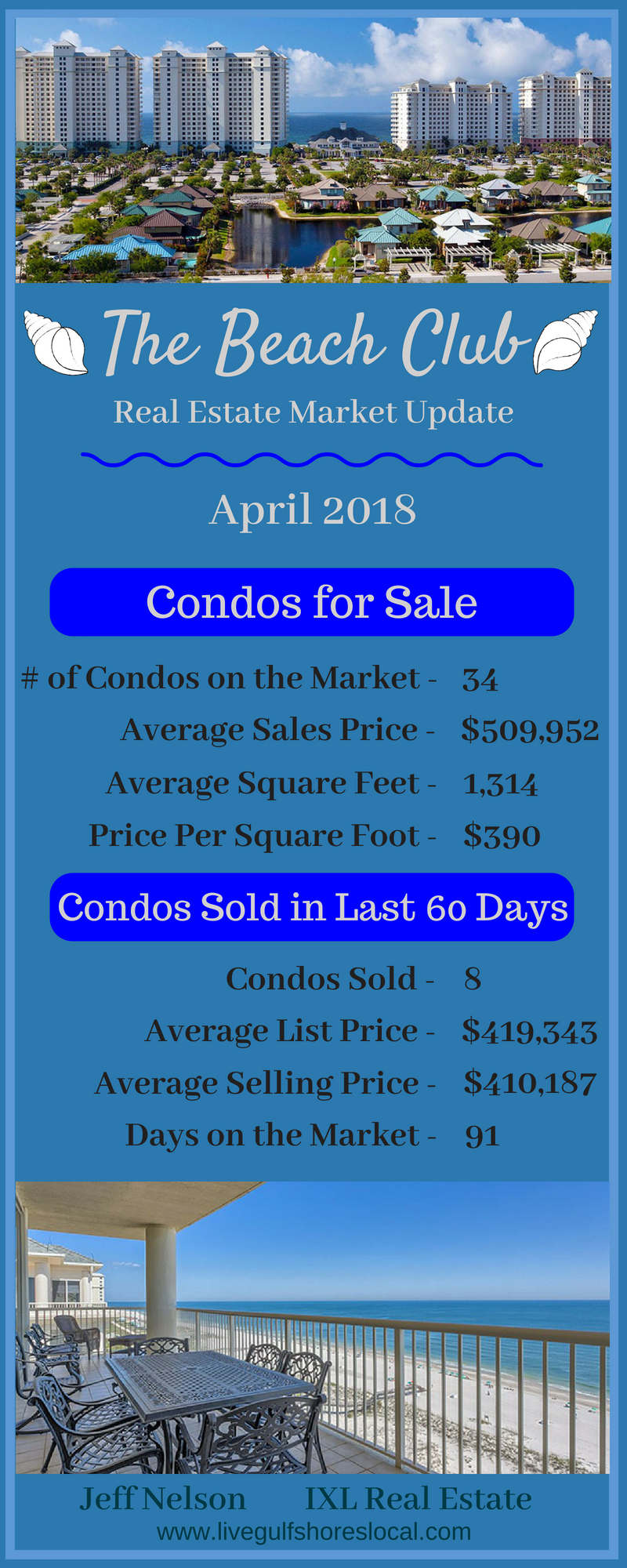 Are you thinking about buying or selling a condo in The Beach Club of Gulf Shores? Here you will find monthly real estate market reports for The Beach Club which include important data that will help you make your decision.
These stats are for the condos that are currently on the market and for those that have sold in the last 60 days.
For Sale
The Beach Club is one of the most popular condo complexes in Gulf Shores for full time residents, second home owners, and investors. The community amenity package is one of the best at the beach and all of the units of the 4 towers have a full southern view of the Gulf of Mexico.
Yes, there are 34 condos for sale here but because The Beach Club is so large that number is appropriate for the amount of the total units.
The highest priced condo is for sale at $1,025,000 with 2,636 square feet and the lowest priced unit is $318,900 with 671 square feet.
For the condos that are on the market, the average price per square foot is $390 and the average Days on the Market is 98.
If you would like more information about any of these condos for sale please give me a ring. You can also visit the primary real estate page, Condos for Sale in The Beach Club, for more information and to see everything that is on the market.
Condos Sold
Over the last couple of months The Beach Club condos has attracted 8 buyers to write an offer and close, spending an average of $410,187.
The highest priced condo that sold was $652,000 and the lowest price was $295,000. The largest condo was 1,929 square feet and the smallest was 671 square feet.
During this time frame, the average price per square foot was $384 and the listing to selling price ratio was 97%. This ratio means that on average, buyers were able to realize a sales price that was 3% lower than the original list price.
If you have a condo in The Beach Club and want to sell, please reach out. I'll run the numbers and show you exactly what I will do to sell your condo.
Call me for any of your real estate needs in lower Alabama.
Jeff Nelson
IXL Real Estate – Eastern Shore
251-654-2523
jeff@livegulfshoreslocal.com