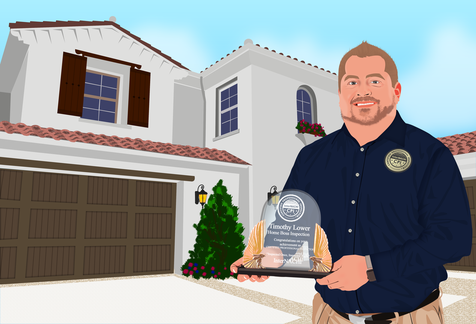 This week's featured business for Baldwin County is Home Boss Inspection headed up by Tim Lower. As a busy Realtor in lower Alabama, I can honestly say that this man is truly looking out for the best interest of the buyer (or the seller - I'll get to that later) when it comes to home inspections.
Tim has been in business for quite awhile and has more certifications than I can count.
Check out his site and credentials here.
As a state-licensed Certified Professional Inspector he will inspect all of the following:
Structural Components
Roof
Attic, Insulation, and Ventilation
The Exterior
Porch and Decks
Garage
Driveway
Foundation
Crawlspace
Plumbing
Electrical
HVAC
Built in Appliances
Ceilings, Floors, and Walls
Windows
Doors
One of the best features that I personally like about Tim and Home Boss is the attention to detail. He brings up issues that are apparent but yet he doesn't bring alarm to problems that aren't "life threatening".
You can't expect a 20 year old home to be brand new. In other words, " you can't make chicken salad out of chicken poop".
For instance, I've worked with inspectors in the past who said that there was a major electrical issue when the ultimate remedy was to change the light bulb. Seriously!
There is no need to alarm buyers over simple issues and Tim understands that. He will however highlight everything that is wrong with the property but he's not so dramatic when it comes to problems that aren't a safety hazard.
I've written numerous articles about buying homes in the Baldwin County and I've never NOT recommended getting a home inspection, whether the property is 50 years old or brand new. Tim recently inspected a new construction home for my client and found issues that their superintendent missed. That's why you need a home inspection!
Another consideration is for sellers. Are you thinking about selling your home? Consider a Pre-Listing Home Inspection. This will give you peace of mind and time to fix problems well in advance of listing your home to sell. I strong recommend doing this.
Tim is easy to get along with, down to earth, and knows what he's doing. If you are buying or selling a home in Baldwin County please contact him for all of your inspection needs for homes or condos.
He's at the top of my list for home inspectors for all of my clients.
Home Boss Inspection
Tim Lower
251-230-9595
Website
As always, if you are thinking about buying or selling a home/condo in Spanish Fort, Daphne, Fairhope, Foley, Gulf Shores, or Orange Beach - please contact me.
Jeff Nelson
IXL Real Estate – Eastern Shore
251-654-2523
jeff@livegulfshoreslocal.com