How to Sell Your Gulf Shores Condo Fast
With an average of over 50 condos in Gulf Shores selling every month, there is no shortage of buyers, however, right now there are nearly 350 condos for sale.
So, how do you reduce the time on the market and make your condo stand out?
There is a reason why some Gulf Shores condos sell quickly and why others linger on the market for months. Well, there are several reasons.....
Work with a Seasoned Realtor
I've been selling homes and condos for over 13 years and have hundreds of closings under my belt. Every time that I walk into a new listing appointment I have one question on my mind...."What needs to happen for this condo to sell quickly?"
Although of course I want you to like me as person and that's important but I'm not the flashy, "look at me" type of Realtor. I'm very analytical when it comes to selling homes. After working with hundreds of buyers and sellers, I know that there is a science and an art to selling condos. You have to go with history (past sales, current condos on the market, condos that have expired, etc) and you need to understand what appeals to most buyers. I can provide that for you.
There is so much more than just putting your listing on the MLS and praying that it sells!
Pricing is the Major Key
There's an old saying that says every property will sell for the right price but I'm not talking about under pricing your condo. Pricing it correctly from Day 1 will put you in position to win. You have to remember that buyers are more savvy these days and they know when a condo is overpriced. On top of that, a "buyer's agent" who is worth their weight will do their own research to see how your condo is priced.
Having a clear understanding of the current real estate market is the key to selling faster than your competition (other similar condos on the market). For many years, we have been in a strong and steady market BUT buyers still have the advantage. If you are priced $25,000 more than the unit down the hall, you better have a really good reason for it.
Also, it's not a good strategy to overprice your Gulf Shores condo only to reduce the price multiple times. We can see the history of any property and reducing the price only shows everyone your motivation.
Staging Your Condo to Sell
Let's be real. Whether your condo is purchased to be an investment property, second home, or primary residence, the vast majority of buyers will first see your unit online. They'll make major decisions about their purchase by the pictures they see.
Here is what buyers will be thinking about the condition of your condo.......
Why did they pick that paint color?
Why is there carpet in the bedrooms?
Will I need to change the counter tops?
How many people will I be able to sleep in here?
Those cabinets look old.
The moral of this story is, buyers will be thinking about how much work they will have to do in their new condo after closing. The less work buyers have to do, the faster you will sell your condo.
While I'm not an interior designer, I do have a good grasp on what buyers want to see in a condo from the color scheme to re-arranging furniture to maximize space. I'll help you appeal to the masses for a quicker sale.
Professional Photography
Most of us have looked at properties online and know how irritating it is to see dark and low quality pictures. High quality pictures do make a difference in selling your condo fast or not because buyers are making mental decisions about your condo while searching the web.
With every listing, I hire a professional photographer to take all of the pictures for your property. You can rest assure that your listing will look its best when seen by the most amount of people possible.
I also take it to another level by creating a video talking about your Gulf Shores condo and highlighting all of its features. This video will not only appear on YouTube but will also be featured on my websites which are seen by thousands.
Maximum Real Estate Exposure
For condos we can't put a sign out front like you would see for a single family home so you automatically lose some exposure for your property right off the bat. Most agents will simply just put your listing in the MLS and hope it sells.
About 5 years ago, I decided to build a strong online presence for buyers and sellers. There is a ton of continued work going on behind the scenes but today, this website is one of the largest and most comprehensive real estate websites in the region.
So what does that do for you?
With this site showing up at the top or near the top of major search engines for hundreds of keywords and phrases, your listing will likely be seen by hundreds if not thousands more people.
Also, I go the extra mile by posting your listing in many other venues that most agents don't utilize. The bottom line is, you will sell your condo faster with more people seeing it and all of its features!
Make Your Condo Available to Show
It sounds a little funny to read that if you don't understand the Gulf Shores real estate market. But, as owners know, the majority of condos at the beach are used for investment purposes to capitalize on the multitudes of tourists that come to our area all year long.
It would be a shame for your condo to be priced right and staged right with great pictures, only to have a buyer not be able to see it due to a guest. Owners need to instruct their property management company to inform all guests that the unit is for sale and they may have to accommodate a showing.
The Takeaway
If you're thinking about selling your Gulf Shores condo, there are things you can do to speed up the sale and get to closing faster. I can help you with that but it gets even better! Click on the image below to see exactly what I will do and how much I charge......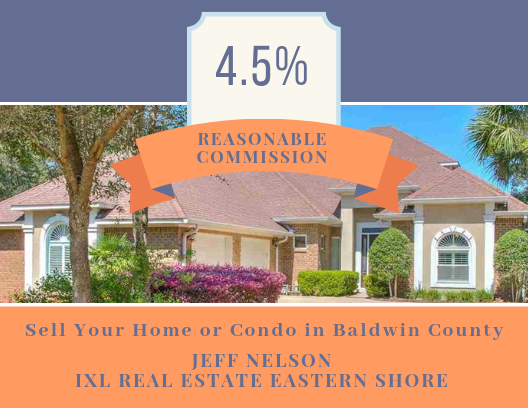 Want to sell your condo? Reach out to me to find out what your property is worth and what I think it would sell for. I'd love to share my experience with you and sell your condo fast!
Jeff Nelson
IXL Real Estate – Eastern Shore
251-654-2523
jeff@livegulfshoreslocal.com