Condo buyers in Gulf Shores have different needs and, as a busy Realtor at the beach, I hear the need for 3 bedroom condos. 2 bedroom condos sell more often which mainly due to the fact that they're less expensive. However, many feel that they can afford to step up to more space so this article is dedicated to.......
3 Bedroom Condos in Gulf Shores
January 2020
Below you'll find units that are on the market right now as well as those sales from the past and how prices compare to each other over the years.
Are you thinking about buying a condo in Gulf Shores? Here are the most up to date stats for 3 bedroom units that are on the market now.....
71 for sale
Highest price - $850,000
Lowest price - $172,000
Average price - $427,305
Largest - 1,988 square feet
Smallest - 987 square feet
Average size - 1,426 square feet
Price per foot - $303
Days on the market - 133
Here are a few communities where you can find these units:
Find all Gulf Shores condos with 3 bedrooms here.
Sold Units Compare to the Past Few Years
First, here's what sold last month......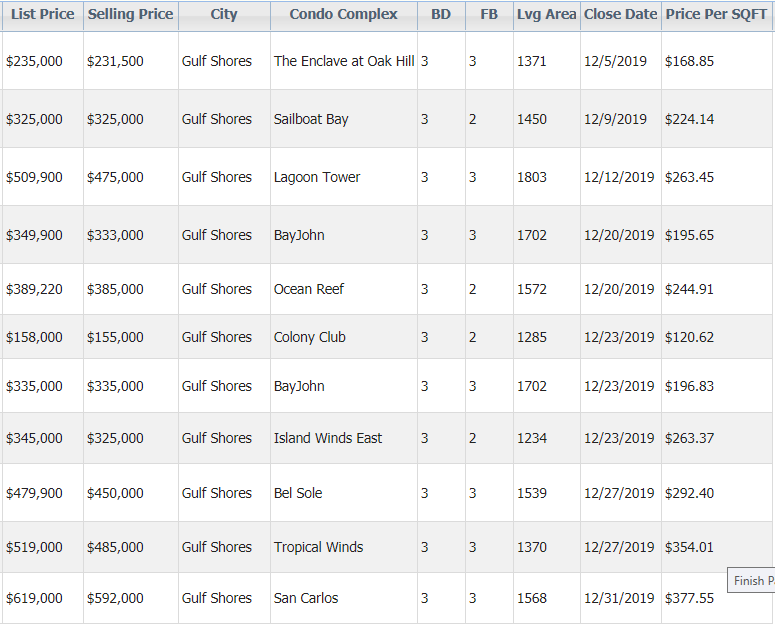 Whether you are buying or selling a condo, having present and past real estate information can keep you from overpaying or sitting on the market (respectively).
Just when you think that the real estate market goes stale during the holidays, we see that 11 people closed on a new property in December. Plus, these are all substantial sized condos! The market here is very strong and the buying trend is steady for full timers, second home buyers, and investors.
7 of the 11 complexes above are located on the beach. I love looking at this data because you can see what is attracting buyers right now.
If you look at the sales of condos over the past 4 years, you see that prices have appreciated a whopping 21%! Where do you think prices will be in the year 2025?
To give you an idea of consistency, 70 3 bedroom condos were sold in the past 5 Decembers. And, of course the numbers are only about to increase as we get into the warmer months.
Do you want to invest here at the beach or have your own second home retreat? Please reach out to me for more information, rental history, or to schedule a private showing for any property.