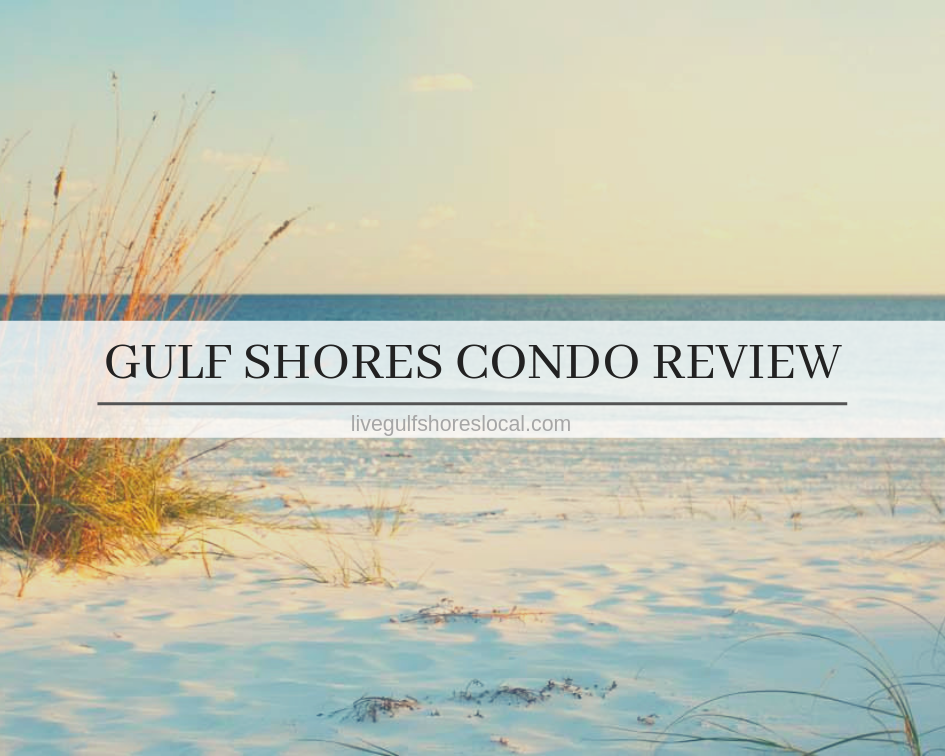 Here you'll find the most complete real estate market update for condo sales in Gulf Shores! As a busy Realtor at the beach, I like to keep my current and future clients up to date with the most useful information possible for buying or selling a beach condo.
If you know the market at all, you're already aware that Gulf Shores is strong with many condos closing every single month, even during this troublesome time with the coronavirus. Condo buyers are continually drawn to the Alabama gulf coast for investment, second home options, and full time residence.
If you're in the market to buy or sell in lower Alabama, please reach out to me.
Gulf Shores Condo Review - April 2020
There were 57 condos sold in Gulf Shores from March 1st through the 31st! Keep in mind that doesn't include other sales at the beach including those in Orange Beach, land, or single family homes. Directly below, you'll see all of the statistics for these units including:
List price
Selling price
Condo community
Unit number
Number of bedrooms
Number of bathrooms
How much square feet
and the closing date
Condos Sold Last Month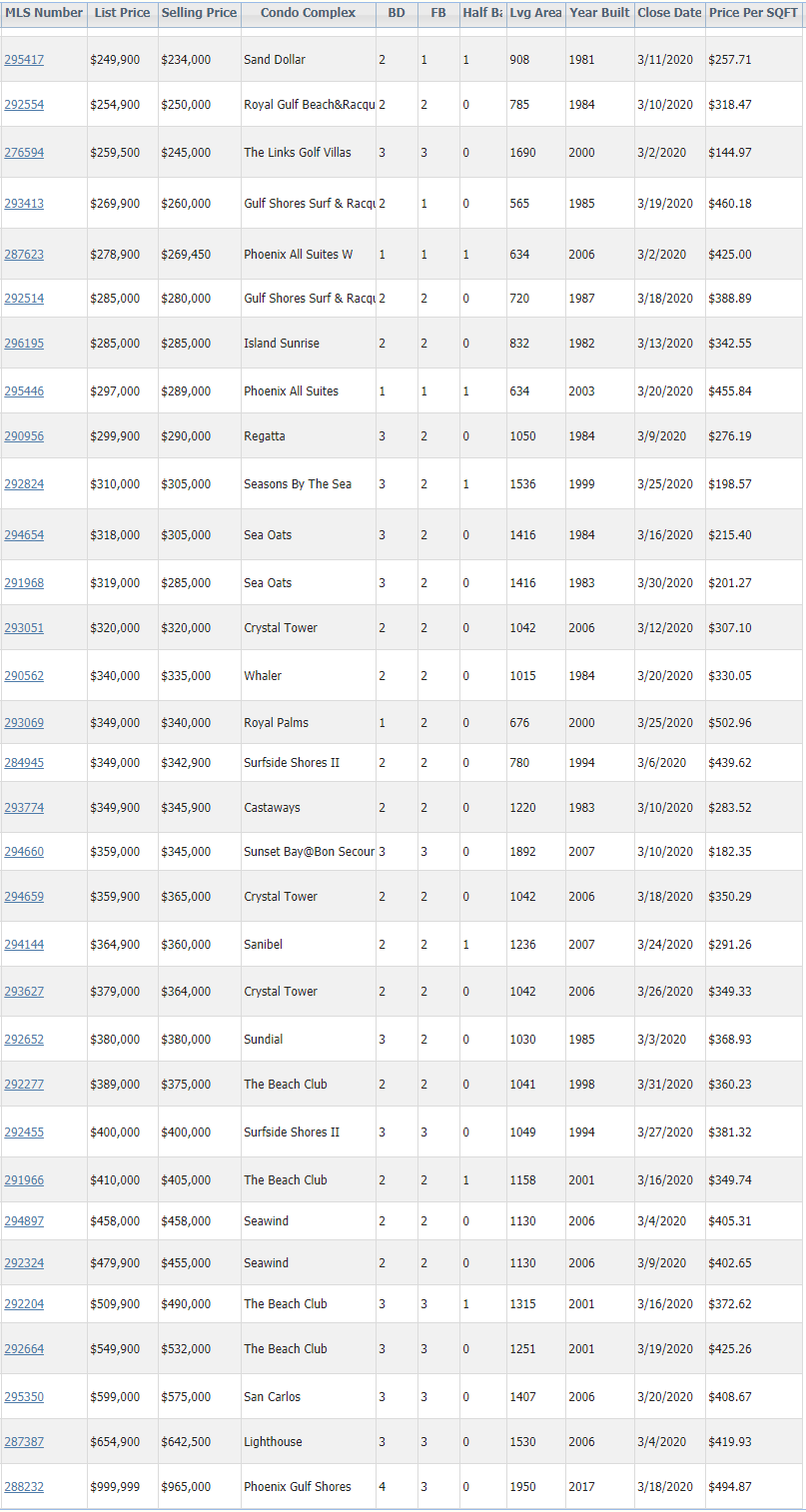 The above information is valuable no matter if you're buying or selling. This lets you see what the pulse of the market looks like for condos in Gulf Shores. While we mainly see more sales at lower price points, this tells us that of the 57 closings 34 of them were under $300,000.
You also get to see the difference between the listing price and the selling price which in this case averages 97%. This means that buyers were able to (on average) get 3% off of the list price and we are still in a slight buyer's market.
Gulf Shores Condo Real Estate Stats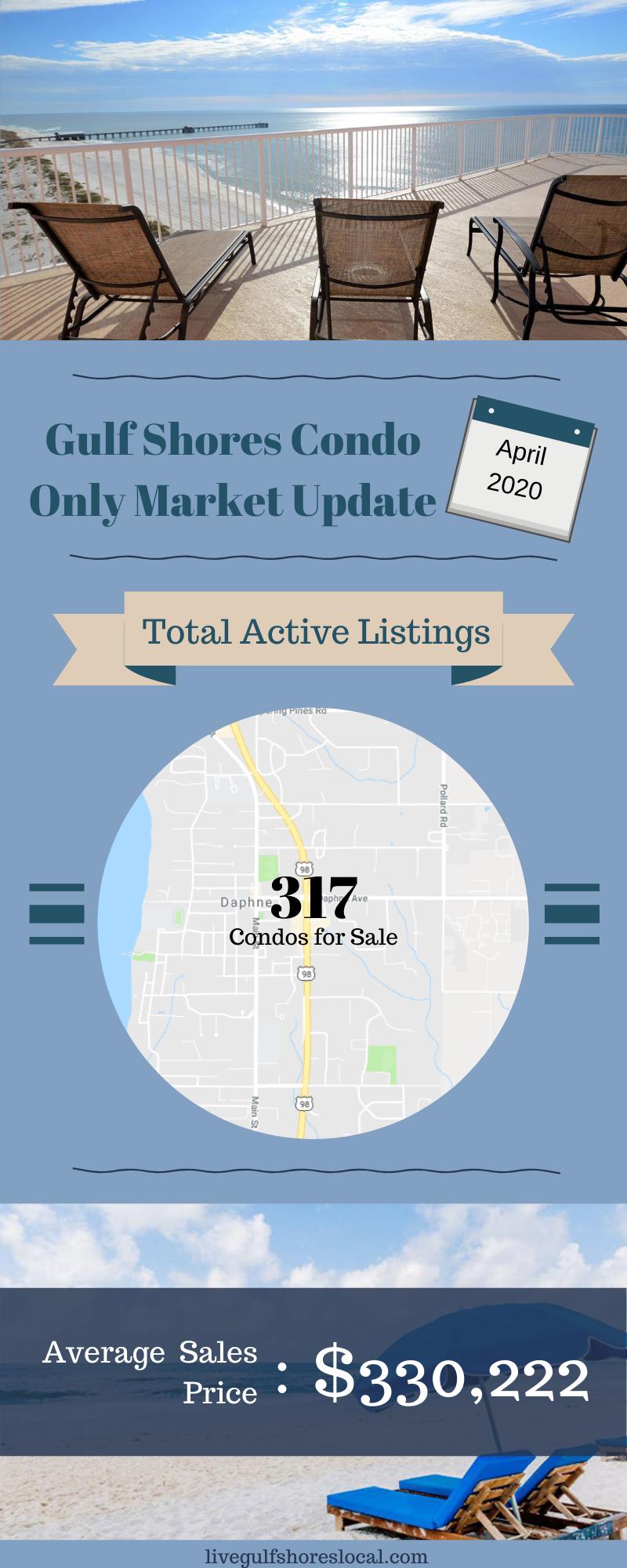 STATISTICS FOR GULF SHORES CONDOS CURRENTLY ON THE MARKET:
317 condos for sale
Highest price – $1,230,000
Lowest price – $99,900
Average price – $330,222
Median price – $279,900
Price per foot – $323
Largest – 5,300 square feet
Smallest – 279 square feet
Average size – 1,068 square feet
Days on the market – 108
I run across condo buyers with various types of needs but for the most part, they want to at least rent out their unit some. We do find buyers who want to purchase a condo to live in full time but I usually find that they want to live "near" the beach but not on it. Whatever the case may be, there are usually many options to choose from (like there is now), in all different price ranges.
If you're looking for an inexpensive unit in the mid $100k's, you could choose a community like Colony Club or The Enclave at Oak Hill. Currently there are 45 units for sale under $200,000!
If you want a condo right on the beach to attract the most tourists, you may consider a complex like Gulf Tower or The Beach Club. Here's everything, in all price ranges….
ALL GULF SHORES CONDOS FOR SALE BY PRICE
$100,000 to $200,000 – $200,000 to $300,000 – $300,000 to $400,000
$400,000 to $500,000 – $500,000 to $600,000 – $600,000 to $1,000,000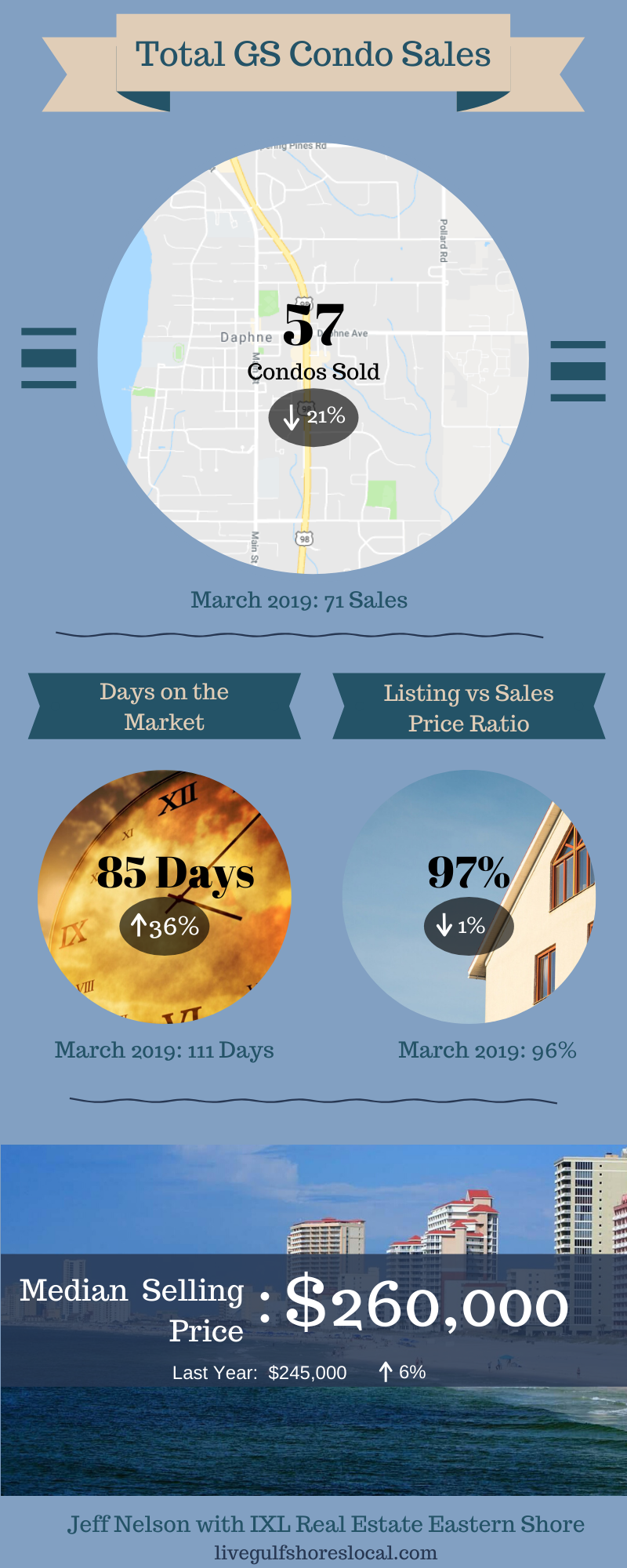 Just when you think sales will slow down during the coronavirus, we find 57 condos selling in March. That's a strong market for an area this size and at this time of year!
HERE ARE THE STATS FOR GULF SHORES CONDOS THAT HAVE SOLD IN MARCH:
57 condos sold
Highest price – $965,000
Lowest price – $118,500
Average price – $294,307
Median price – $260,000
Largest – 1,950 square feet
Smallest – 420 square feet
Average size – 1,060 square feet
Price per foot – $288
Days on the market – 85
Listing to selling price ratio – 97%
If you're a buyer for investment purposes, you have to think like a tourist. Tourist are making their entire decision based on the information they're getting online and how much they can spend. Tourists are wanting to get as close to the beach as possible and have a great view if they can. In this best case scenario, prices will start in the low $300k's. If you're budget doesn't allow for this, there is a market for all price ranges, including condos that sit a few blocks from the beach.
Get with me personally to discuss your needs for an investment purchase.
As I mentioned earlier, the real estate market in Gulf Shores is still slightly favoring the buyer. Buyers should be able to see a final sales price that is anywhere from 2%-5% off the listing price and of course, I'll work hard to negotiate the best deal for you.

Here you'll find a list of most Gulf Shores condos and where they're located…….
Sometimes these dozens of communities run together in your mind so I created this map to help you get your bearings (hopefully). Click on any of the markers to get the name of complex. Play around with this some……You can zoom in and out, share, etc.
YOUR GULF SHORES CONDO SEARCH
My goal is to make this process as easy as I can for you during the process. So, one of the ways I did this was to actually list out just about every condo complex in Gulf Shores. Check out this link…..
Condo Communities – Find links to almost every complex in town with small description, community information, and condos that are for sale.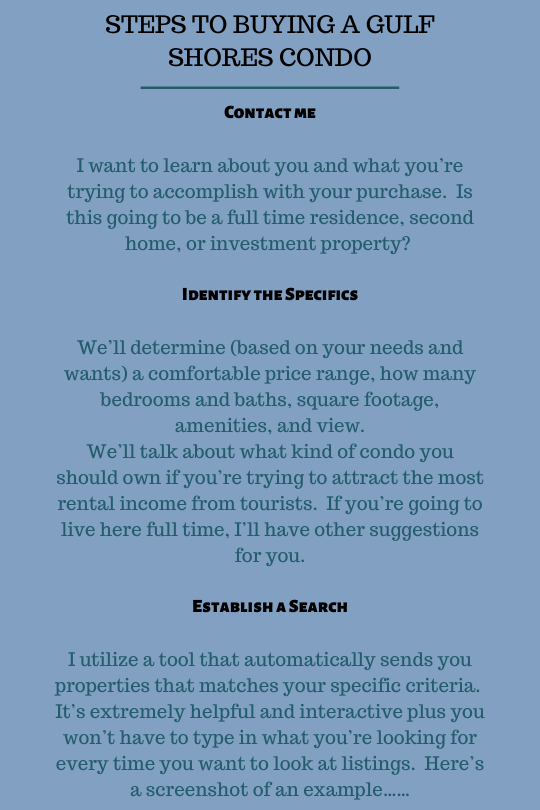 Below is a screenshot of the "Saved Search" Tool that you will have with me for any of your property searches. This tool will help you organize your thoughts and provide additional information for the area.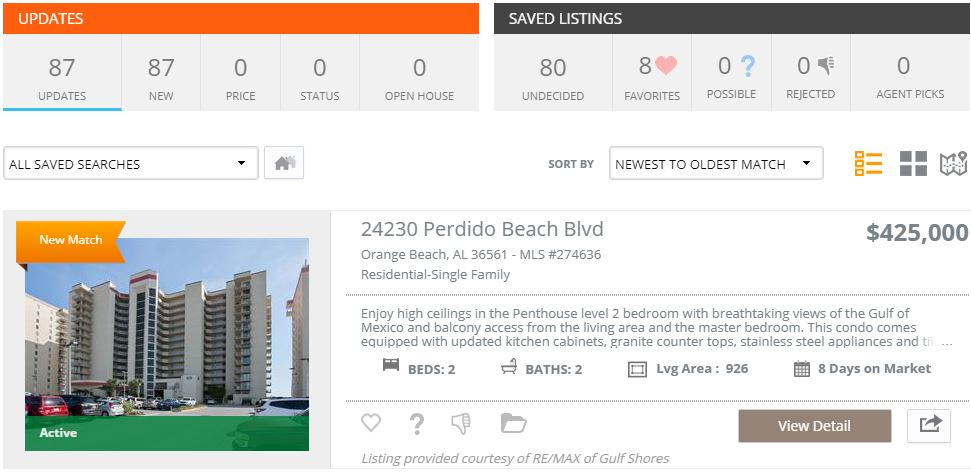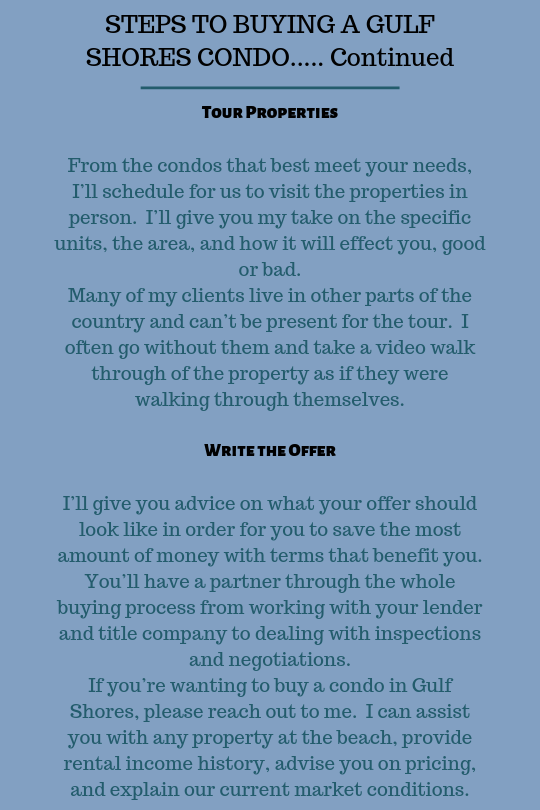 BUYING OR SELLING A CONDO IN GULF SHORES? CALL/TEXT/EMAIL TODAY!
Be sure to check this link out if you want to sell your condo – 4.5% Reasonable Commission.