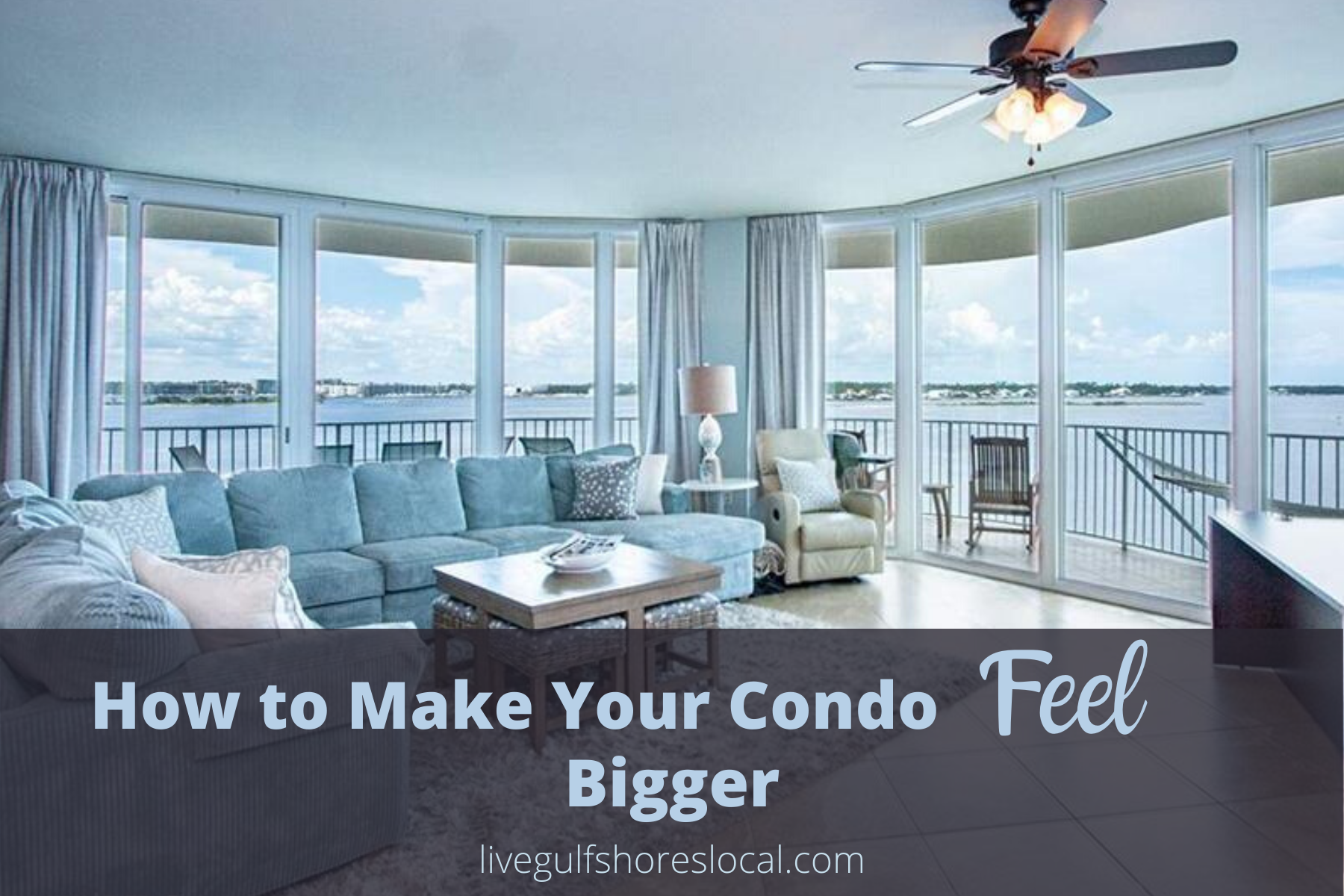 So you want to move to one of the Gulf Coast's luxurious condos, but worried that space will be an issue? You want to settle down and retire on the beach, but your significant other thinks a condo is too small? Well, worry no more! Your questions have been answered! Truth be told, small is actually better! Small spaces are easier to decorate, clean, and easier to organize. There are many things that you can do yourself to save space, and have any space appear bigger so that you can fully enjoy your condo! Or, as I like to put it, your palace by the shore!
The photo above comes from a condo in Caribe of Orange Beach.
Clear the Clutter
Lets, begin with interior decorating. This is going to be the most important thing you will do in order to achieve the feeling of "bigger". Make sure first that you clear the clutter. The more stuff you have in a room the more cramped it's going to feel! So, take those collections, organize them, and put them behind closed doors. With your treasures neatly arranged and out of sight, your space will feel more open.
Think Hard About the Furniture
Secondly, you must open the way. You can do this by simply moving furniture around. You want to keep your furniture out of walkways, by doing this the space will begin to feel larger. Don't have furniture picked out yet? No problem! Try to pick out short furniture such as: ottomans, armless open chairs, or even a low table. Have tall furniture? That's okay too! Try to keep your tall pieces closer to the wall, and out of walkways. Remember the more of the floor you see the bigger it will seem!
Soft Color Tones
Third, pick out some soft light hues. Dark and warm colors are nice, they make you feel cozy and provide the space with an intimate-like-setting, but these types of colors will simply not do when making your condo feel large. Using colors like soft tones of blue and green will make your condo feel open and airy. Almost as if you were on the beach, catching some waves, or getting some sun, but from the comfort of your own living space!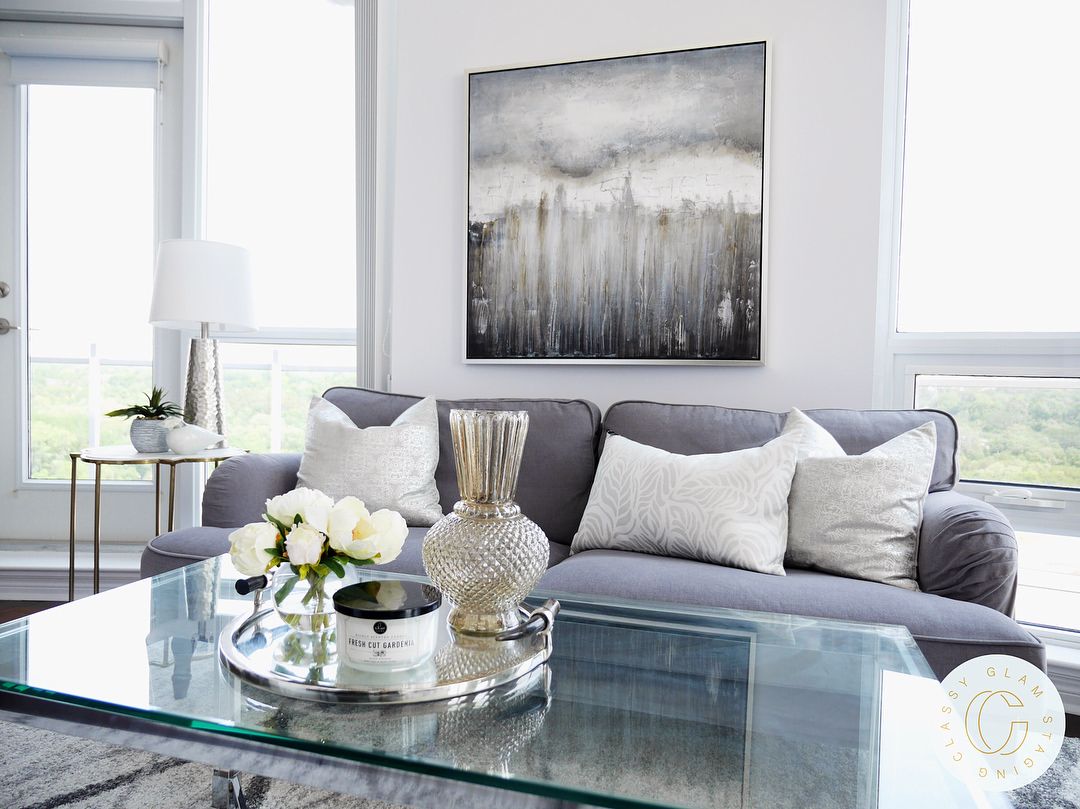 Stay in the Family
Next, use a monochromatic color scheme. To do this you must choose colors in the same family. Preferably keeping the colors soft and light with a hint of a delicate warmness. Also, using tone-on-tone woven upholstery fabric, textured wall finishes, and tonal drapery fabrics this will further aid your condo in achieving an open look.
After picking your monochromatic color scheme you are going to want to coordinate your wall and furniture colors! One of the biggest mistakes a person can make in decorating their small space is using contrasting colors. Though contrasting colors can be pleasing to the eye, the sharp contrasts between colors can break up a space, and make it feel smaller. However, pieces of furniture that match the wall colors are less abrupt, and blend with the space. The blending gives the illusion of a bigger room.
Light!
Next, let the light in! Any space that is well lit will appear bigger. So, do not be afraid to open the drapes, and let some natural light in! In the evening time have available to you some artificial light sources. You can add some tall floor lamps, or install track lighting, or recessed lighting.
The Extra Touches
Next add some glass! Using materials that you can see through will make anything appear further away, giving the illusion of a bigger space. You can do this by getting rid of the opaque glass shower enclosure! Replace it with a clear frameless one. It may only extend your view three more feet, but that will be a huge difference in making your bathroom feel bigger! I promise the difference is dramatic. Another way you can add some glass is by using glass tabletops! Use glass table tops with bases of wood stone or metal, and the space around the table will open up beyond view. You can also add a mirror or two. Make sure the mirrors are LARGE. You can either have them framed and on a wall or over-sized, frammed, and against a wall (this actually gives your small space more style)! Mirrors reflect light, and the room itself results in a more open feeling. Topping a table with a plate mirror with also harbor the same effects.
Make sure to go big! A few pieces of large furniture in the place of several smaller furniture pieces helps to eliminate clutter. Open space, and large blocks of color will make any space appear more calm. This is after all your vacation home!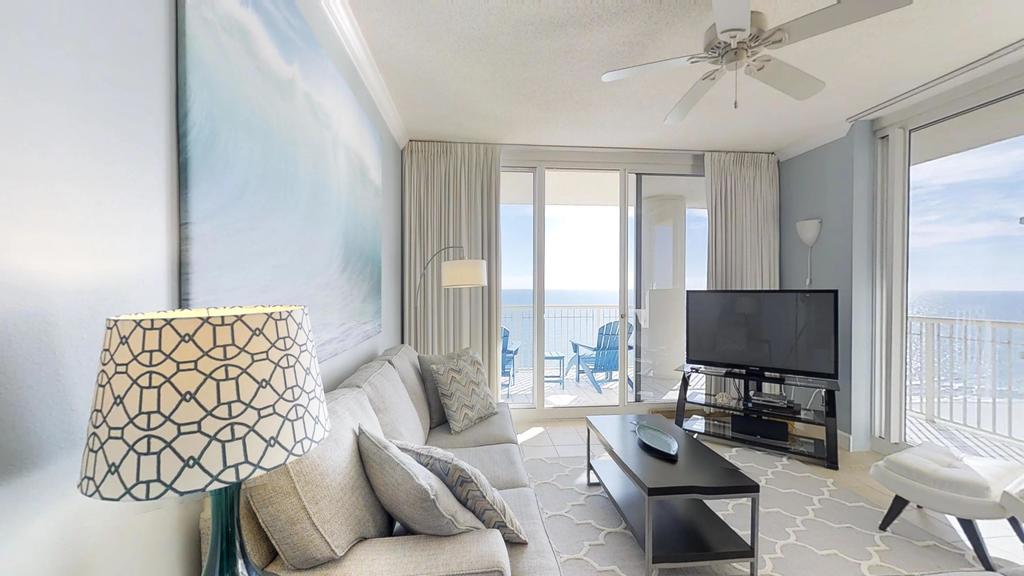 Condo at The Beach Club in Gulf Shores
Don't forget to keep your upholstery plain! Select solid colors. Stay away from bold plaids, stripes, or prints. These designs will make your space appear cluttered. Be sure to use texture and neutral tones whenever possible so that your space will have the illusion of depth.
Stick with light fabrics! Sheer fabrics allow light to pass through windows, bed skirts and table covers! If you are not a fan of solid colors then try to stick with floral vines, or simple stripes to keep the look simple.
Now you are ready to move into your paradise on the shore. If your condo does happen to be a little on the small side, it doesn't have to feel that way!