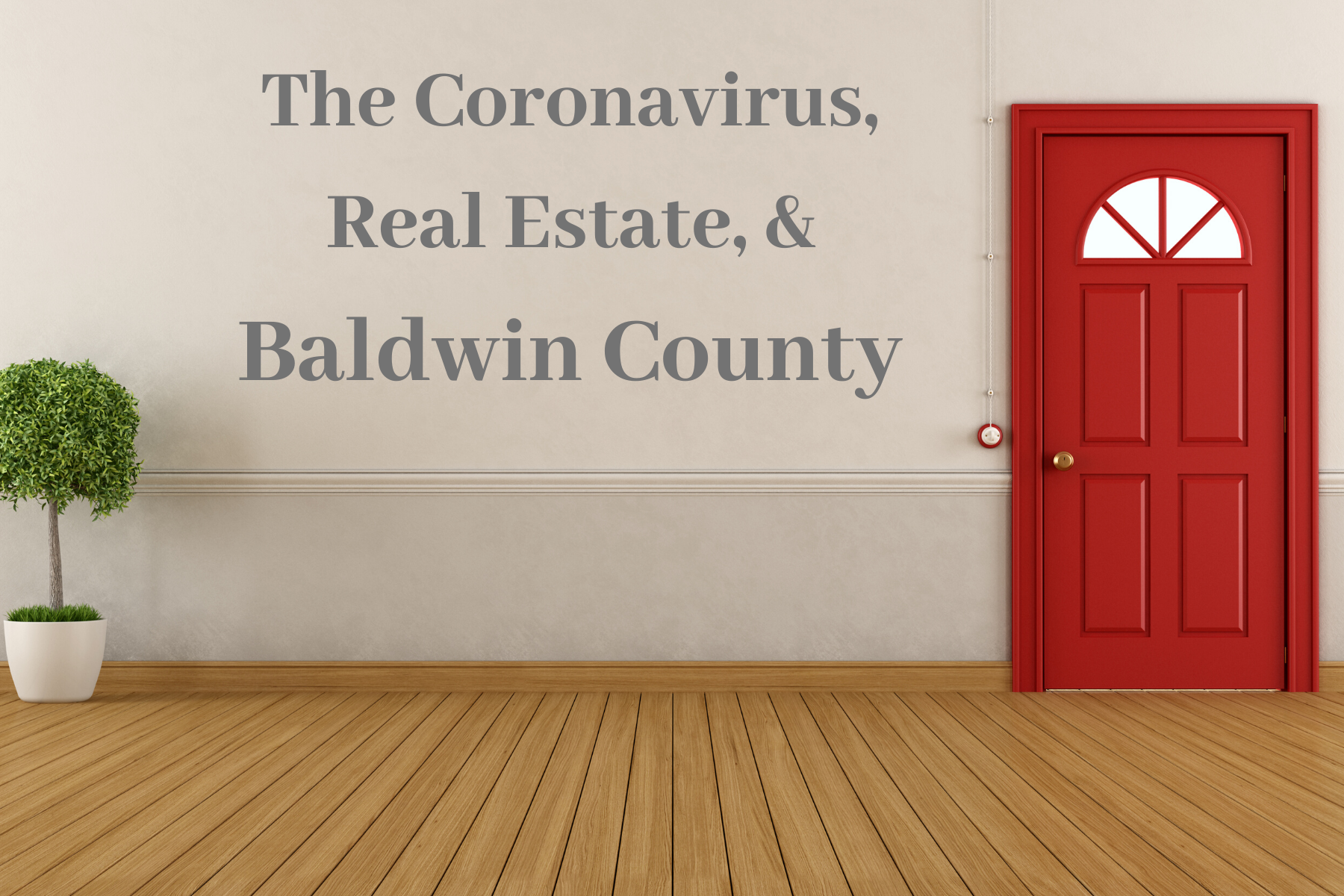 While Baldwin County and Mobile County are seeing less positive cases of the coronavirus than many other parts of the country, we are definitely seeing the effects of the potential threat. I'm a Realtor and not an expert in these matters, but we have plenty of resources to gain more information about the virus and its hopeful demise in the near future.
The Coronavirus, Real Estate, and Baldwin County
What I can talk about is how we can still operate and work during this crisis. It's apparent to me that the biggest force that we have to combat this threat is to stay away from each other as much as possible. That's hard to do when you're in the "people business" but it is achievable.
"Social Distancing" will unfortunately be the key phrase for 2020.
Here I'm going to give some tips for both home buyers and sellers, so they can still move toward a closing without having to put their life on hold completely.
Then, I'm going to keep everyone up to date on closings and homes that go under contract during this time, so you can see that life still goes on during times such as these.
Home Sellers
As a Realtor for 14 years, I know how stressful real estate can be with selling a home through the stories of many of my clients and selling properties of my own. Enter the coronavirus and the stress levels could go through the roof!
Homes will continue to sell during this time just like they did during the great recession from 2007 to 2009.
If you really need to sell your home and not take it off the market for a few months, here are some things to consider (in light of social distancing):
Eliminate Open Houses during this time
The showing agent should carry wipes with them to wipe down door knobs and other touchable surfaces in the home like light switches
Have hand sanitizer at the front door
Require buyers to remove their shoes or . . .
Provide the throw-away booties for buyers that can be purchased at home improvement stores
Adopt the "consider your hand shaken" motto (for now)
If you haven't listed your home in Baldwin or Mobile yet, get in touch with me. I would need to meet in order to see your property in person, but everything else can be done remotely including pricing your home, discussing the details of your home, and executing all of the paperwork
Important Articles for Selling Your Home
Home Buyers
If you want to buy a home or condo, call me.
As long as you take the proper precautions, home buyers have the chance to take advantage of some of the lowest mortgage rates that we have ever seen.
Buyers are actually in a great position to buy a home or condo in Baldwin County when it comes to rates, but I think there are some measures we all should take during the process . . .
Finding a Home
Of course, this can be done remotely but I can create a web page that is specific to you and your search. You'll be notified with only the listings that you want to see.
Touring with the Buyer
In addition to the obvious (washing our hands, sanitizing, etc.), we should ride in separate cars to the property that you would like to see. This is fairly typical anyway but just a good, prudent extra step.
I also keep Lysol and hand sanitizer with me at all times.
Touring without the Buyer
Since many of my clients don't live in the area at the time of purchasing, I often tour the property for them. I utilize Facetime, extra pictures, and video to provide all of the information that the buyer needs as if they were present. This has been a practice of mine for quite a while, but it really is helpful during this time of social distancing.
Taking this to another level, you would be surprised how many people purchase homes in Baldwin "sight unseen" (in person). I give them all the visuals they need as if they were there, to the point where they're comfortable with putting the home under contract. I've closed 3 different properties in recent weeks with buyers who never saw the home or condo in person at the time of the contract.
The Current Real Estate Market in Baldwin During the Coronavirus
The first case of the Coronavirus in the US was reported on January 21st, so the stats below will take you from that date to the present.
During this time while the virus is still active, I'll continue to post up to date stats for the county for closings and homes that go under contract.
This information should be valuable to you the home buyer or seller who needs to stay in the market.
Closings
Single Family Home Closings
1/21 to 2/21
413 closings
Average price - $283,572
Price per foot - $136
2/21 to 3/20
450 closings
Average price - $309,910
Price per foot - $146
3/21 to 3/29
136 closings
Average price - $279,366
Price per foot - $136
4/1 to 4/30
419 closings
Average price -

$305,903

Price per foot - $147
5/1 to 5/31
443 closings

Average price -

$290,106
Price per foot - $145
6/1 to 6/30
642 closings
Average price -

$301,354

Price per foot - $145
Condo Closings
1/21 to 2/21
131 closings
Average price - $410,506
Price per foot - $314
2/21 to 3/20
137 closings
Average price - $390,155
Price per foot - $299
3/21 to 3/29
25 closings
Average price - $326,316
Price per foot - $280
4/1 to 4/30
75 closings
Average price - $365,592
Price per foot - $293
5/1 to 5/31
91 closings
Average price - $

381,476

Price per foot - $332
6/1 to 6/30
184 closings
Average price - $385,102
Price per foot - $309
So, 826 homes and condos went under contract in the last month! The real estate market in Baldwin is still moving forward at a good clip. Yes, buyers, sellers, and agents are taking the necessary steps in preventive care, but properties are being purchased despite this pain in the butt that we're having to deal with - COVID 19.
I'll update the number above each month!
If you would like more detailed information or stats on a particular city or neighborhood, just send call/text/or email me.
If you are buying or selling in Baldwin or Mobile County, please get in touch with me at: