Bella Luna Condos - Orange Beach

Address: 29531 Perdido Beach Blvd Orange Beach AL 36561

In my opinion, the condos that are for sale in Bella Luna rank in the top 5 all-time best communities in Gulf Shores and Orange Beach. Before I get into the real estate details of Bella Luna of Orange Beach, let's go over some other important highlights. This place gives off a vibe of classy/rock star, which I know sounds odd but it's the first thing that comes to mind. There's a modern design that is showcased inside and out which is reflected by the flowing architecture, glass art, green-tinted windows, and rounded over-sized balconies that seem to go on for miles. This building has some vacationers from time to time, but I believe Bella Luna is more suited for the full-time homeowner or the buyer who would like to have a luxurious second home. Elegance and style are the key descriptors when it comes to the overall feel of the Bella Luna. I wouldn't be surprised if it hasn't been featured in travel or condominium magazines around the country. If it hasn't, it should be (in case there are any journalist out there reading this).

Consider visiting Bella Luna if you are a buyer looking for classy, top-notch condos for sale between $500,000 and $710,000.

The Walk Through at Bella Luna
After going through the covered entry, you see the lobby and a glass wall that looks into a well equipped gym that faces the water (very nice!). The gym is much larger than most that you will see inside most condos at the beach. The lobby is usually staffed during daytime hours and staffed by security at night during the peak season. There is glass elevator that gives nice views of a water feature and leads from the underground parking area to the penthouses. I love this feature because it reminds me of those elegant cruise ships that take you to exotic ports. As you make your way to the condo units, the enclosed common area hallways are wide and richly decorated but not too busy.

There are a few different floor plans that are available for sale, but the classy elegant theme is the same throughout the building. The entry doors to each dwelling are over-sized and heavy, giving a sense of added security and and handsome stately look. Foyers are long and wide, "curving" into the main living area where the kitchen, living, and dining room are located. I like this aspect. This quality gives Bella Luna a unique flow as you walk from the front door to other parts of the home. Each owner has their own style and decorating tastes. I have noticed in several different units that there is a very impressive glass counter top in the kitchen that sits at bar height. What's impressive is not just that it's glass or something that looks like glass but it is a work of art. This "piece of art" theme is evident throughout the building.

Scroll down to the bottom to view all available condos that are for sale in Bella Luna.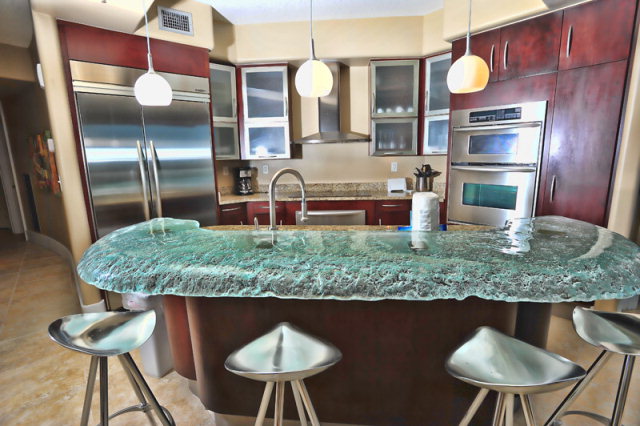 Another nice aspect of each residence is the floor-to-ceiling windows that accentuate the panoramic views this location has to offer. In one of the units I visited, they had all of the drapes on remote control, which was a very nice touch! This condo is waterfront real estate at its finest.

One of the many wonderful features of each unit is the incredible balcony that allows ample enjoyment of the refreshing beach air. I'm not sure of the exact length, but I would venture to say that they are the longest balconies that are here at the beach. What a great location to showcase them! The view seems to go for miles and can be seen from several directions with many of the units having viewpoints of the north, south, and east (or west depending on the unit). Picture yourself being able to see Old River and Ono Island to the north and the Gulf of Mexico to the south, all from one extremely long balcony that curves around like a half moon.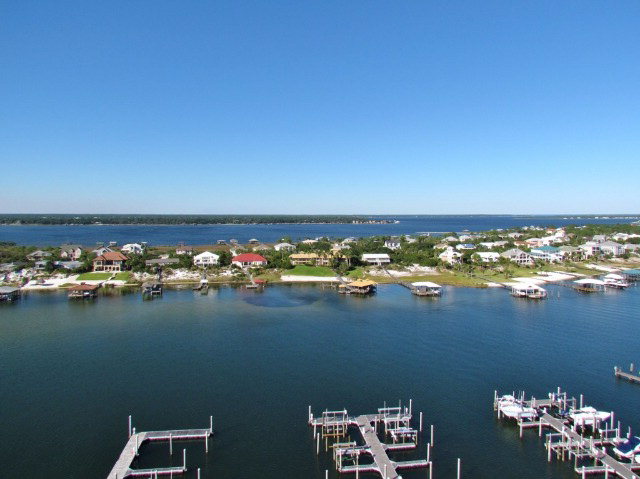 Bella Luna Real Estate
The building is 14 stories tall with a total of 128 units. These are large, luxury condos that range in price from $500,000 to $700,000. The building offers 2, 3, and 4 bedroom options ranging from 1,500 to 3,100 square feet.

Bella Luna Amenities
Private deeded beach access located across the street
3 outdoor pools
Indoor pool
Hot tub
Sauna
Large gym overlooking Ole River
On-site management
BBQ area
Covered entry
Fishing pier
Gated entry to property
1st come/1st serve boat slips
Private lounge with a theater

Bella Luna Condo (HOA) fees
The condo fees for Bella Luna range from $611 to $1,312 depending on the size of the unit and include:

Association management
Common area insurance
Common area maintenance
Custodial services
Recreational facilities
Reserve funds
Common area taxes
Basic cable
Water/Sewer
Trash

Rental Information and Potential
The majority of the people who own condos at the beach rent out their units for various periods of time. Some use the property as a second home and only rent it out a few days a year to friends and family. Others take a more aggressive approach and try to capitalize on as much rental income as possible. This can be done a couple of different ways. They do so through self-managing through VRBO (Vacation Rentals By Owner) or by using one of the many rental management companies in town, like Pointe South, Meyer, or Kaiser. Please note that there are no on-site rental facilities at this location, so bookings or issues must be taken up with the owner or the management company.

As I mentioned earlier, Bella Luna is rented to vacationers or "snowbirds", however, the property is more likely to attract full-time owners or buyers for a second home. With this being the case, the rental income history for this building averages about $35,000/year which is less than other complexes on the beach. On the other hand, this could be a positive indicator for those who would like to live in a building that is not so busy.

Affordability
If you are getting a mortgage, you are probably wondering what it might cost to live here. To give you an idea of what your monthly payment would be, I will use the average list price in Bella Luna of $765,000 as an example. If you put 20% down as a down payment and have a interest rate of 3.92% on a 30-year conventional loan, you principal and interest payment would be $2,894. With yearly taxes at around $3,000 and average condo fees of $800, your monthly payment would be $3,944.

Bella Luna - The Area
Distances to Nearby Attractions:
The Hangout - 9.5 miles
The Wharf - 7.8 miles
Flora-Bama - 1.1 miles

Nearby Restaurants
Cobalt
Tacky Jacks
Happy Harbor
Flora-Bama
The Crab Trap

I would love the opportunity to work with you on your next purchase. For more detailed information on the condos for sale in Bella Luna of Orange Beach, please call or contact me from the information on the right side of your screen. I can get you specific information, as well as provide applicable rental histories and schedule a private tour of one of these beautiful units.

Jeff Nelson
251-654-2523
jeff@livegulfshoreslocal.com

Please contact me for all of your real estate needs.


Please remove some of the selected filters.