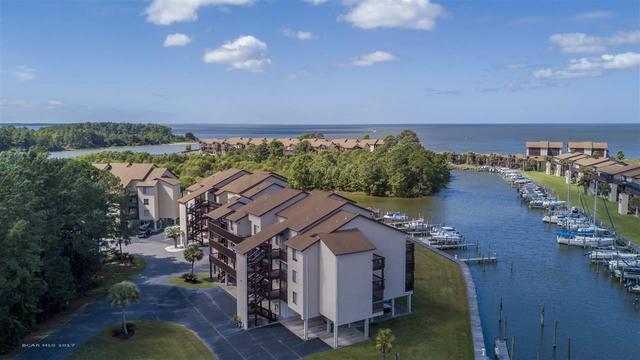 Sailboat Bay Condos Gulf Shores
Address: 4170 Spinnaker Drive Gulf Shores AL 36542

I happen to know "a lot" about Sailboat Bay because I have lived here myself! This community is one of the few condos in Gulf Shores that isn't in the immediate proximity of the Gulf. Located on Plash Island near the intersection of Route 4 and 6, Sailboat Bay is a little known gem tucked away in a gated community that is on the southeast shore of Mobile Bay at the mouth of the Bon Secour River. Although living here is off the beaten path of Route 59, you are still only about 10 minutes away from the beach.

Coming through the gate, you almost get the sense that you're driving through a resort area. A landscaping committee, made up of neighbor volunteers, spend an amazing amount of time to assure that the beauty of our flower beds, shrubs, and trees are up to par. Also, large palms line the streets and are lit up at night. The complex has its own deep-water marina, and every unit has "exclusive use" to an assigned boat slip. Each boat slip contains power and water for your convenience. Needless to say, every condo that you will find for sale has a water view. Sailboat Bay is bordered by Bon Secour Bay to the west and the Intra-coastal Waterway to the south.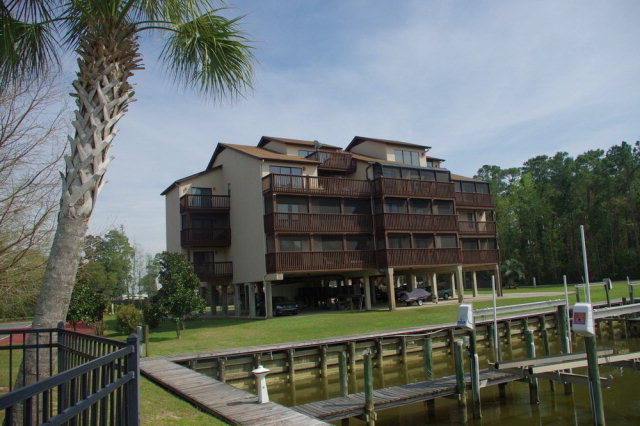 Sailboat Bay Condos Real Estate
Each of the units has spacious balconies that allow you to take in the sunsets, watch the pelicans fly overhead, or even see the occasional dolphin passing by the parked sailboats. Although there are some vacationers that stay here from time to time, this community seems to attract owners who live here full time or use it as a nice second home. Sailboat Bay lays adjacent to the Intra-coastal Waterway and Bon Secour Bay with about a 10 minute drive to the beach - a boater's dream. Because the property isn't at the beach, you'll find that the condos that are for sale are a little less per square foot than those right on the Gulf.

Amenities
2 outdoor pools – 1 pool is partially covered at the clubhouse.
Hot tub
Fitness room
Meeting room
Tennis courts
Gated community
Boat slip
3-acre park
Storage parking area for boat trailers

Built in 1985, this sprawling community contains 39 buildings with 184 units and 184 boat slips. Although there are a few duplex buildings on the west side, most of the buildings are 4 stories with exterior stairs, as well as elevators. Parking is underneath the buildings which makes it very convenient when we get those summer afternoon showers. Every unit has a nice-sized deck overlooking the harbor or the bay where you can watch the dolphins or pelicans do what they do. Needless to say, it is very peaceful here. My wife and I spent many hours on our deck watching the boats go by or just merely taking in the scenery.

*** Scroll down to see all of the Sailboat Bay Condos for sale ***

Most of the condos in Sailboat Bay are 2 and 3 bedrooms with square footage between 1100 and 1450, Almost all of the units have large balconies; they also have a storage closet on the ground floor.

Rental History and Potential

Because this community is located about 6 miles from the beach, I do not have a "broad" forecast or history for rental income. Sailboat Bay mainly attracts buyers who are looking for a full-time residence or second home. I can get you rental income and a history for a particular unit if by chance it was on a rental program.

Condo (HOA) fees of $535 include:
Association Management
Common Area Insurance
Common Area Maintenance
Pest Control
Recreational Facilities
Reserve Funds
Common Area Taxes
Basic Cable
Water/Sewer
Trash

Affordability
Here's an example of what your mortgage payment would be using a sales price of $236,000 (the average sales price of Sailboat Bay). If you put 20% down as a down payment and have a 4.5% interest rate on a 30-year fixed conventional loan, your principal and interest payment would $957. Property taxes vary between $350 and $750 depending on the size of the property and if it was an investment or not. I'll use $500/year for this example for taxes. Condo fees are $535/mo. So, your total payment would around $1,470/mo.

Sailboat Bay - The Area
Schools
The Gulf Shores Public School system services this location and has an "above average" rating from
GreatSchools.org
. Here is the list containing each school's rating and how far the school is from this location:
GS High – 7/ 4.4 miles
GS Middle – 7/ 4.2 miles
GS Elementary – 8/ 4.1 miles

Crime
Crime is rated as the "lowest" at this location according to
www.spotcrime.com
and
www.crimereports.com
.
Restaurants/Shopping
Here's a list of restaurants and stores that are within 6 miles of Sailboat Bay:
Happy Harbour (about a mile away)
Track Family Recreation Center
El Toro Mexican Restaurant
Aji Sai Asian Cuisine
Target
Bed, Bath, & Beyond
Rafter's Restaurant & Sports Bar
Books A Million
Cactus Flower Cafe
Kitty's Cafe
Cactus Cantina
Publix
Lulu's
And a lot more
Contact me if you would like to see any of these condos for sale in Sailboat Bay or if you have other questions about
Gulf Shores real estate
.
 

Would You Like to Learn More About Sailboat Bay?
I'm an expert on this community. Please connect with me and I'll field all of the questions you have about the community, pricing, and the current real estate market. My contact information is below.
Jeff Nelson
251-654-2523
jeff@livegulfshoreslocal.com
Please remove some of the selected filters.