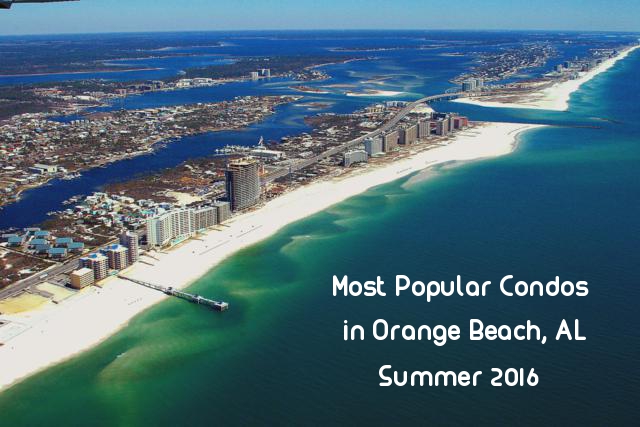 The popularity of Orange Beach AL remains stable as the gem of the south had strong real estate activity over the summer months. As a whole, there were 202 condos that sold in Orange Beach at an average selling price of $448,707 from June through August. Furthermore, these figures only include condos and don't reflect the sale of single-family homes, land, or commercial properties.
I always love to see what the most popular condos were for a particular season in order to get a read on trends and buying.
The data below is solely based on the number of condos that sold in a particular complex for the months of June, July, and August of 2016. Also, you can click on each link below to find all of the condos for sale for that building currently or go here to view ALL condo communities in Orange Beach..

The Top 10 List for the Most Popular Condos in Orange Beach:
14 sold
$511,893 average selling price
$266.34 price per square foot
from 1,401 to 2,380 square feet
2. Seaside Beach & Racquet Club
10 sold
$262,950 average selling price
$289.49 price per square foot
from 600 to 1,379 square feet
3. Phoenix X
8 sold
$407,250 average selling price
$353.56 price per square foot
from 800 to 1,395 square feet
4. Phoenix West
7 sold
$708,571 average selling price
$330.66 price per square foot
from 1,958 to 2,560 square feet
5. Turquoise
12 sold
$979,500 average selling price
$369.85 price per square foot
from 1,550 to 4,756 square feet
6. Phoenix on the Bay I & Phoenix on the Bay II
7 sold
$427,500 average selling price
$266.21 price per square foot
from 1,308 to 2,342 square feet
7. Phoenix V
6 sold
$340,083 average selling price
$352.59 price per square foot
from 800 to 1,464 square feet
5 sold
$475,400 average selling price
$316.05 price per square foot
1,500 square feet
9. Bella Luna
5 sold
$730,500 average selling price
$320.42 price per square foot
from 1,541 to 3,160 square feet
10. The Moorings
5 sold
$486,900 average selling price
$270.53 price per square foot
from 1,550 to 2,348 square feet
For all of your real estate needs, please contact:
Jeff Nelson
Bellator Real Estate & Development
251-654-2523
jeff@livegulfshoreslocal.com