Making a great first impression is crucial when listing your home to sell, so I wanted to give you an extensive list of various updates that could bring a "wow" factor to potential buyers. Surprisingly, there are many things that could make a huge difference without costing you a ton of money.
Since almost all real estate searches begin online nowadays, you need to follow up the ideas below with taking (or having your Realtor take) awesome pictures that will appeal to home buyers. Make sure to have a decent camera, the focus is on point, and the lighting is exceptional. It's better to wait a few days to list your home for sunny day pictures versus rushing it on a cloudy day.
For starters, take a few pics yourself of the front of your home from the curb and try to put yourself in the position of a buyer. This should quickly tell you some of the more obvious things that you could improve on, like cleaning up the flower beds, removing bikes, pruning the bushes, etc.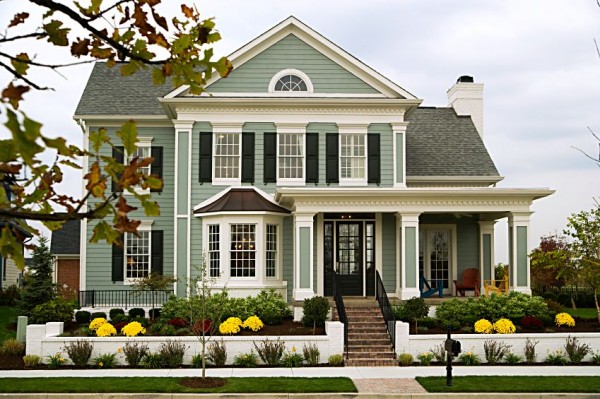 Here are many ways to improve the curb appeal of your home
Add new mulch
This is a no-brainer, but refreshing your flower beds with several inches of new mulch can go a long way in giving your home an appealing look. You can't go wrong here. It's not that expensive and just requires a few hours of elbow grease.
Repaint the molding around the doors and windows
Even if you don't want to repaint the whole house, if you clean up the molding around the entry way to your home and paint just the trim around the door and windows, your home will have a fresh look to all those who enter. Make sure to caulk before painting and you will have an area that looks "almost" brand new.
Improve your garage door
For homes that have front facing garage doors (especially), it's imperative that the door is looking fantastic since it is such a focal point from the road. Most of the time, you should be able use a power washer to get your desired affect but, if your garage door needs more attention, you can always paint it. Depending on the style of the home, you could use a latex stain over the paint to create a rustic look, but most people use paint that is a similar color and sheen to the trim on the rest of the home.
If you really want to make an impression, consider buying brand new garage doors. Chances are they will appeal to the buyer and you should be able to recoup most of the cost.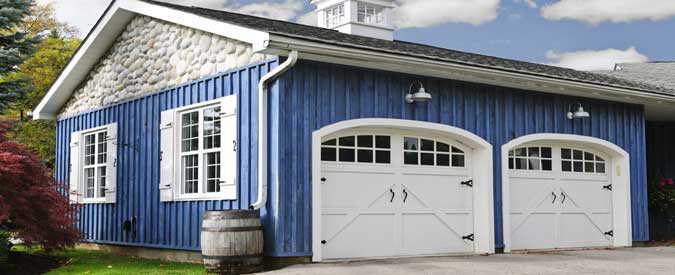 Use symmetry
I always tell my clients to walk out to the street so they can see the home as a buyer would, when they pull up to the curb. Just look to see if things look off-kilter. Is 90% of the foliage on the left of the home, with hardly any on the right? Does the home look lop-sided? Taking an objective look from the street can help you give more symmetry to your home to sell and will be more attractive to buyers.
Jazz up the front door
One of the biggest payoffs to updating your curb appeal is to "at least" paint your front door, even if it's the same color. Take the time to sand and prep where needed, then give your door a fresh coat of paint. Another factor to keep in mind is to brush on the paint in the direction of what would be the obvious direction of wood grain, even if the door isn't wood.
This would be a good time to entertain a new complimentary color as well for a fresh new look.
Give your house numbers an upgrade
Replacing your old and dingy house numbers that can hardly be seen with stylish new fonts could make a major impact for home buyers. This is a good example of an inexpensive fix to improve curb appeal.
Add molding to your entry door
One way to create a little pizzazz to your front door is to add decorative trim to your existing door trim. For instance, crown molding and a fresh coat of paint makes a plain entry look more interesting.
Stylish door knocker
Adding a new door knocker is another great way to spruce up a boring entry way. This is one of those items that most people don't think about but could be an interesting element to your property.
Add tile or slate to a concrete entry way
Homes that are built on slabs versus a crawlspace will more than likely have a poured concrete porch floor. Pretty boring, right? With just a little bit of money and time you can transfer something that looks drab into a beautiful feature of your home.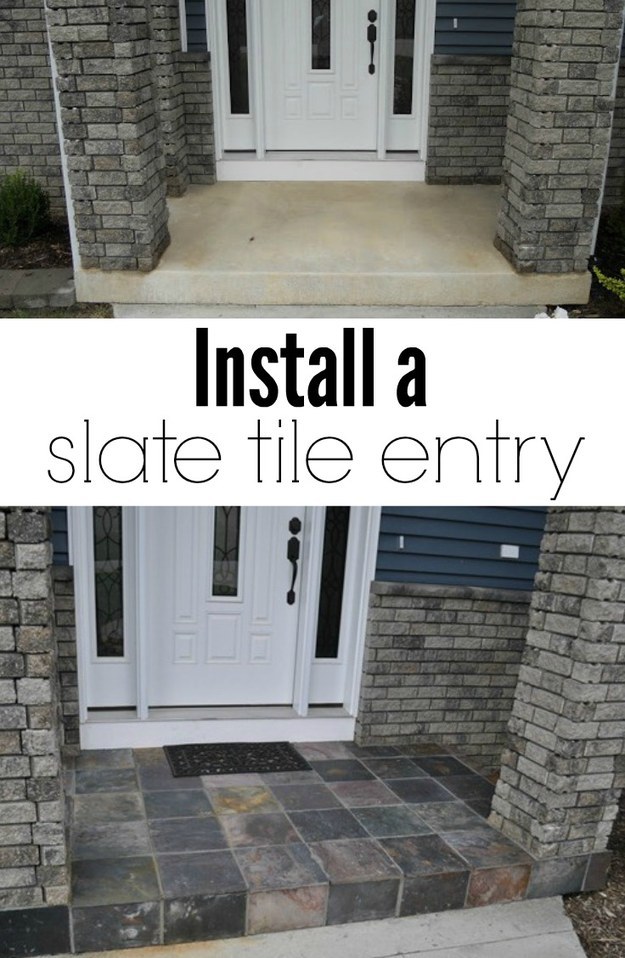 Open up your blinds and curtains during the day
This idea costs nothing to implement and will make your home look nicer from the road as well as brighten up the inside when buyers tour your home.
Create faux tiles with concrete stain
The art of faux painting is basically making one thing "look" like something else. There are literally thousands of ideas to choose from if you let your imagination go, and many of these great ideas can easily be found online.
Install new gutters and downspouts
Whether the damage has come from a fallen tree limb or a wayward riding lawnmower, gutters and downspouts that have been beaten up does not do well for your curb appeal. At the very least, you should power wash what you have and you can even paint them.
On a side note, buyers do comment if there aren't any gutters at all, and most people would like to have them at least over entry doors.
Add edging to flower beds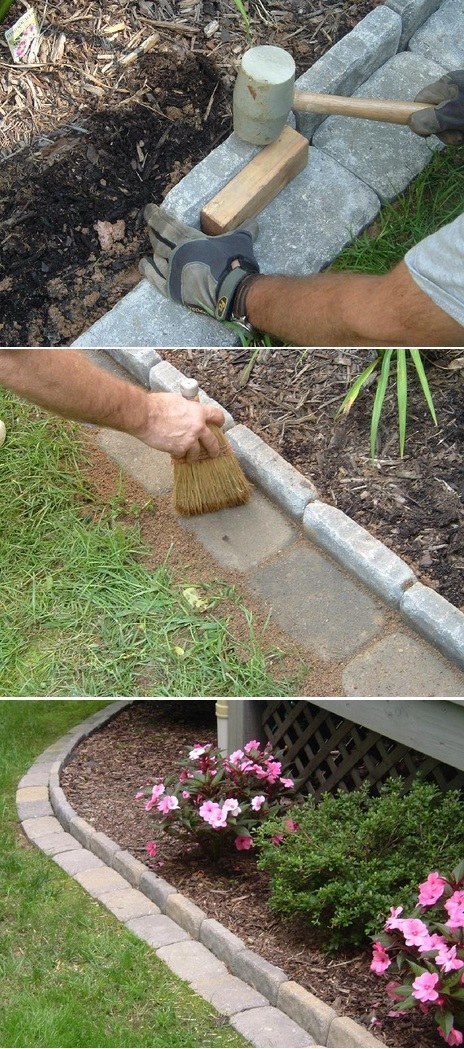 Adding edging to your flower beds will provide a clean and organized look to your yard. This, however, is a category that could vary greatly in price from using a hard plastic barrier that is tapped into the ground to pavers, as seen above. In either case, edging is a great way to keep grass out of your beds and, well, it just looks good.
Does your mailbox compliment your home?
Just because your mailbox is out by the street doesn't mean that it's not important. You can dress it up by painting your existing mailbox with colors that compliment your home. You can add a small flower bed. You can install a stone veneer around the post or buy a new stylish mailbox. Just make sure that it flows with your home.
Add hanging plants
Most people like hanging plants, plus they give depth and life to your front porch.
Light up the landscaping
Solar powered lights are a great and inexpensive way to highlight walkways or other features of your property. They are simple to install and could make a huge impact.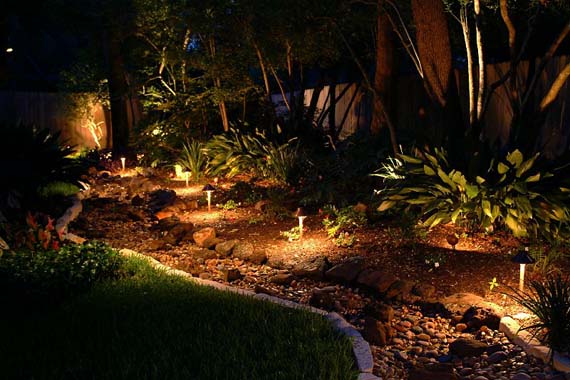 Replace vinyl with Hardieplank lap siding
This cost is on the higher end of updating your curb appeal; however, if it's in your budget, buyers would appreciate the upgrade.
Add edible landscaping
Obviously, this depends on where you live in the country but, here in lower Alabama, some homeowners plant banana trees and other fruit like oranges, apples, blueberry bushes, and grape vines. Buyers tend to like these extras to the property.
Consider stone veneer
Adding stone veneer highlights to your home brings with it a major curb appeal boost. Whether you install it on a porch wall, around a bay window, or over the foundation, stone veneers bring interest to the whole look of your home. There are also faux veneers that are much less expensive and stand up to the weather.
Rent a power washer
Renting a power washer will cost you about $50-$60, but you can achieve a "night and day" difference for the outside of your home. If you decide to paint the outside or not, power washing is a must to brighten everything up.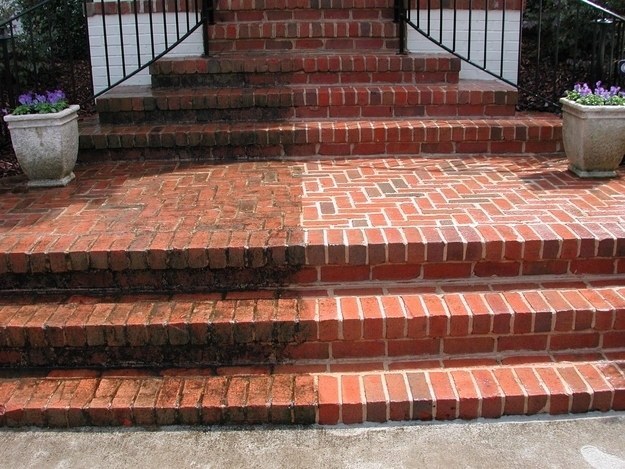 Replace hardware
It would be a shame to paint your front door but still have door knobs and hinges that are pitted, tarnished and ugly. For under $50 or $60, you can make the whole entry system look brand new.
Spruce up the driveway with pavers
Lining each side of your driveway with pavers can serve two purposes. You are not only widening your driving space, but you also are creating a distinctive design that your neighbors probably don't have. Find pavers that compliment your home for great curb appeal.
Fly a Flag
Most buyers would appreciate the spirit of patriotism, plus it would add a pop of color to your home.
Hang your hose up
A coiled up hose that's laying on the ground with grass growing through it looks unkempt and unorganized. There are many ways to remedy this, and a potential buyer for your home would appreciate this small fix.
Line your walkway with container planters
This is a design element that most people wouldn't think about, but it creates interest and depth to your yard.
Glue 2 planters together to make an impressive look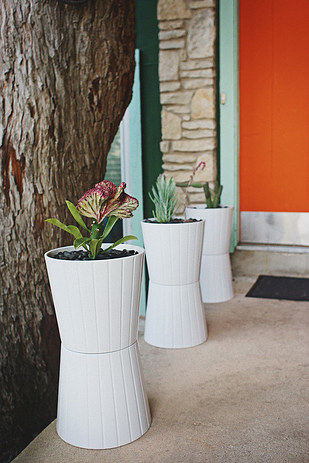 By connecting two inexpensive planters together, you can provide a unique look to a dreary porch.
Consider adding window boxes
Window boxes are an inexpensive way to enhance the appearance of any home and accentuate better curb appeal.
It's time for pruning
Everyone would agree that having trees and shrubs is better than not having any; however, when they become overgrown, it can become unsightly. Get yourself a guide to pruning, and the payoff will be in your favor.
How do your railings look?
Porch railings can take a beating through weather and general use. However, most the time they can be power washed, caulked, and repainted to create a nice, clean look. Since porch railings are such a focal point to your home, you need to make them "pop".
Hide your AC unit and electrical boxes
Your HVAC and electrical boxes are, of course, a must-have, but they can be a huge eyesore. There are a number of creative ways to hide these eyesores with paint, decorative fencing, or even re-purposed shutters. Here are a few ideas to do just that.
Bring dimension to your porch with layers of color
Paint is a great thing! By using tasteful color combinations, you can bring depth to the front of your home. For instance, your railings and columns could be off white with the porch walls chocolate brown, and the front door light blue.
Buy weed killer
This is an obvious idea, but clearing out pesky grass and weeds that grow in places where they shouldn't is a job that needs to be done for better curb appeal.
Cover up dead areas
Large trees can be great assets to your property, but they also can make it nearly impossible to grow grass under them. Instead of trying to fight a losing battle, create a flower bed using mulch and plants that don't require a lot of sunshine.
Outdoor art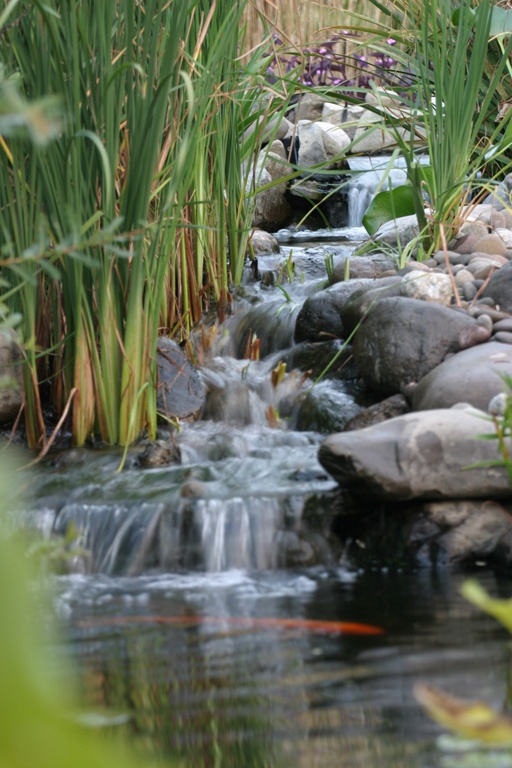 I'm not talking about garden gnomes here, but well-placed metalwork or water features can give your yard interest. Water fountains or waterfalls always seem to put people at ease, and potential home buyers would certainly appreciate it.
Repair torn screens
Most people don't realize that you can actually replace screens yourself, and your local home store will have all the supplies that you need. Plus, torn screens are unsightly.
Add front porch furniture

If you have enough room, adding a couple of Adirondack or rocking chairs to your porch looks inviting and provides nice appeal from the road.
Add new porch lights
Due to weather, bugs, and age, existing porch lights can really make a nice looking porch appear unfinished. Adding new lights is usually inexpensive and doesn't take much time to install, completing the overall look of your porch.
Whether you want to improve the curb appeal of your home in order to attract more buyers or you're just ready for a face lift, these are some ideas that could help you reach your goals.
About the author: The above Real Estate information on Ways to Improve the Curb Appeal of Your Home was provided by Jeff Nelson of IXL Real Estate – Eastern Shore. Jeff can be reached via email at jeff@livegulfshoreslocal.com or by phone at 251-654-2523. Jeff has helped people move in and out of properties for nearly 12 years.
Thinking of selling your home? I have a passion for Real Estate and love to share my marketing expertise!
I service Real Estate sales in Baldwin County including the cities of Spanish Fort, Daphne, Fairhope, Foley, Gulf Shores, and Orange Beach.