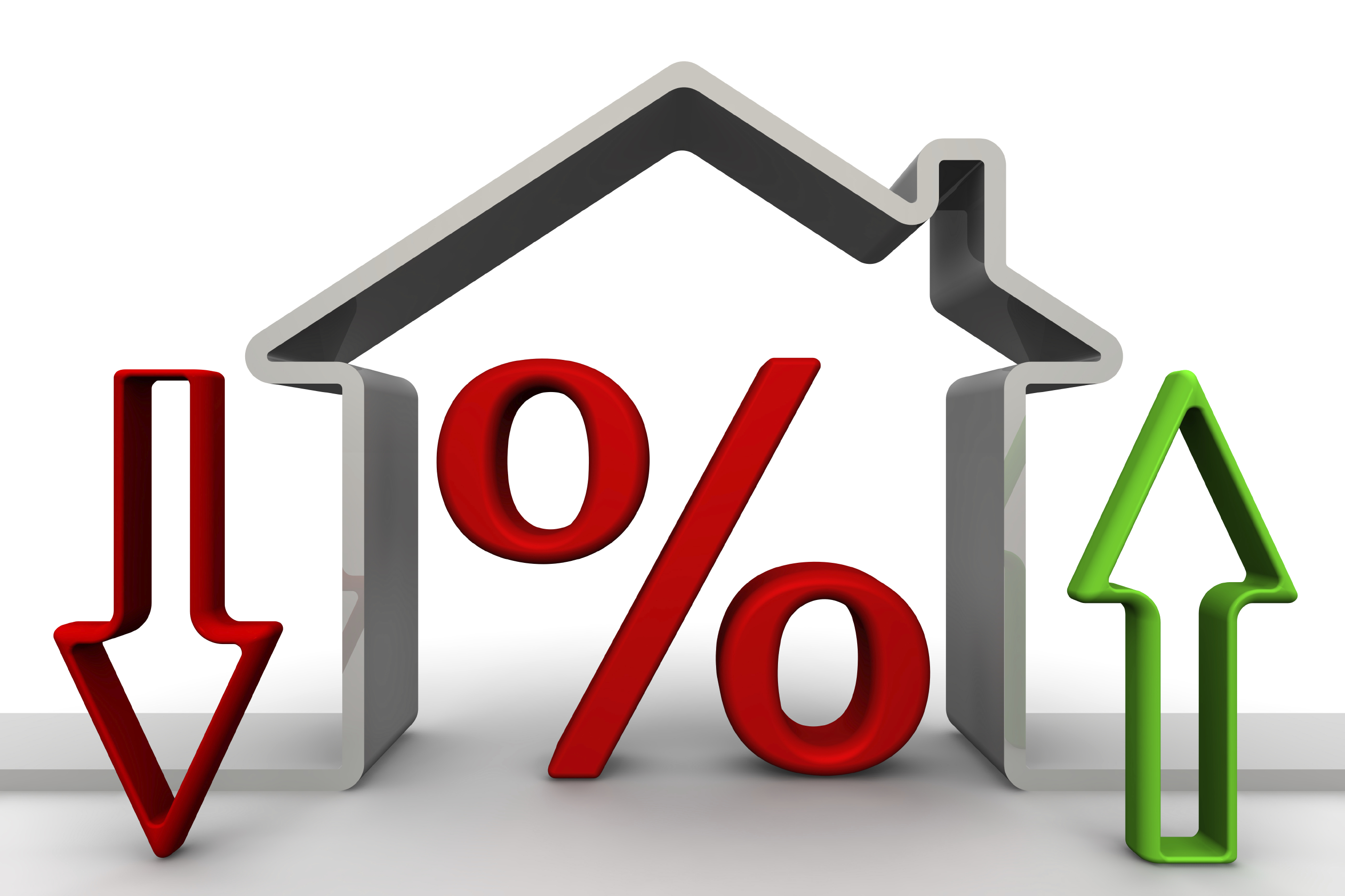 No matter what real estate market that you're in, there will always be someone saying, "This is the perfect time to buy (or sell)!" Because there are so many factors and variables that impact people's lives, the "perfect time" is relative only to the buyer or seller. I write a lot about market conditions in our area and really try to be objective, present the facts, and not be a "barn stormer" to potential clients.
This article is a good example of that. Although we've had the luxury of low interest rates for years (hovering around 4%), there is talk about rates going up in the next year. Everyone knows that you'll have a higher monthly payment with a higher interest rate, but most don't realize how much their payment would increase and how much their purchasing power decreases. Basically, you'll buy less of a home for the same monthly payment.
PITI is a common term in mortgages and stands for Principal, Interest, Taxes, and Insurance, which make up your entire mortgage payment. The interest part of that equation will stay with the loan for the duration so, if you get a 30-year fixed rate mortgage and are paying 4%, you'll pay that rate for 30 years unless you pay the loan off early, refinance, or sell.
Here's a simple example of how your principal and interest would increase based on different rates on a 30-year fixed rate loan for $100,000:
4% – Monthly payment of $477 – $171,870 total costs
5% – Monthly payment of $537 – $193,256 total costs
6% – Monthly payment of $600 – $215,838 total costs
While looking at the Primary Mortgage Market Survey from Freddie Mac, the average rates this week for a 30-year fixed rate mortgage is 4.30%.
So what about purchasing power? Simply stated, purchasing power has to do with how much home you can buy with the budget that you have. If you're staying within a certain budget (and most of us are), the amount of home that you buy decreases as the interest rates increases.
Below you will find how interest rates would impact your monthly payment if you wanted to keep your principal and interest payment around $1,100. This is example is based on the national median sales price of $250,000.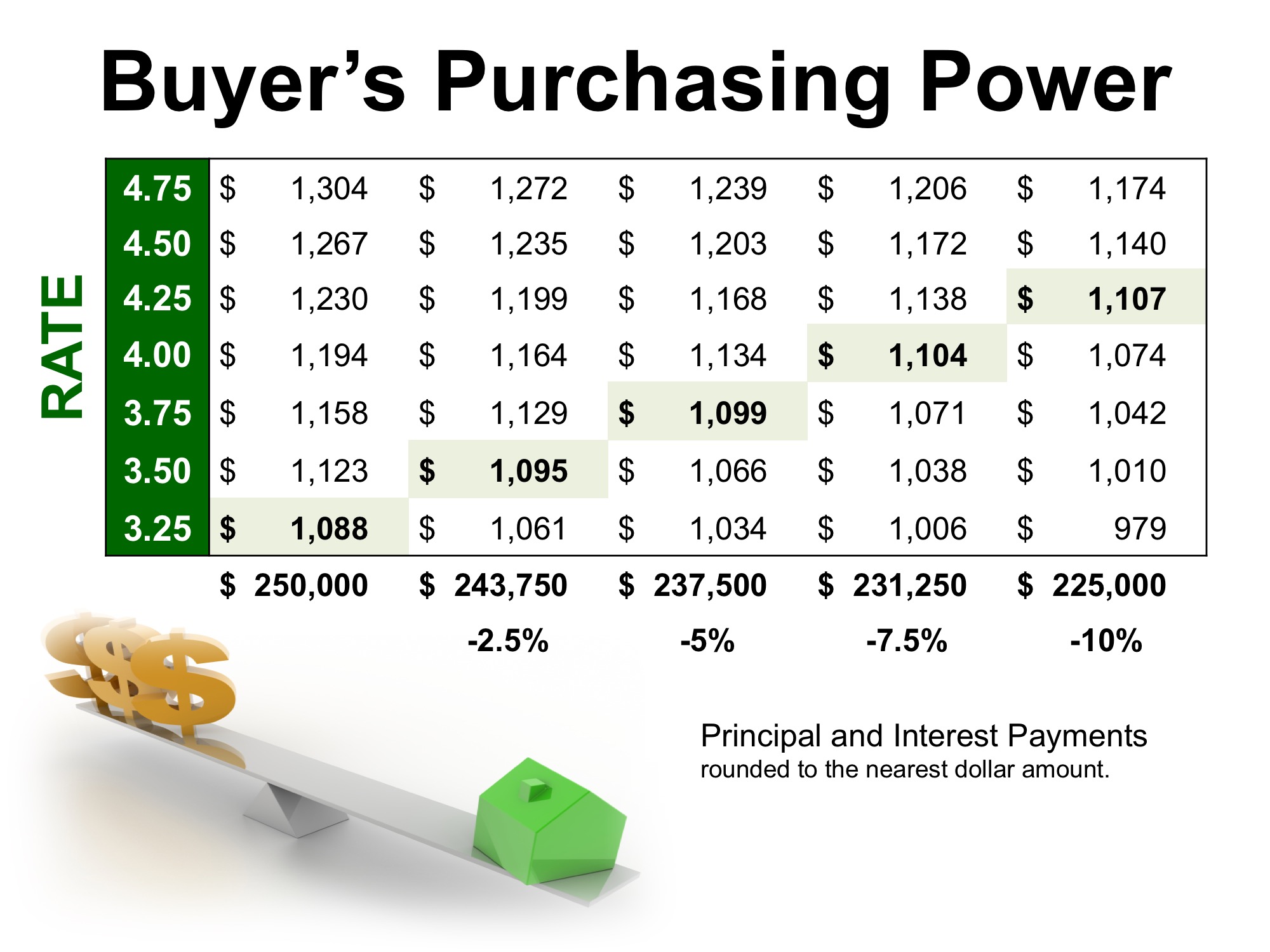 Based on this example, for every 1/4% that your mortgage rate increases, the amount of home that you can buy decreases by 2.5%.
Yes, we have been spoiled for the past few years and the news of potential rate increases may sound like a downer; however, there are still many positive aspects to owning a property. Don't forget, when rates were at 6%, they were at historical lows at the time.
Other things to consider about getting a home mortgage
You will get a mortgage interest tax deduction
Real estate taxes are tax deductible
Mortgage Insurance Premiums (if applicable) are tax deductible
Of course, if you can pay cash, interest rates wouldn't affect you at all. Also, if you can pay a substantial down payment, your purchasing power wouldn't be affected much at all.
What is a high rate? It's important to watch rates if you're in the market to buy a home but, historically speaking, even a rate of 5% or 6% is still pretty good.
Appreciation and depreciation. What are the market conditions in the area that you want to buy? Have home prices risen for the last 6 months, year, or 2 years?
You can always refinance. We laymen can't predict what interest rates will be like in a few years but, if you buy at a higher rate, you can refinance in a few years if the rates go down. There are costs to doing this but it may make financial sense.
To sum everything up, understanding how interest rates affect your purchasing power is an important consideration, but there are other factors that come into play as well. If you're ready to buy, get with your Realtor to discuss the market conditions in your area and, if your finances are in order, this might be the right time for you, even if rates do increase.
_____________________________________________________
About the author: The above Real Estate information on How Interest Rates Affect Your Home Buying Purchasing Power was provided by Jeff Nelson of IXL Real Estate – Eastern Shore. He can be reached via email at jeff@livegulfshoreslocal.com or by phone at 251-654-2523. Jeff has helped people move in and out of properties for nearly 12 years.
Thinking of selling your home? I have a passion for Real Estate and love to share my marketing expertise!
I service Real Estate sales in Baldwin County including the cities of Spanish Fort, Daphne, Fairhope, Foley, Gulf Shores, and Orange Beach.