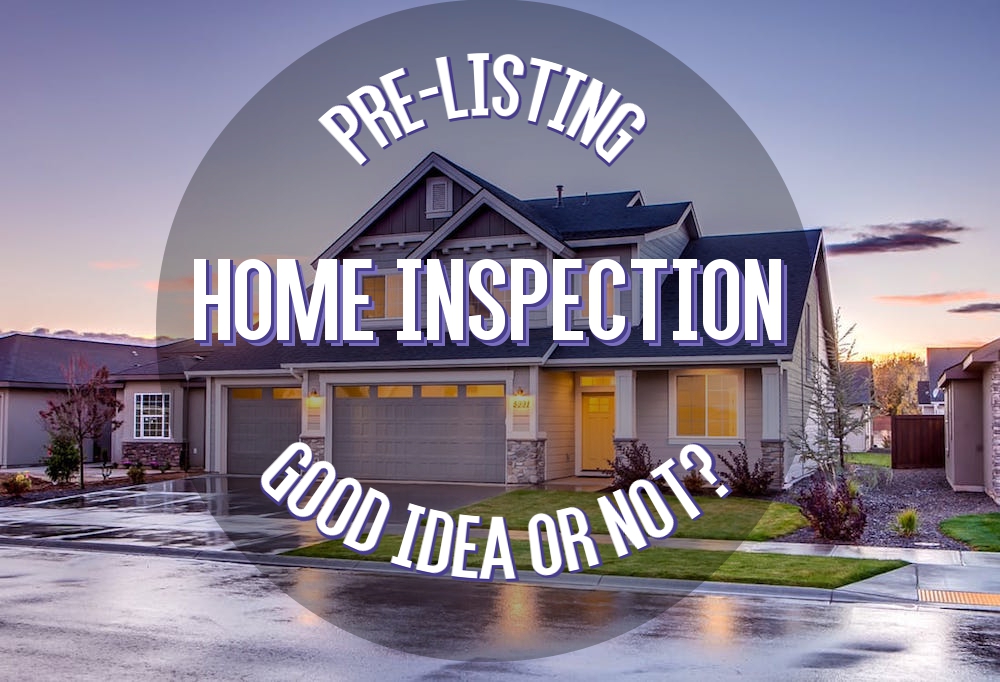 Concerning many ideas there are always two sides of the story, the other side of the coin, a matter of opinion, etc... etc....
The same thing goes when wondering whether a seller should have a pre-listing home inspection or not. There is an argument for both side,s but I think you'll find that the pros far outweigh the cons.
For the buyer, the home inspection is the biggest tool in their bag, giving the buyer the upper hand in negotiating after they are under contract. You may find after reading below that you can somewhat even out the odds concerning repairs of your home.
Here is everything that I could come up with, so.... You be the judge for what is right for you?
The Pros
A tangible report
Most licensed inspectors provide either an email or hard copy report covering every aspect of your home. This allows you to clearly convey to the buyer any issues that are going on with the property. Another benefit of the report is that it's a great tool you could use to compare notes if the buyer obtains an inspection as well.
Sellers can identify major problems upfront
No surprises! This sure beats finding out 3 weeks before closing that you need a new roof.
Repairs may be more cost effective
The seller may be able to have repairs completed in a more cost efficient manner versus having the buyer's contractor do the job at their prices.
Flexibility of time
Typical contract periods are 30-45 days and most of the time the buyer's home inspection is completed within 10 days after the execution of the contract. By having a pre-listing inspection, you will have plenty of time to compare multiple bids from contractors and to have any work completed that you want done.
Possible higher asking price
Depending on the kind of repairs completed by the seller, they may be able to adjust their asking price accordingly since needed repairs are already finished.
A pre-listing inspection could speed up closing time
If repairs have already been identified and completed, the back and forth negotiation process should naturally decrease.
The seller appears more trustworthy
Having everything laid out for the buyer to see including the report, any problems with the house, and copies of repair receipts can only give the buyer a better feeling that the seller isn't trying to hide anything.
You may attract a buyer quicker
There are many factors involved when selling a home and having a pre-listing inspection done will not ensure you of finding a buyer. However, if a buyer is torn between your property and another, they may decide to go with you if you can prove that an inspection was completed, along with repairs by a licensed contractor and documentation. They would have more peace of mind.
The buyer may waive their right for an inspection
When working with a buyer, I would never suggest this but it is their choice.
Low probability of buyer requested repairs
I believe that is less likely that a buyer would ask for additional repairs to be done since the seller has probably removed any major "deal breakers".
Competitive edge
If the seller has done everything possible to get their home ready to sell, they should feel empowered with a sense of confidence when working with every potential buyer that walks through the door.


The Cons
Your inspection does not replace the buyer's inspection.
The buyer still has the right to pay for their own home inspection and they should. As a seller, you want the buyer to rely on their own inspection. You are providing your pre-listing report (and repairs if needed) as information only.
It's going to cost you
Well, you knew that already. A typical pre-listing home inspection will cost anywhere from $300-$500, depending on the size of your home and a number of other factors.
Your inspector versus theirs
The buyer may have more trust in their own inspector than yours, and it's possible that your inspector may have missed something. So, you still may be put into a position to make repairs from the buyer's report as well.
Disclosure
In most states, if a seller is aware of a serious issue with their house, they must disclose it to the buyer. Now I do believe that many people would rather be honest, presenting a home that is safe and complete for the buyer. I am also sure there are some folks who would rather remain blissfully ignorant.
Inspectors are human, too
A really good home inspector could honestly miss something. Some inspectors are just wrong on certain issues. Also, two different inspectors could passionately oppose each other concerning a certain repair.
If the seller wants to be proactive and have a pre-listing home inspection completed, please understand. The buyer will more than likely still get their own. The buyer's inspection is a major contingency in the contract in which the following scenarios could occur: the buyer can choose that no repairs are needed, the seller makes repairs that are asked for by the buyer, the seller reduces the sales price in lieu of not doing repairs, the seller refuses to do any repairs, or the buyer can walk away from the transaction.
I think that having a pre-listing inspection completed and preparing your home the best that you can is a smart idea. However, the choice is yours, seller, and I hope you found this article helpful.

About the author: The above Real Estate information on Should Sellers Get a Pre-Listing Home Inspection was provided by Jeff Nelson of eXp Realty Southern Branch. Jeff can be reached via email at jeff@livegulfshoreslocal.com or by phone at 251-654-2523. Jeff has helped people move in and out of properties for nearly 12 years.
Thinking of selling your home? I have a passion for Real Estate and love to share my marketing expertise!
I service Real Estate sales in Baldwin County including the cities of Spanish Fort, Daphne, Fairhope, Foley, Gulf Shores, and Orange Beach.