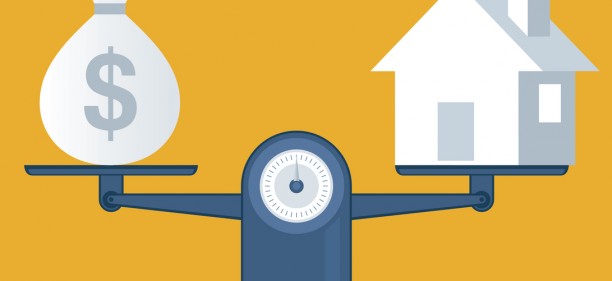 As with any major financial decision, most of us are bound to our budget as to how much we can spend on our new home. So where do you begin?
Technically, lenders use a formula called Qualifying Ratios. For a conventional loan, your housing debt (principal, interest, taxes, insurance, HOA fees) divided by your monthly income, should not be more than 28%. Also, your installment debt (anything that you make a monthly payment on) divided by your monthly income, should not be more than 36%. These are just general requirements to get a loan but it doesn't address how much we can afford.
There are usually 4 key factors that come into play when determining how much home you can afford:
Income
Lenders will want to know how much money that you earn on a continual or regular basis which include your salary, retirement, and income from investments.
Available Funds
This has to do with the amount of cash that you have on hand for closing costs (if applicable), your down payment, and reserves. This money can come from savings, investments, and other sources like gift money.
Monthly expenses and debt
You'll want to consider all other monthly financial obligations that will effect how much home you can afford. These may include credit card debt, car payments, tuition, utilities, groceries, etc.
Your credit
Your credit score is a major factor in determining what your interest rate will be for your new mortgage loan and your score can have a real impact on the amount of money that you pay. There are a number of online sites where you can get this information for free. This is great to know upfront in case there are any mistakes on your report that can be fixed before meeting with a loan officer.
When determining how much you can afford don't forget to factor in not only the monthly house payment but also your initial costs like downpayment, closing costs, and inspections. Here's an article on Common Expenses When Buying a Home.
Many of my clients actually qualify for more than what they want to put out every month and maybe this is the case for you. Whether you believe in Murphy's Law or not, it's always a great idea to not be house rich and cash poor. Check out this great calculator to see how much home you can afford.
You're about to embark on a new journey of buying a new house. I hope that this article was helpful in determing how much of a home that you can afford. Please contact me if you are thinking about buying a home in Baldwin County. The major areas that I cover are Spanish Fort, Daphne, Fairhope, Foley, Gulf Shores, and Orange Beach.
Jeff Nelson
eXp Realty Southern Branch
251-654-2523
jeff@livegulfshoreslocal.com
Step 1 - Determine How Much You Can Afford
Step 3 - Get Pre-Approved for Your Mortgage
Step 4 - Establish Your Needs and Wants in a Home
Step 5 - Time to Go House Hunting
Step 7 - Get Final Approval for Your Loan
Step 8 - Contingencies, Appraisal, and Repairs
Step 9 - Utilities and Insurance
Step 10 - The Final Walk Through