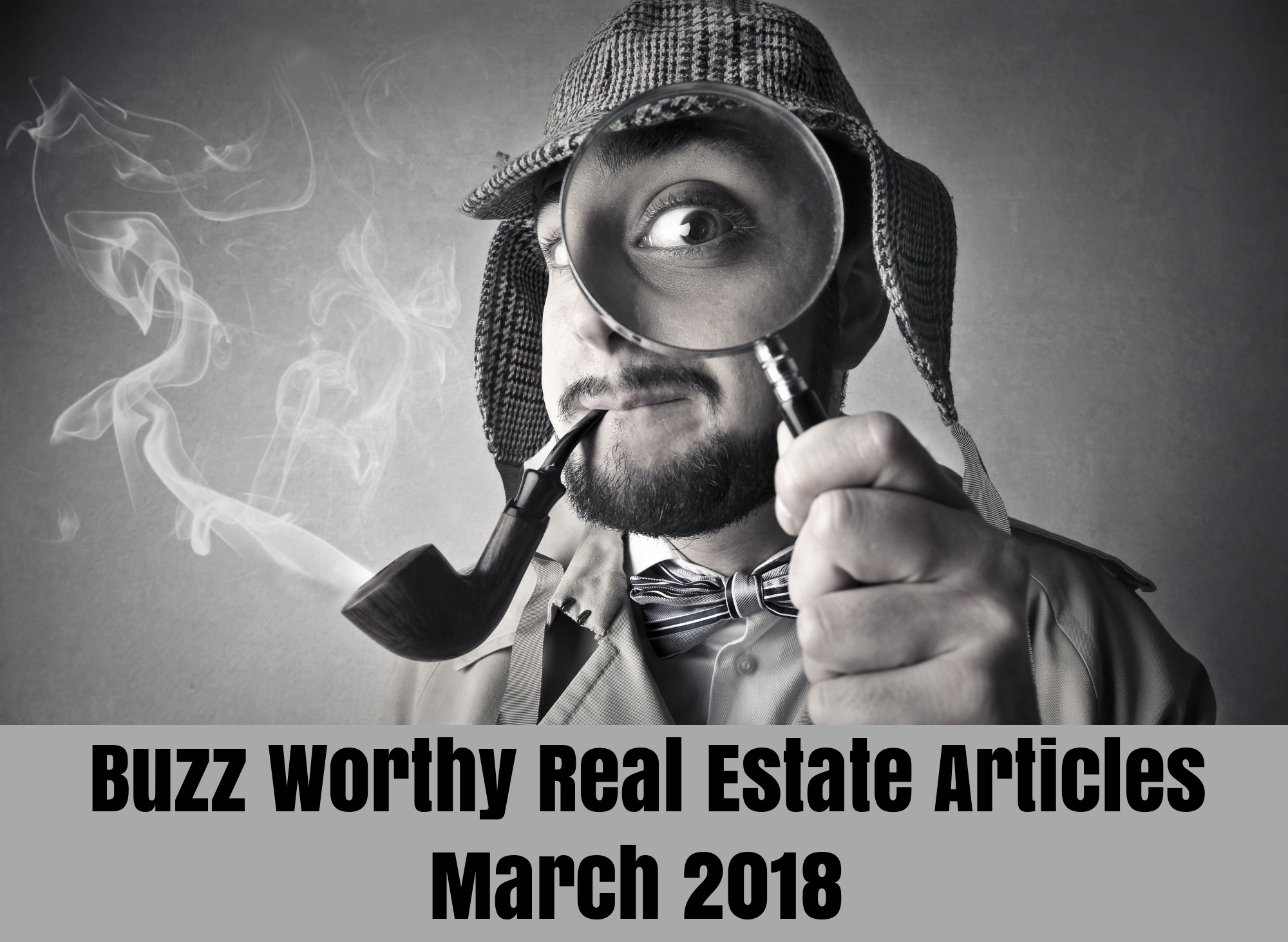 Are you buying or selling a home right now? I work with some of the best real estate minds in the country and around the world. Every month, I'll compile the best real estate articles that are relevant for today (in my opinion, of course).
March was very active, so here are my picks for the best real estate articles in the country!
Every link in each subject will take you to the original article. Let's get into it!
How to Budget When Buying a Home
We all like to buy stuff but when buying a home, you absolutely need to set some parameters. You'll have inspections, an appraisal, closing costs, etc.. Eileen Anderson sells homes in Connecticut and has a beautiful website (I'm very envious of her pictures, which she takes herself).
She's written a great article about budgeting to buy a home which includes a spreadsheet, emergency funds, and much more.
How to Start a Home Garden in 4 Easy Steps
Xavier De Buck is a Realtor in South Africa and has a very successful business. From time to time we bounce ideas off each other online and then he came up with this post. It just so happens that I am trying to grow my own home garden which contains arugula, tomatoes, red peppers, kale, basil, and sage.
I'm a newbie farmer and this article on growing a home garden was perfect timing. Check this one out!!
What Every Buyer's Agent Wished Their First Time Home Buyer Knew
I'm a little irritated because I wish that I came up with this idea first. 🙂 Kevin Vitali, a Realtor in Northern and Essex Counties, Massachusetts, has compiled a number of answers in one post for what buyer's agents wished their first time buyers knew.
This is a really good article and you'll hear from 8 different Realtors, including Kevin himself.
16 Questions You've Been Afraid to Ask Your Realtor
I'm obviously not on my game because I wish that I came up with this idea too! I will probably steal it and post it later today. haha
Lynn Pineda is a successful agent in Coral Springs, FL and has addressed a number of questions that clients don't like to ask their Realtor.
This article made me laugh, only because it's real life and I know everything in this post is true. When dealing with the public, you get everything. And yes, you may see a home with a python in the room! One home that I showed in the past had 2 cages – one with a snake and one with a rat (right next to each other). I thought that was cruel for all parties.
Should You Pay Off Student Loans Before Purchasing a Home?
Kyle Hiscock, a Realtor in Rochester, NY, keeps a very active real estate blog and maintains a great website. I want to be more like him, truth be told. He absolutely brings us a great article about student debt and buying a home.
He talks about debt to income ratio, interest rates, credit scores, and appreciation. This is such a pertinent subject for today and a great read. Check this one out!
12 Reasons You Should Own a Condo
Okay, I snuck this one in since it was actually written in April but I loved it (and I can do what I want). Michelle Gibson is a seasoned Realtor in the Wellington area of Florida and has written a great article about buying a condo.
Condos are actually my wheelhouse down here in Gulf Shores and Michelle has given a great argument for owning a condo including maintenance, security, and amenities. There is a lot going on in her article for purchasing a condo and you should read it if you're considering a purchase that is not a single family home.
Real Estate is Emotional. Boring Statistics Will Keep You Rational
Obviously I'm all over the map here because I can't seem to adhere to my own rules. This post was for the best real estate articles in March. Here's another one from April but I loved it. I'll try to do better next month (but do you really care?)
Conor MacEvilly is a busy Realtor in the Seatle area and his articles are always entertaining to read. He has a way of bringing brevity into whatever he writes.
In his latest article about boring real estate statistics, you'll see that these figures will actually keep buyers grounded. Buying a home is totally emotional but looking at the stats for your area will help settle the nerves. Another great article from Conor!
Pros and Cons of Coming Soon Real Estate Marketing
The Godfather has once again put out another great article for sellers. Bill Gassett is a big producer in the Metrowest area of Massachusetts. I call him the Godfather because he is probably the best in the country for internet real estate marketing and for putting out important information for buyers and sellers.
In Bill's latest article, he goes over the details of the good and the bad of posting a future listing as coming soon. He covers dual agency, limited exposure, limited foot traffic, and much more. Be sure to check this one out!
How to Deal With Offers When Selling a Home
Paul Sian, a Realtor in Cincinnatti, puts out a number of great articles on a weekly basis. In one of his latest posts he goes over working with offers as a seller.
He covers how offers are presented, what's in the offer, and how the seller should respond. Paul displays a very "to the point" narrative in this article and it's something that every seller of real estate should read.
It's a Wrap
Well there you have it! Those are my picks for the best real estate articles in March (ok, a couple from April). Please pass this along to all of your social media friends if you find it valuable and as always, I work real estate for a living so please contact me if your buying in LA (lower Alabama).
About the author: The above Real Estate information on Buzz Worthy Real Estate Articles for March 2018 was provided by Jeff Nelson of IXL Real Estate – Eastern Shore. Jeff can be reached via email at jeff@livegulfshoreslocal.com or by phone at 251-654-2523. Jeff has helped people move in and out of properties for nearly 13 years.
Thinking about selling your home? I have a passion for Real Estate and would love to share my marketing expertise!
I service Real Estate sales in Baldwin County including the cities of Spanish Fort, Daphne, Fairhope, Foley, Gulf Shores, and Orange Beach.