The condo real estate market continues to grow all across the country as more buyers look for a more simplified lifestyle with nearby amenities. Condos are, however, very different when compared to buying that house with the white picket fence. Before taking the plunge into condo ownership, be sure to ask these questions.
How Much Are the Fees?
For those looking to buy a condo, this is really the number question in everyone's mind, isn't it? For starters, yes, the fees are monthly. As a Realtor in a resort town, I often hear sounds of "sticker shock" from new buyers when it comes to condo fees. However, it may surprise you that most of these fees you would be paying for anyway with a single family home. You'll read more about this later but ask your Realtor what the monthly fees are and how they compare to similar communities.
What Do the Condo Fees Cover?
In our area of lower Alabama (LA to locals), you'll find the following items "typically" covered by your monthly fees:
Common area maintenance
Common area insurance
Security
Reserve funds
Amenities like the pool, tennis courts, etc..
Basic cable TV
Water/Sewer
Trash
Internet
While condo complexes will differ from one to another, I think you will find that this list is fairly typical in your area. As you can see, you would have to pay for most of these things anyway (insurance being a big chunk of the costs).
Are There Pet Restrictions?
As a major dog lover, this would be extremely important to me as I'm sure it would be to millions of others. There may be some restrictions as to how many pets you can have or a weight limit your can't go over. So, this is a very important question to not forget to ask before signing the purchase agreement.
Another pet restriction that I see is that pets are okay for owners but not tenants.
Do I Still Need to Purchase Insurance?
For the condo associations that cover insurance for the building and land, the only other insurance that you would probably want to get is for contents and liability. This is also referred to as "renters insurance" or in our area, an HO-6 Policy. This would protect you for damage to the personal property inside the condo, from a storm for instance, and also if someone was hurt inside your unit.
The cost of this kind of policy is fairly inexpensive and a "must have" in my opinion.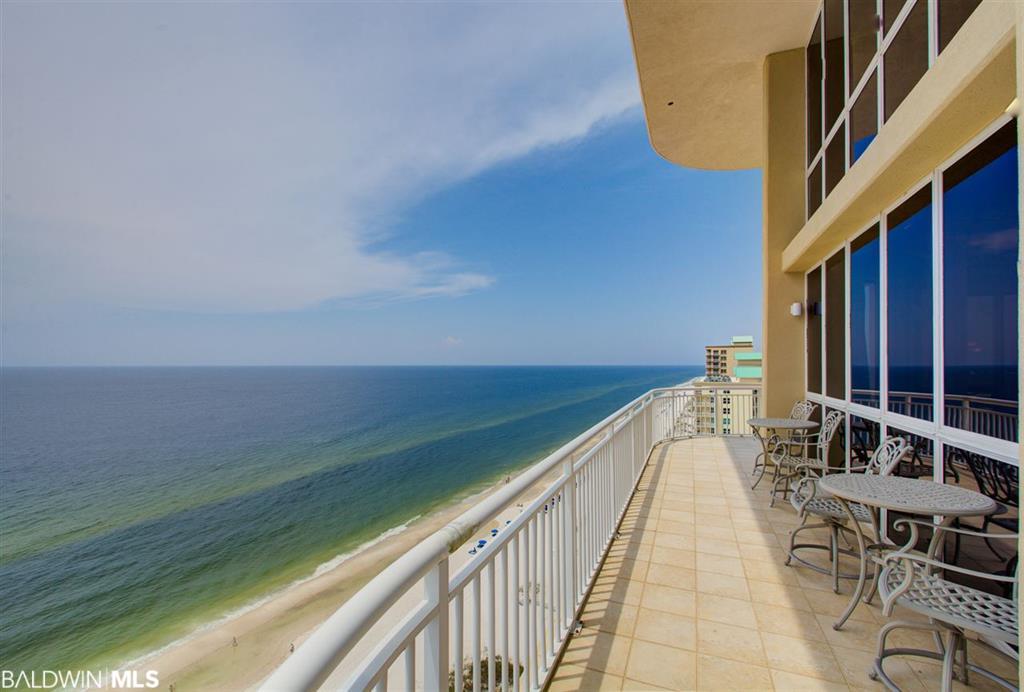 What Are the Rules?
Most of the time, the rules and regulations for condo communities aren't too stringent but you should always know what you're getting into. You'll probably find that you can't have 25 cats or run a body shop in the parking lot but I find that most people expect some kind of restrictions. Ask this question so you can be assured that there's nothing weird in there that you can't stomach.
Is There Any Pending Litigation?
If there are any ongoing lawsuits on the books, you certainly will want to know about them. Most of the time this litigation will have to do with the association against the builder or developer.
As a buyer, you absolutely have the right to know if there's anything pending and you also have the right to take your business to a different condo community down the street.
Are There Any Special Assessments Due or Coming Up?
As needs come up in the association like replacing the windows for instance, the board will have to take bids and determine how to pay for the job. If there isn't enough money in their reserve funds, the chances are good that a special assessment will need to take place.
For example, if repainting the building will cost $30,000 and the board decides to assess each owner in order to pay for it, the cost will be divided by the number of owners.
When buying a condo, ask about any past assessments and also find out if there are any known assessments for the near future. If the community hasn't seen any repairs within the past 10 years or so, there will probably be something coming up soon.
Can You Have a Grill on Your Deck?
If you love to cook outdoors as I do, this may be a question that you wouldn't think about asking. Different complexes have different rules so you would need to know the do's and don'ts. For instance in our area, there's a complex called Sailboat Bay where you're not allowed to grill on your deck at all, however, at Turquoise in Orange Beach, there's a gas grill provided for every condo's balcony.
How Much Money Is In the Reserve Funds?
The answer to this question will give you a good idea of the financial health of an association. As with any structure, things will break down over time. There will be a time to get a new roof or paint the rails. You may have to update the wiring for internet or re-surface the pool. Whatever the case, having plenty of money in reserves offsets the need for a special assessment to each condo owner.
Generally speaking, an association should have around 10% of the annual budget in reserves for a community that is under 10 years old. If it's over 10 years old, they should have at least 25%.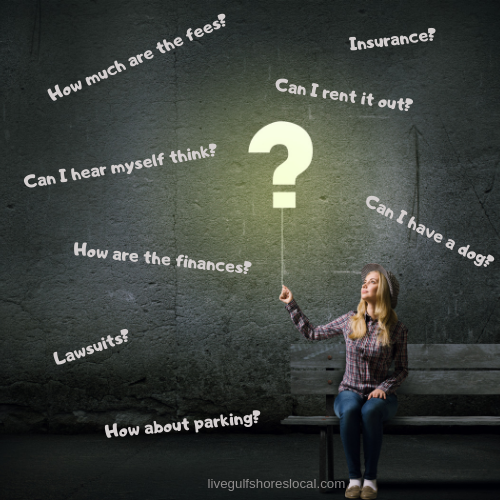 Are There Any Rent Restrictions?
Here's a crucial question to ask if you're buying a condo strictly for investment. Some buildings may have rental restrictions that won't allow rentals for less than 7 days. While many tourists in a resort area will want to stay for at least a week, you still need to know if you're allowed to accommodate those that want to visit for just the weekend.
How Noisy Is It?
Boy, this is important! One of the biggest factors in how much noise you'll hear from other units is how the building is constructed. For the most part, wood framed buildings will be more noisy than poured in place concrete. Many condo buyers don't consider this before purchasing so find the answer to this question if excess noise would bug you.
What Exactly Do I Own?
In general, condo ownership means sole ownership of the air space within the walls. Other definitions also include the interior walls of course. Outer walls, the balconies, halls, elevators, grounds, and amenities are all jointly owned by everyone. However, it's important to inquire about this because there may be a question about the windows and exterior doors. If they need to be replaced, who replaces them, you or the association?
How Well Have Condos Sold in the Community in the Past?
It's always a good idea to look at the history of the condo community that you're interested in. Are the condos appreciating the same as "like" properties in the area? Do listings stay on the market longer? Is there a demand for this complex?
I always tell my clients that they should always think about re-sale value when purchasing any property. Your Realtor can get all this information for you but if you're looking into "Lower Alabama", that Realtor would be me of course. :)
The Takeaway
Owning a condo is a growing trend across the country for both personal use and investment but this type of ownership is very different than owning a single family home. Always do your own due diligence and put your Realtor to work for you to get answers to these important questions.
Other Resources for Questions When Buying a Condo: