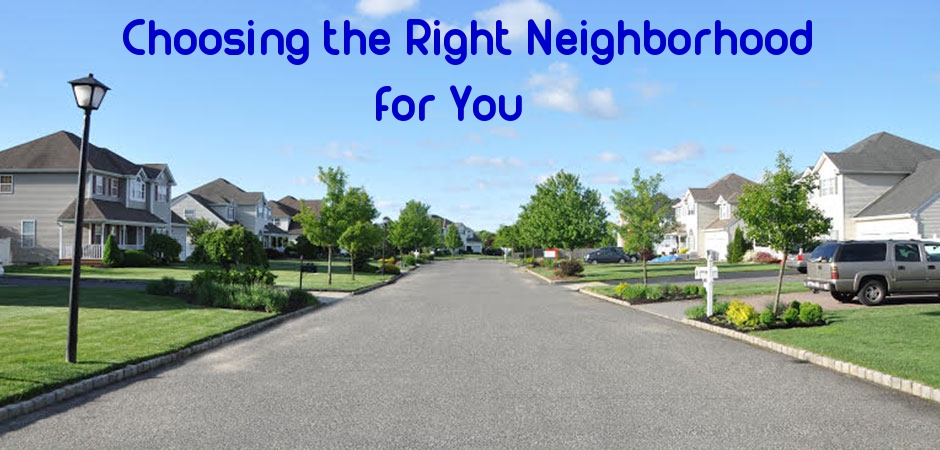 We've all heard the ole cliche, "location, location, location", when it comes to holding or increasing value for your property. Not only can living in a great neighborhood help to hold the home's value but it can also make it easier to sell when you've decided to move on. On the other hand, one neighborhood that is great for one family might not be great for you. Here you'll find a number of factors to consider when choosing your next home to buy as it relates to the neighborhood.
Determine Your Own Needs and Tastes
Most people have a good idea of what they're looking for in a home but I see very few buyers actually talk about their neighborhood needs. Make a list of things that may be important to you like:
Living in a Home Owner's Association or not
The size of the yards
Able to install a fence of your choice
Can you have your own pool?
Narrow vs wide streets
Are sidewalks and streetlamps important?
Having a neighborhood full of mature trees
Do all of the homes look the same? (cookie cutter)
Is it hard to get out of the neighborhood?
Power lines
Walk-ability
Do you value privacy or like being in the action?
Affordability and Market Conditions
Most of us will have to buy in a particular neighborhood that meets our financial needs first. I can't tell you how many times that I've heard, "I wish we could put that house into that neighborhood". For the most part though, Baldwin County has so many choices for afffordable homes that there shouldn't be a problem finding the right home in the right neighborhood for you.
It's so important to work with a Realtor who understands market conditions. For instance, when a client of mine finds a home that they really like, I go to work to research all of the homes that have recently sold in that neighborhood. Whether the home is priced too high or just right, I'm able to advise them on the best possible offer.
Finding the right home in the right neighborhood can be a balancing act of give and take, but with research, a little patience, and understanding your goals, the whole process can be a lot more manageable.
Amenities
Nowadays it's very typical for new or newer neighborhoods to have amenities that homeowners can enjoy as much as they'd like. Some of these may include:
Pool
Clubhouse
Tennis courts
Walking trails
Common "green" areas
Playground
Grilling areas
Lakes
even Bocce Ball
This will involve an HOA fee but if these things are important to you it won't matter. Most of the time, these fees aren't too expensive anyway. If neighborhood amenities are a factor, your Realtor should be able to easily find the right homes for you to look at. If you are looking to buy a home in Baldwin County, I can definitely help you with this (of course). One good example of a new neighborhood in Spanish fort with nice amenities is Stonebridge. They have many of the amenities that I listed above.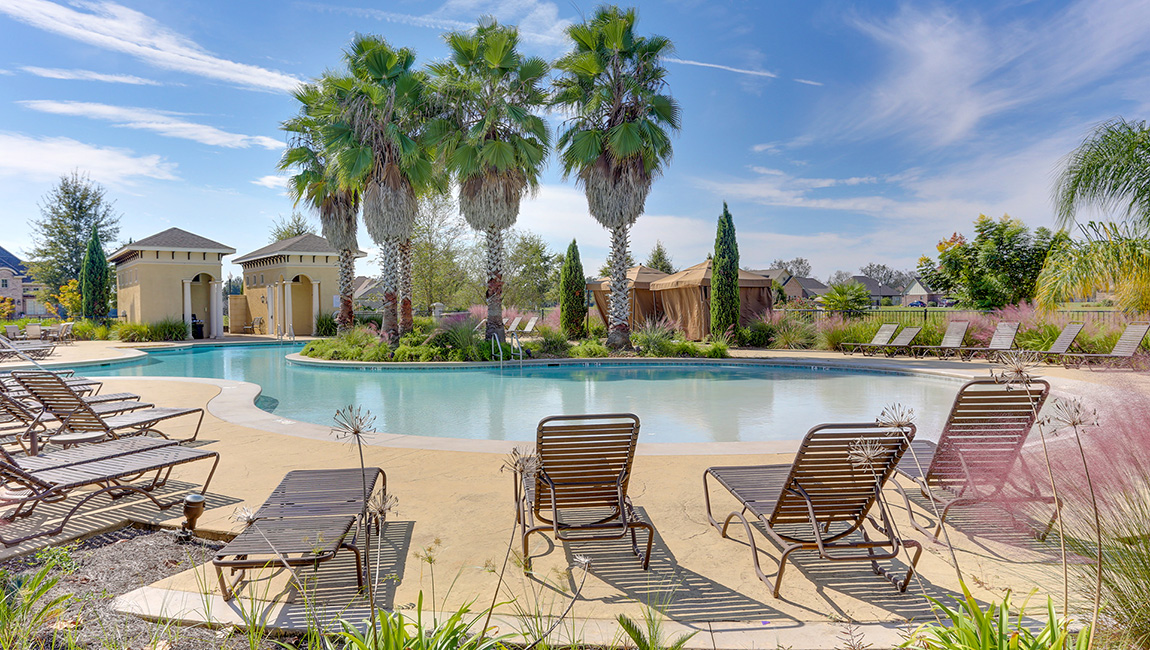 Neighborhood Pool at Bellaton - Daphne
Do You Like What You Hear?
Many buyers have a neighborhood in mind that they really like. If this is the case, become an expert. Google the neighborhood to find reviews or forums to find comments from folks who are already living there. Drive the streets of the neighborhood, attend open houses, or even talk to neighbors. Many people who already live where you're considering are more than helpful to provide information about traffic, crime, or noise. I actually do this when I'm with a client in a neighborhood. I remember showing a property in Timbercreek of Spanish Fort and stopped the car to talk with a neighbor who was out in their yard. They gave some great comments and advice that helped my client make their decision.
The Schools
There is one question that I hear often when a buyer is looking for a home, "What are the schools like?". We are fortunate in Baldwin County to have great schools and I always give the rundown of what I know about them. I also encourage my clients to do their own research as well. They can go to sites like GreatSchools.org to see a grading of all the local schools.
Another thing to consider on this topic is how close do you want to be to the school? Some like to be within walking distance but be careful. If you get too close, you may have to contend with stadium lights and marching band noise.
Seeing Neighbors Out and About
Watching families playing in the yard, kids riding their bikes, or people just going for a run brings a feeling of safety and vitality to a neighborhood. Take notice of these things as you choose where you would like to live.
To look at it from another angle, don't just rely on what you see in the middle of a Tuesday afternoon. Ride through the neighborhood at night and on the weekend to see how you feel.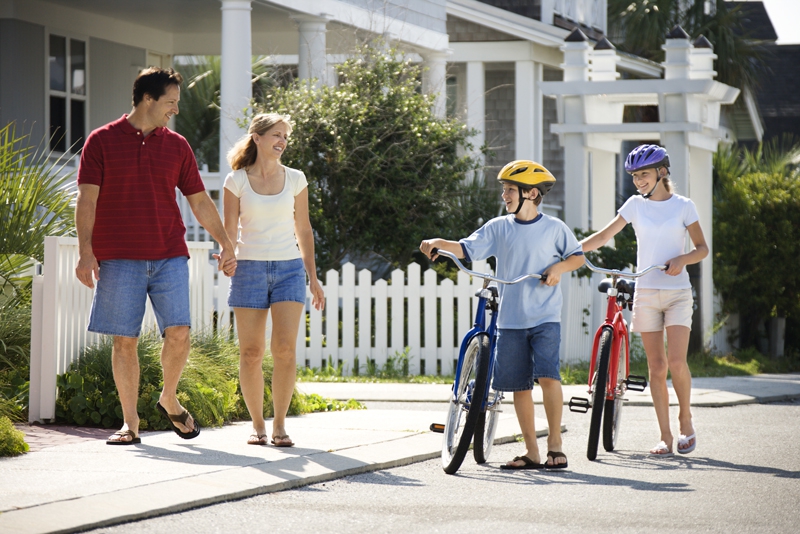 Homes are Holding Their Value
If you're considering a home based on the property itself and do not take the desirability of the neighborhood in mind, you may hurt in the long run. The chances are fairly good that if you have questions about the area now, future buyers will also have those same questions later. We Realtors have access to years of market data that can show appreciation over time, the change in price per square foot, and how long properties stay on the market.
Even during the crash that we had around 2008, there were neighborhoods that held their value better than others. I just ran the numbers on a neighborhood yesterday and found that the average selling price is about $75,000 more than it was a year ago. It's all about supply and demand.
Commute to Work
With most metropolitan areas you can live and work in the same city and still have an hour commute to work. How will your commute time effect your quality of life? You may want to find neighborhoods that are closing to major highways or the interstate in order to cut some of the drive time down. For instance, Lake Forest of Daphne is a very large neighborhood that is real close to I-10 making for an easy commute for those who work in Mobile.
Evidence of Home Improvements
It's always nice to move into a neighborhood where all or most of the residents take care of their homes. Their yards are mowed on a regular basis. The gutter isn't hanging off the side of the house. The mailbox isn't leaning over. These are all things that show pride in ownership and can definitely help improve home values in the future. I've had clients love a house but didn't want to buy it because the next door neighbors' yard looked trashy. Makes sense.
Proximity to Shopping and Restaurants
Everyone's different. Some people prefer to be closer to major shopping centers and others don't mind living in a rural area. I've lived in both places. From one home it would take 25 minutes just to get a gallon of milk and now it takes less than 5. I prefer the latter but that's me. Here in Baldwin County we are seeing massive growth with nearly 90 neighborhoods producing new homes in areas that would satisfy any drive time that you desire.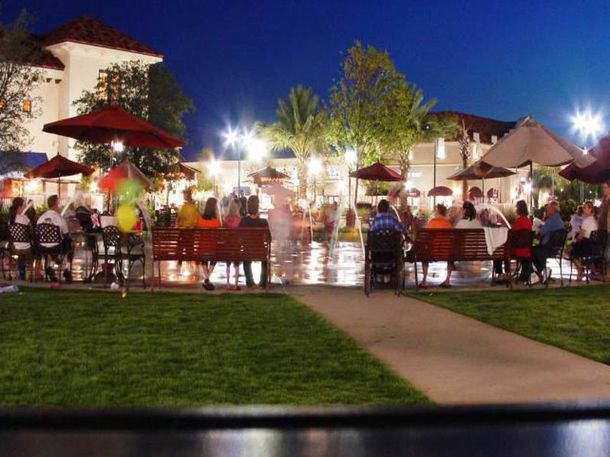 Eastern Shore Centre
Can You See Yourself There in 5-10 Years?
It happens. You and your spouse are newly married, you're young, and having that great condo downtown sounds perfect. The next thing you know is you have a 2 year old and one on the way. Living two doors down from the pub doesn't sound that great anymore.
I know as well as anyone that your life can change and all of sudden you're needing to move. However, the best advice along these lines is to look for a home that you think you will live for at least 5 years. This will give you the best chance of having some appreciation accumulate.
Traffic
For most areas traffic is always an issue but there are some things you can look out for in regard to a neighborhood.
Is the neighborhood so large that there will be dozens of cars trying to leave at the same time each morning?
How many entrances/exits are there to the neighborhood?
Is it off of a major road with no stoplight?
Is it adjacent to a school where parents dropping off their kids will hinder your way? How many school buses will be lined up blocking your way?
What's the speed limit outside of the neighborhood?
Crime Rate
For the most part, Baldwin County has a much lower crime rate than the rest of the state. However, this is a topic that you should always do your due diligence to find out how safe you will feel in your new neighborhood. This information can usually be obtained online.
Are there A Lot of Rentals?
In many cases, neighborhoods that have a high level of owner occupied homes tend to be more stable. This isn't a total negative but if renters outweigh owners, your home value may take a hit down the road.
How Long Do Homes Stay on the Market?
The length of time that a home stays on the market (days on the market) is a great indicator of how popular the neighborhood is. As a Realtor, I can find this information out quickly to see if the neighborhood is considered "hot" or not. This information is useful to someone buying now because it's a good indicator of what you will likely see when you put the home on the market yourself down the road.
Other indicators of a hot market are a low supply of homes, population growth, and companies moving into the area bringing new jobs.
Go to the areas below to find links to most of the neighborhoods with single family homes (not condos) in those cities:
About the auther: The above Real Estate information on Choosing the Right Neighborhood for You - Baldwin County was provided by Jeff Nelson of eXp Realty Southern Branch. Jeff can be reached via email at jeff@livegulfshoreslocal.com or by phone at 251-654-2523. Jeff has helped people move in and out of properties for nearly 13 years.
Thinking about selling your home? I have a passion for Real Estate and would love to share my marketing expertise!
I service Real Estate sales in Baldwin County including the cities of Spanish Fort, Daphne, Fairhope, Foley, Gulf Shores, and Orange Beach.