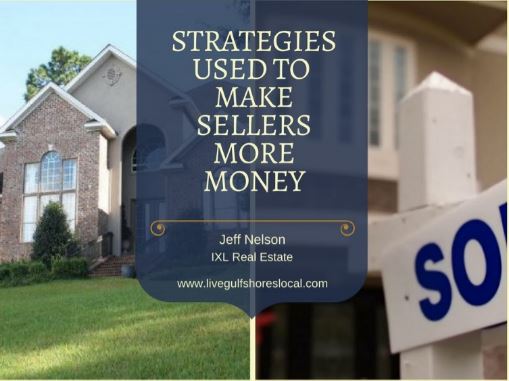 Selling a home is one of those things that a lot of people think they can do. and about 8% of them decide to go ahead and go for it. While a majority of the sellers who initially went the "For Sale By Owner" route ended up using a Realtor anyway, it's not always a disaster to tackle it on your own. My question is, "Why?" Yes, of course, in almost every case, sellers sell on their own in order to save on the real estate commission. Unfortunately, they don't realize that the time and effort is well worth the cost, and in many cases using a Realtor will net them more money.
According to the latest survey put out by the National Association of Realtors, approximately 8% of all sellers in the country sold their home by FSBO. Among all of those FSBO sellers who were surveyed, here were their most difficult tasks:
41% did not market their home.
18% struggled with setting the right list price.
13% had problems with preparing their home to sell.
12% wrestled with understanding and executing the paperwork.
3% had trouble with closing in the specified amount of time according to the contract.
3% said it was difficult having the time to complete all of the aspects of the contract.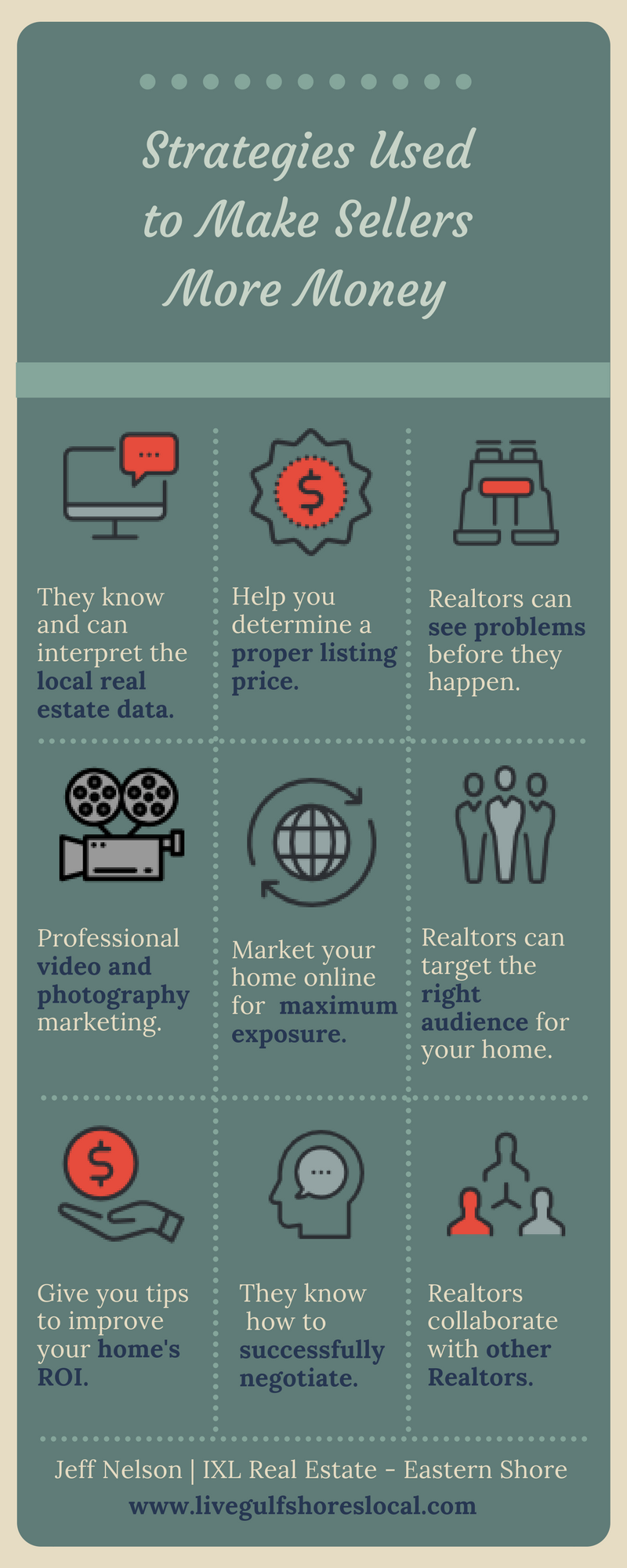 Let's face it, we are good at what we study and work at in our daily lives. I'm not familiar with how to put brakes on my truck, so I call a mechanic. Could I put brakes on my truck? Yeah, I probably could, but I don't really want to do it. So, I bring up selling FSBO versus using a Realtor, because I strongly believe that most sellers will make more money by the mere fact of working with a Realtor.
Most of the hard-working Realtors that I know (including myself) put in way more than 40 hours a week, and they strive every day to get better at their craft. If we're not showing property or going on listing presentations, we're educating ourselves constantly, working on marketing, writing real estate market reports, etc.
So let's look at reasons or strategies why sellers will make more money by working with a Realtor . . .

Understanding real estate market conditions is a skill that Realtors learn in order to price your home correctly. It is absolutely a skill because digging into the sales data is a science that determines value. If you price your home too low, you lose money. If you price it too high, you run the risk of your property sitting on the market going stale. Plus, if you do happen to get an offer after pricing too high, you'll be worrying that your home won't appraise at the sales price. This is exactly why 18% of the sellers who sold on their own struggled with setting the right list price.
Being able to interpret local real estate data is so much more than just looking back to see what homes have sold in the past 6 months. Real estate is hyper-local, meaning that homes in Neighborhood A may be selling for $200,000 but across the street in Neighborhood B they are selling for $250,000. Why is that? Well, you have to dig into all of the data to figure it out.
Are you in a buyer's market or seller's market? If you are in a buyer's market, what is the selling to list price ratio? When is the best time to sell your home for your area? It's not necessarily in the Spring. Are home sales trending up over the past 3 years? Why are properties in some areas on the market for 120 days while in other areas they go under contract in 60 days?
This is all information that a great Realtor will be able to interpret in order to set your price correctly. So, hopefully, you can see why working with a Realtor who understands real estate data will be helpful in making a seller more money.

Although the goal is to get the seller the best possible price, every home will sell for the right price. Setting the right price for a home is the key to selling your home in a reasonable amount of time without leaving money on the table. That's actually my mission as a listing agent, to sell your home for the most amount of money, in the least amount of time, and with the least amount of hassle.
Let's look at a scenario . . .
You've prepared your home to sell, and you're ready to put a for sale sign in the front yard. Although you have a Realtor in mind, you're kicking around the idea of selling FSBO, so it's time to come up with a price. You start to wonder where you're going to get this information. Yes, you can go to the city's public records, and you manage to find 3 properties that sold in your neighborhood within the past few months. You also go to Zillow to get their "Zestimate" on your home. By looking at the figures of all 4 sources, you decide to list your home for $300,000. After several months on the market, you finally get an offer and sell your home for $295,000.
Ok, I'm trying to paint a picture here and, yes, this story is fictional but it rings true in real life. Let's continue the story . . .
You later see your friend who's the Realtor, and after talking about your experience selling, the Realtor says that he had already worked up a comparative market analysis (thinking he was going to get the listing) and he had figured that you should list at $310,000 and close at around $305,000.
What you didn't know was that because you didn't have the adequate tools to look at all sales data, you missed a sale. You happened to miss a home that sold for more than the 3 other comparables that you used to determine a price. Because you didn't work with a Realtor, you also didn't realize that your area is in a strong buyer's market, and buyers are getting an average of 3% off the list price. And, to top it all off, you didn't realize that Zillow readily admits that it's impossible for them to obtain all comparables that have sold, and it's typical for their "Zestimate" to be up to 10% off.
This is why working with a Realtor can make you money.

Seeing a problem coming from a mile away may not seem like an obvious way to make sellers more money. If you're having issues during the initial negotiation of the offer, you'll probably have more issues after you go under contract. If the buyer is hell-bent on going back, 4 or 5 times over $500 now, they will probably want everything and the kitchen sink during the negotiation of repairs as well.
Another problem that we can thwart is if you happen to be in a multiple offer situation and the sales price keeps raising, the Realtor will see that their client might run into a situation where the home won't appraise for the final sales price. Unless the buyer pays the difference in cash, the seller will have to drop the price to meet the appraised value or the buyer can get out of the contract.

Top Realtors utilize the technology of the day. Honestly, it blows me away sometimes to see some of the listing photos that people voluntarily put out for the world to see.
It's a fact that 95% of all home buyers search online for their next home, and if a listing has poor pictures or no pictures at all, the buyer will immediately shove the listing to the side.
Here are some examples of what top Realtors DO NOT do: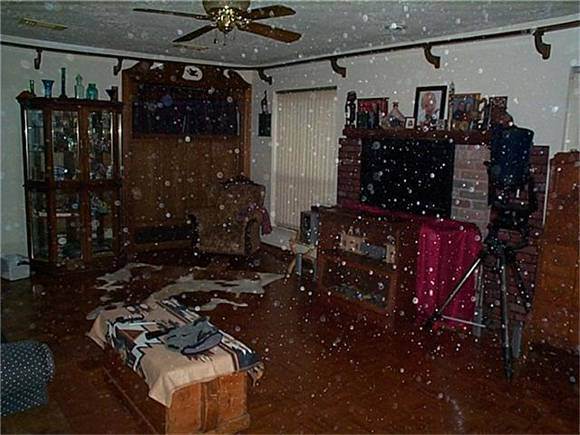 There's nothing wrong with your computer screen folks. These are actual photos that were uploaded into the MLS for the purposes of selling a home.
If you work with a top Realtor who takes pride in their photography and the video, you will ultimately attract more buyers. The more buyers that you have, the better the chances of you making more money on your home.

With 95% of home buyers searching for their next home online, it's essential to be working with a Realtor who has a strong web presence on their website and social media. Don't be fooled though. Every real agent out there has a web "page" given to them by their brokerage company, but most of them will never be found. If you want to sell your home, work with a Realtor who has their own established website. There is a sea of web pages out there with real estate agents' name on it, but if no one knows they are there, how is that going to help you?
If you do work with a web-savvy Realtor, your listing has a better chance of being in front of thousands of more people than it would otherwise. The more buyers, the more competition. The more competition, the more money in your pocket.

Top Realtors know how to target audiences in a few different ways. One, you can work to attract Millennials. Millennials are the largest purchasing group in the country right now, so writing content in listings in a way that highlights what Millennials like is a winner. Another way to target audiences for listings is to pay for ads in social media that single out certain age groups that would typically purchase a home you're trying to sell. There are lots of ways to do this and by doing so, you're creating more traffic which makes more money for the seller.

Homes eventually break down or just become outdated, and the small to-do list that you had a year ago has now grown substantially. Well, there are dozens of projects that you can do around the house that can actually bring value to your home.
Remodeling Magazine puts out a Cost VS Value Report every year and provides us all with a great resource to determine which projects will give you the best Return On Your Investment (ROI). Through past experience and staying up to date with articles like these, Realtors can give you tips that can add money to your bottom line. While some repairs you would have to make anyway just to keep a sustained quality of life, there may be other improvements that you could take on that will make your home more appealing to buyers.
Keep in mind that out of 29 projects that the article covers, only 3 give you a ROI that is over 100%. Most of the projects still return over 60% on your initial investment and that updated sink could be that one thing that puts an offer on your kitchen table. The general public does not have the experience in this area like many Realtors do so working with Realtor should help the seller make more money.

You can read books like "The Art of the Deal", but you won't really get good at negotiating until you have some time in the saddle. I've had clients tell me that they wanted to offer X amount of dollars and after looking at the numbers, I thought they could do better. I did save them another $5,000, making them more money. Successful negotiating is when both parties get something they want. It is a little give-and-take, but good Realtors will always try to get every penny for their clients.

Although we Realtors are competitors with each other, we always work together to sell our homes, especially within our own office. So, you'll multiply your efforts exponentially just by working with a Realtor. We all talk with each other, and we all have the same goal - to sell homes. If you're not working with a Realtor, it would be impossible for you to have access to this pool.
Other Great Articles That Relate to Helping Sellers:
8 Costly Mistakes Home Sellers Make - Michelle Gibson
41 Home Selling Mistakes That Are Stopping You From Selling Your Home - Lynn Pineda
What Are the Most Important Things to Do to Get My Home Ready to Sell - Chris and Karen Highland
The Worst Home Selling Advice Some People Believe - Bill Gassett
About the author: The above Real Estate information on Strategies Used to Make Home Sellers More Money was provided by Jeff Nelson of eXp Realty Southern Branch. Jeff can be reached via email at jeff@livegulfshoreslocal.com or by phone at 251-654-2523. Jeff has helped people move in and out of properties for nearly 13 years.
Thinking about selling your home? I have a passion for Real Estate and would love to share my marketing expertise!
I service Real Estate sales in Baldwin County including the cities of Spanish Fort, Daphne, Fairhope, Foley, Gulf Shores, and Orange Beach.