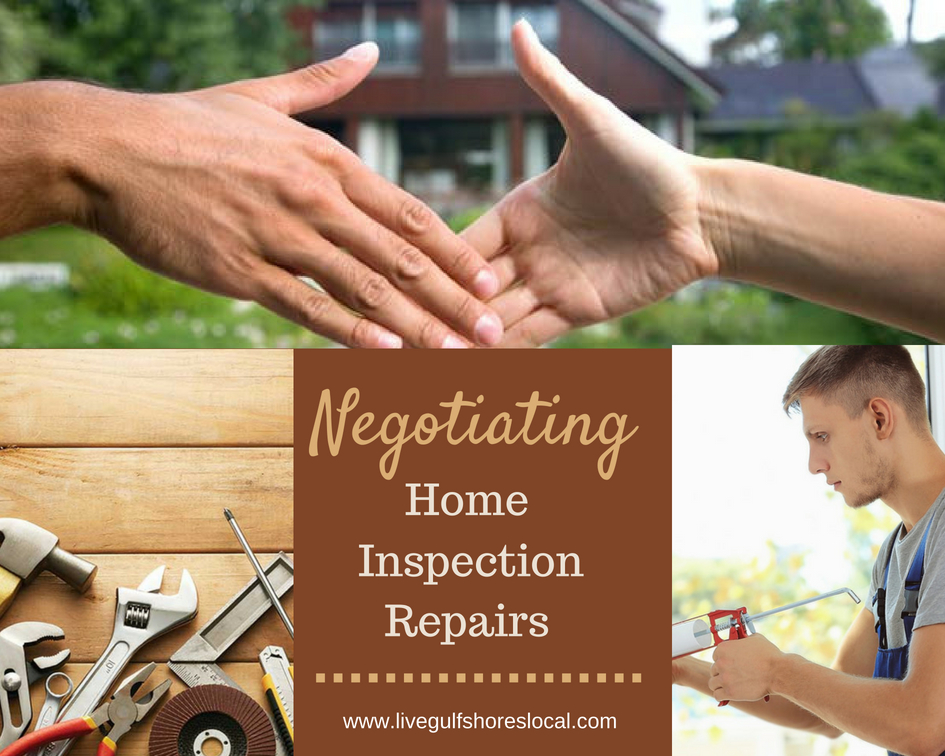 You've been searching for the perfect home for weeks (or even months) and finally you found it. The price was right, the home is in the school district that you wanted, and you can definitely picture your family living there for years to come.
You and your Realtor put together a reasonable offer with all of the necessary contingencies, including the home inspection.
The home inspection is one of the most important aspects to a real estate contract and should never be overlooked. I've said it a thousand times and will probably say it a thousand more....Whether you're buying a pre-existing home or new construction, ALWAYS get your own home inspection!
However, there are some rules of etiquette when negotiating the repairs that come from the results of the Home Inspection Report.
Negotiating Tip: Never talk about the plans or renovations that you have for the home to the listing agent or the seller. This could effect negotiations with the initial price and repairs.
Let's take a look.....
Negotiating Home Inspection Repairs
First of all, you will rarely find a home that is absolutely perfect and in need of no repairs. I've come across 1 in 13 years, which means that the chances are good that when you go under contract on your next home, you will probably have to negotiate repairs with the seller.
How the process works
Deliver a Reasonable Offer
Negotiating Tip: Your offer should be based on what you have seen outside of the home inspection. The best policy is to address the issues of repairs after your inspection has been completed. Because the inspection is a contingency, you are not bound to the contract if you and the seller can't come to an agreement on repairs.
Order Your Home Inspection
This is usually done in the first 7-10 days after your offer is ratified and its purpose is to provide you with the overall health of the property. You will no doubt receive a laundry list of items that aren't perfect. Negotiating Tip: Focus on the problem areas that are mechanical, structural, or a safety hazard. These are items that will effect your livability and quality of life.
Determine What Repairs You Want to Have Completed
In my experience, there are 3 types of buyers when negotiating repairs.
No repairs necessary. The buyer sees that there are some issues but because they are so minor, they decide to make the repairs on their own.
Some repairs. The buyer only wants the seller to repair the items that could be a safety hazard.
All repairs. Ugh! Unless, the home is brand new construction, asking the seller to make every single repair is really unreasonable. Folks, we've all heard that you can't make chicken salad out of chicken poop. Negotiating Tip: For buyers that insist on a having a near perfect older home, I would suggest buying new construction.
You may find that the seller was very proactive and ordered a Pre-Listing Home Inspection. After fixing any problems ahead of time, there may not be much to add to your list. This is a great idea by the way.
Forward List of Repairs to the Seller
Once your home inspection is complete, you and your Realtor will prepare the list of repairs to give to the seller. Don't forget that you're under a time restraint. Whatever time frame that you and the seller agreed on (be it 7, 10, 14 days for example), you not only have to get the inspection completed but your list of repairs must also be given to the seller before the end of this time period. The official name for this list of repairs in our area is called the Home Inspection Removal Addendum.
Negotiating Tip: Have your Realtor write into the addendum that all work shall be completed by a professional in their field who are licensed and insured. If you're considering asking for a credit, you will have to get quotes ahead of time while insuring that you don't go pass your deadline time.
Ask the Seller to Make Repairs or Ask for a Credit?
Obviously the buyer will want the least amount to do after moving in and the seller will want to make the most money. A successful negotiation occurs when all parties get something they want so it may be in the best interest of everyone for the buyer to get a credit at closing versus having the seller make the repairs asked of them. This could be a viable option especially if the repairs are big ticket items.
Negotiating Tip: Consider getting a cash credit that goes towards either the sales price or closing costs. This way you can have total control over how the repairs are completed.
Negotiating Tip: Give a copy of the home inspection summary page to the seller. This way the seller can verify the item needs attention. Plus, in a lot of cases, the seller may even be unaware that there was a problem to begin with.
Come to an Agreement or Walk Away
The home inspection is the biggest leverage that you can have in a real estate transaction as a buyer. However, the seller can make 1 of 4 choices when it comes to your repair list.
The seller can agree to make all repairs.
The seller can agree to make some of the repairs.
The seller can agree to make no repairs.
The seller can agree to give you a credit instead of making repairs.
The reason why the home inspection is your biggest leverage is because if you don't agree with the seller concerning the repair list, you can merely walk away from the transaction.
Negotiating Tip: Be reasonable. If you walk away from buying a home because the seller didn't agree to replacing an electrical outlet, you probably didn't want to buy the home anyway. It happens.
Repairs That You May Consider Giving a Pass
Minor landscaping issues should never be on your repair list. Although the seller may want to spruce up the flower beds for you, you really can't expect them to do it as a contingency of the sale.
Anything that is decorative like paint, wallpaper, brass light fixtures, the style of the cabinets, etc.
Defects that are easy to rectify like missing caulking, a missing smoke detector, or a loose toilet seat.
Normal wear and tear. Every home over a few months old will have some imperfection. You may find a hairline crack, separation between the woodwork and the wall, a stain on the carpet, or a failing window seal.
Any small fix that could be completed with just a little bit of time and a few bucks. (You may find that the seller may want to fix these items anyway, if you come across with a good attitude)
Renovations or repairs that you were going to make anyway.
Minor water damage. Sometimes you may see a watermark on the ceiling or wall from something that failed in the past. Many home inspectors have a gadget that can tell if there is still moisture in that area and whether the problem was fixed or not.
Negotiating Tip: This is not only a real estate transaction but you're also dealing with a person and/or family. "Asking for everything plus the kitchen sink" could definitely apply here especially if the buyer was able to negotiate more money off of the listing price in the beginning of the deal.
Repairs That Shouldn't Be Avoided
Faulty or outdated wiring and fixtures - Any problems that involve electricity should absolutely be addressed when negotiating repairs due to safety concerns. You shouldn't have to buy a home with the fear of shock or fire.
Mold - This is another serious health concern that can cause major issues now and down the road. You can often smell mold but you may not always see it. A home inspector will search more thoroughly if there's a question. Also, the mold is not the only problem. The home inspection will find the cause of the mold whether it's poor air circulation, a water leak, or roof damage.
Termite damage - Pests can cause widespread damage if undetected costing you thousands of dollars in the future. Also, mortgage companies will not lend money without a "clean" termite report.
Poor drainage - Notice how the landscape of the property slopes. If it slopes towards the house without a re-direct, your new home could cause costly repairs in the future.
Weekend warrior projects - Putting up a swing is one thing but major renovations need to be properly permitted. A home inspection will pick up on whether a project was performed correctly.
Major plumbing issues - Any problem area that could cause extensive damage in the near future is appropriate to add to the repair list.
Major mechanical problems - Systems like the hot water tank and HVAC should be running effectively. They may not need to be replaced but just servicing the units may fix the issue.
Negotiating Tip: Sometimes people think that negotiating is the act of beating the other side down to the point of ultimate victory. This strategy usually fails. If the buyer shows a since of compassion regarding repairs, they typically get more of what they want.
Negotiating Tip: You can write anything into a contract or addendum and as long as both parties agree in writing, it becomes apart of the transaction. You and the seller could agree to make the sale contingent on the seller setting aside a certain dollar amount from their proceeds at closing to make the repairs after the sale. This is a winning technique if the seller doesn't have the funds to make repairs because it doesn't matter how good of a negotiator you are, you can't wring out a dry rag.
Consider the Market
A Buyer's Market is when there are more listed homes than buyers.
A Seller's Market is when there are more buyers than homes listed.
In a buyer's market a seller is relieved to find someone who will write an offer for their home because there is so much competition. Being reasonable and not kicking people when they're down will go a lot further in your best interests.
In a strong Seller's Market you will often see multiple offers for a single property. Buyers will be doing everything they can to win the deal from increasing their sales price to not asking for any repairs to be made.
Negotiating Tip: If you do find yourself in a crazy Seller's Market, get a home inspection but consider writing into the agreement, "For Informational Purposes Only".
Make your own decisions and pick your battles based on what kind of real estate market that surrounds you.
The Takeaway
To successfully negotiate home inspection repairs, both parties will get more of what they want by not annoying each other. Ask for the big items that will effect your livability and leave the small stuff alone.
Final Tip: Always get a home inspection but be reasonable.
Additional Resources for Negotiating Home Repairs: