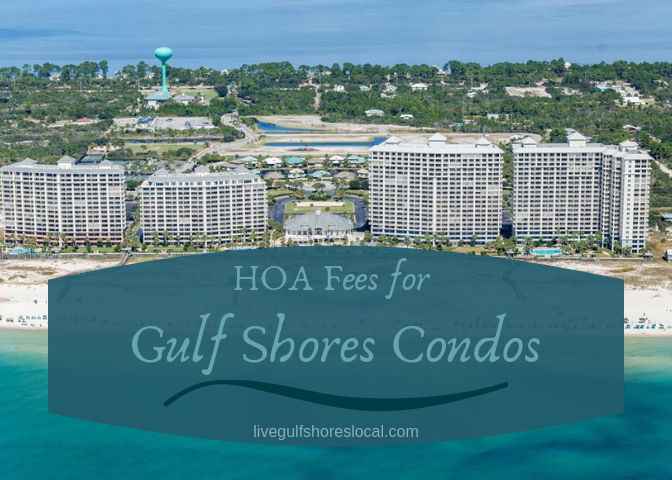 HOA fees (aka Home Owner's Association Fees, Association Fees, or Condo Association Fees) are a way of life for all condos in Gulf Shores as well as many single family neighborhoods.
As a Realtor in Gulf Shores, I often get asked about HOA fees. Condo buyers are usually concerned about the monthly cost and more times than not, they get "sticker shock". However, when I explain how HOA fees are broken down, my clients usually feel a little better.
Gulf Shores Condo Fees
Here's a typical snapshot of what is covered by paying condo fees in Gulf Shores:
Association management
Common area maintenance
Common area insurance
Reserve funds
Pest control
Recreational facilities
Basic cable tv
Trash
Water/Sewer
There are approximately 75 condo communities in Gulf Shores alone and nearly all of them will provide something similar to what you see above in their Condo Docs. Usually the variations will have to do with what amenities are offered in the community like pools, hot tubs, tennis courts, etc...
Because the cost of buying any property is incredibly important, here is a breakdown on HOA fees for some of the more popular condo communities in Gulf Shores.
Each link below will take you to that communities page giving you more information about the complex, condos for sale, property details, and pictures.

Condo Communities and Their Monthly HOA Fees
This list doesn't contain every condo community that''s available in Gulf Shores but I'm sure that I'll be adding to it regularly. Please contact me if you need HOA information for any condos that aren't listed.
This waterfront condo complex is located way back off of Route 6 - a very quiet spot away from the hustle and bustle of the beach. Boat slip, outdoor pool. $515 - $550
Bel Sole is a very attractive, upscale tower that can be found in the quieter section of West Beach. Units are large with views of both Little Lagoon and the Gulf. $790 - $1,240
Located Gulf front on E. Beach Blvd, you'll find 1 and 2 bedroom options with great views. This building has 8 stories with only 32 units. $488 - $675
The complex sits a few miles away from the beach and offers condo buyers very affordable prices at around $140 per square foot. $230 - $290
Here you'll find a 14 story tower with 88 units, all of which have incredible views of the Gulf in both directions. Amenities include indoor and outdoor pools, game room, whirlpool, and fitness room. All units have 2 bedrooms and the HOA fees are $600.
CSW is yet another Gulf side building with 108 units with 2, 3, and 4 bedroom options. Amenities are the same as Crystal Shores and HOA fees are $594.
This is a very unique property that happens to sit across the street from the beach but it's the only condo complex that has a raised, covered walkway over W Beach Blvd. There are many amenities including 2 pools (one of which is a rooftop lazy river). $600
Here's another unique condo establishment, mainly because it comes with an executive 9 hole golf course that's free to owners. Play all you want! There are 1, 2, and 3 bedroom options and the fees range from $240 - $604.
GBR is a popular complex that sits across the street from the beach, not too far from Gulf State Park Pier. A benefit though is that there can never be anything built on the beach side across the Grand Beach Resort. You will still have a Gulf view, in other words. $417 - $644
This is a large complex located way down Fort Morgan Rd. One of the benefits of have a large footprint is condo owners and guest will also enjoy a wider private beach area. $540
Lighthouse is a very nice, gulf front building that is very popular and close to downtown Gulf Shores. You can basically walk to anything you may need. Lots of amenities include 2 large outdoor pools, an indoor pool, fitness center, and 2 hot tubs. $375 - $899
Mustique is a higher end complex located on West Beach, across the street from the Gulf. These condos are large 4 bedroom units that offer views of both Little Lagoon and the Gulf.
This is one of my favorite condo communities in Gulf Shores because it sits away from the hustle of the beach. It's a large area that wraps around a marina and along the Intracoastal Waterway. You'll find boat slips, 2 pools, fitness center, and tennis courts. $555
Here you have another popular tower that is close to The Hangout and all of the festivities. There is a gulf front pool, sauna, and fitness center. $639
The Beach Club is an extremely popular condo complex that has a large footprint and plenty of amenities. This community is located down Fort Morgan Rd, offering 5 outdoor pools, indoor pool, basketball court, tennis court, shuffle board, fitness room, restaurants, and a lot more. $313 - $937

Important Notes on HOA Fees
If there is a price "range" for fees in a building, that usually has to do with the difference in square feet of the different units.
Although at first glance the monthly fees may seem a little steep, much of what you're paying for would be things you would have to pay anyway with a single family home.
ALL GULF SHORES CONDOS FOR SALE BY PRICE

$100,000 to $200,000 – $200,000 to $300,000 – $300,000 to $400,000
$400,000 to $500,000 – $500,000 to $600,000 – $600,000 to $1,000,000
For more information on any condo at the beach, pricing, and market conditions, call/text/email me at: