One of the best tips I could give you when buying a condo in Gulf Shores is to research the right location for you. It will be different for everyone so let's go into the various areas you could consider...
Condo Buying Tip #2 - Determine the Perfect Location for You
Fort Morgan

The Fort Morgan Peninsula comprises the entire west section of Gulf Shores. This is a much more quiet part of town where you will see very little business and more single family homes. There are several condo complexes on this 20 mile stretch as well but this area is nothing like the rest of Gulf Shores.
If you like the idea of buying a condo that is away from the busy downtown Gulf Shores area, you should take a look at The Beach Club or Gulf Shores Plantation. Although these two complexes have totally different price points, both are highly sought out by vacation renters.
When buying a Fort Morgan condo for more personal use, take a look at The Dunes or The Indies. Another good choice would be Navy Cove Harbor.
Fort Morgan has less traffic and no lights. Hwy 180 will take you from 59 all the way to the tip of the peninsula and it's 55 mph the whole way down. While there are a few restaurants around, there's not much more in terms of shopping. Owning a condo in Fort Morgan is quieter and more laid back but tourists and full timers still love it.
West Beach

West Beach is one of my favorite Gulf Shores locations to show condos because it's the best of both worlds. It's a little quieter over here too but yet you're not as far from shopping and restaurants.
This 6.5 mile stretch lies between The Hangout at Hwy 59 and ends at a gated community, Laguna Key. This section of the "beach" road drops down to 2 lanes of traffic and the speed limit drops as well. Another benefit from owning a condo on West Beach is that you can actually have 2 different water views, Little Lagoon to the north and the Gulf to the south. The views can really be quite incredible.
There are many condo communities in this section of Gulf Shores but here are some of the "stand outs":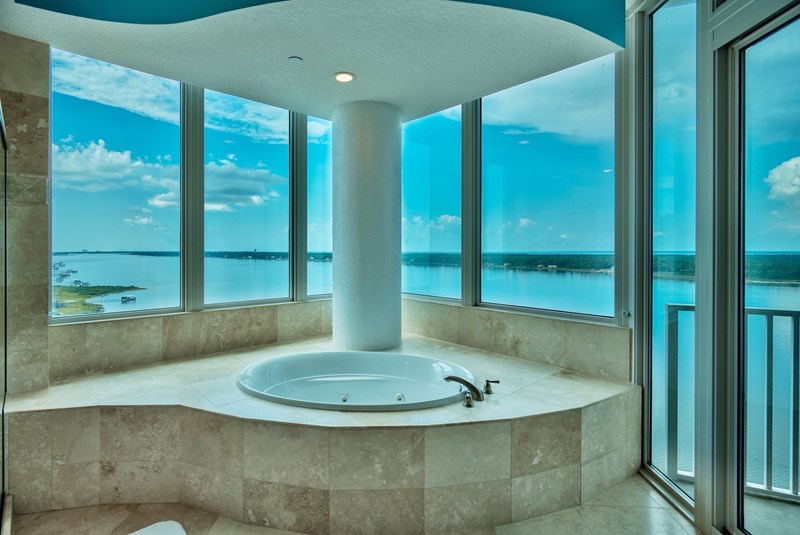 Lagoon Tower Master Bath View
East Beach
East Beach is a short section of Gulf Shores from The Hangout to near the entrance of Gulf State Park. This is a busy area of Gulf Shores but tourists love it because they are within walking distance to events, restaurants, and shopping. There are a dozen or so condo communities along East Beach that stay booked up much of the year with renters, giving investors great "bang for their investment buck".
Some of the more popular condo complexes on East Beach include:
Condos North of the Beach
If you want to own a condo near the beach but not on it, you could consider communities like Sailboat Bay or Bay John. There are several possibilities for those who want this lifestyle and these options are more conducive for second home owners or full timers.
Decide what is important to you before making your condo purchase.
Is this purchase for investment or living?
Do you want quiet or busy?
What kind of view do you prefer?
Do you want to be in close proximity to "things to do"?
As always, please contact me if you are wanting to purchase a condo in Gulf Shores. I can assist you with any property as well as advise you on location, pricing strategies, and market conditions.