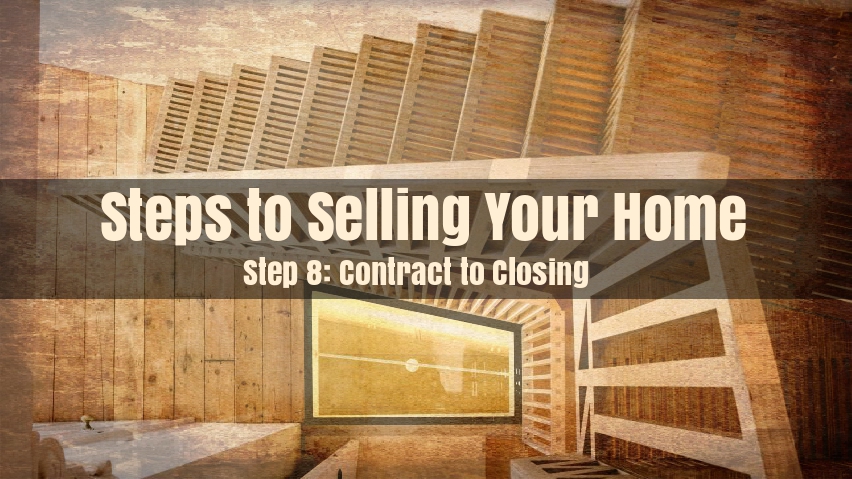 You've gone through all of the steps to selling your home and now you've reached the most important phase of the process - working with your new buyer from contract to closing.
There are many details and deadlines that are a factor in this period. Let's take a look at some of the most common elements that will come into play during a ......
Seller's Contract to Closing
Documents
You and the buyer have now signed off on several documents that include the Purchase Agreement, Home Inspection Addendum, Lead Based Paint (if home was built prior to 1978), Seller Disclosures, Brokerage Disclosures, and any additional addendum.
Your Realtor will be responsible for giving you a copy of everything that you and the buyer have signed as well as sending all needed documents to your title company and closing agent. Depending on what's allowed in your state, your transaction will be closed by an attorney or through the title company.
Please note that the next several weeks will be very busy complying with the terms of the contract so all parties and Realtors need to have a full understanding of deadlines that pertain to the sale.
Earnest Money Deposit
Whenever a buyer makes an offer on a home they must include with it some sort of "consideration". Although there aren't any standard amounts that a buyer must offer, there are typical or traditional amounts that you see in different parts of the country. The higher amount of the check, the more serious you look to the seller.
This money is deposited immediately into an escrow account as soon as the purchase agreement has been executed. The buyer is then credited back this amount at closing. The seller would receive the amount of the earnest money deposit only if the buyer defaults on the contract.
Contingencies
A contingency is a condition of the contract that must be met in order for your home to close. Typical contingencies that you may see are for a home inspection, financing, appraisal, and termite/moisture.
Contingencies are really put in place for the protection of the buyer and for their lender. So, the buyer is given a period of due diligence to order these inspections and can back out of the contract based on the findings of the inspection. Typically though, the buyer and seller usually work it out and negotiate for repairs to made. The buyer has the opportunity to ask for some, all, or no repairs to be made.
Termite and moisture inspections are demanded from the buyer's lender and there is no negotiation for these repairs. The bank will not fund the loan if these repairs are not made. For an appraisal, the value of the home must at least equal the amount of the sales price. If the value comes in lower than the sales price and the seller refuses to lower it, the buyer can back out of the transaction.
Repairs
As previousy mentioned, sellers are likely to make some repairs to their home based on the negotiations of the home inspection. Although a buyer can ask for any repair to be made, most of the time, these repairs will have to do with safety issues and would come up no matter who was buyering your home.
Sellers should have all work done by a licensed professional and keep receipts of everything that was completed.
Home Owner's Association Documents
These are also known as Property Owner's Association, HOA, or POA and contain specific information about your neighborhood or condo complex including bi-laws, covenants, restrictions, and available funds in the association's account. The seller must provide this documentation for the buyer and the buyer will have 3 days to either accept or deny the information from this documentation.
Closing Date
One of the elements that makes a contract a contract is a closing date. The language of the contract usually states that "closing is to take place on or before 'date'. " Unless there is a clause written in that closing can be extended by a certain amount of days due to financing, this date is firm so all other conditions of the contract must be met prior to closing day. Unless stated differently, the new buyer will take possession of the home on this day.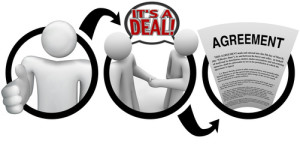 Typical Timeline from Contract to Closing
The contract period will be whatever the buyer and seller agree to, whether it's just a few days for a cash sale or a couple of months. A typical time, however, is usually around 30 to 45 days from the day you have signatures from all parties involved to the day you sit down at the closing table. Take a look at what happens during this time....
First Week
Earnest money check is deposited into an escrow account immediately
Buyer, seller, lender, and title company all receive copies of the executed contract
Buyer firms up financing and gets full loan approval
Home inspection is ordered
Appraisal is ordered
Termite and moisture inspection is ordered
Buyer sets up home owner's insurance
Home Owner's Association documents are ordered if applicable
Start packing
Second Week
Appraisal is completed
Home inspection is completed
Termite and moisture inspection is completed
Request for repairs is sent to the seller (if applicable)
Seller agrees to or negotiates request for repairs
Buyer continues to deliver all information and documents that are needed from their lender
Assure that the title search has been completed
Arrange for a moving company or U-Haul
Third Week
Seller contracts to have repairs completed by a qualified professional
Arrange for the transfer of utilities
Put in for a change of address
Order home warranty if applicable
Fourth Week
Sellers to have home cleaned after everything is removed
Gather receipts from any repairs that were made
A final walk through is scheduled for the buyer
Contact closing company to arrange a time to close
Review final closing statements prior to the day of closing to verify proceeds and costs
Seller to leave extra keys, remotes, garage door openers, etc.
Turn off shut off valves
Leave appliance manuals and warranty information for the new buyers
If this seems like a lot to keep up with, don't worry. Your Realtor should be on top of everything, orchestrating and communicating with all of the parties involved. You're in the home stretch!
Additional Resources for Contract to Closing:
Important Steps to Closing After an Accepted Contract - Anita Clark
Top 10 Final Walk-Through Issues - Kyle Hiscock
Is a Final Walk-Through Really Necessary? - Debbie Drummond
Closing Checklist for Home Sellers - Bill Gassett
About the author: The above Real Estate information on Step 8 - Contract to Closing was provided by Jeff Nelson of eXp Realty Southern Branch. Jeff can be reached via email at jeff@livegulfshoreslocal.com or by phone at 251-654-2523. Jeff has helped people move in and out of properties for nearly 13 years.
Thinking about selling your home? I have a passion for Real Estate and would love to share my marketing expertise!
I service Real Estate sales in Baldwin County including the cities of Spanish Fort, Daphne, Fairhope, Foley, Gulf Shores, and Orange Beach.
Step 2 - Prepare Your Home to Sell
Step 5 - Marketing Your Home to Sell
Step 7 - Negotiating Offers on Your Home
Step 8 - Contract to Closing for Sellers