Are you thinking about selling your home this spring?
Although our local market has been booming through the Winter, the big home buying season is closing in. The first day of Spring is on March 20th which gives everyone about 2 months to get their home ready to sell.
Here's a comprehensive list of things you could do that covers just about everything for selling in the Spring....

Spring Clean
This kind of goes without saying but I show a lot of homes. No one will be attracted to a home that is dirty. Period. It's hard to get that image out of your head and the last thing a buyer wants to think about is cleaning the home first before they even move their stuff into it.
Deodorize
Smell is one of our most sensitive senses and we've all seen the commercials about being smell blind. Spring time is a great time to open up the windows and air everything out. By the way, buyers know when you're trying to hide smoke smell with a Buttermilk Pancake and Maple Yankee Candle.
Make as Many Repairs as You Can
In the next section you'll read why getting a pre-home inspection is a good idea. If you do this, you'll get a detailed report of everything that is wrong with your home. It's sounds negative but houses break down over time and the buyer will get their own inspection too. The more repairs that you make now (big and small) will give the buyer confidence that you stay on top of things with your house.
Make Small But Effective Upgrades
Buyers look at everything and you will too when you start looking for your next home. There are a ton of small things you can do to help sell your home this Spring like: replace old light fixtures, change out the door knob to the front door, replace beaten up blinds, and put in a new ceiling fan. Many of these items won't cost you much but could pay big dividends later.
Caulking
One of the biggest interior fails is caulking or the lack there of. I'm sure when the home was built, adequate caulking was applied but every house settles. This is so cheap to fix and will make a big difference in the appearance of your home. Before you paint, go through and re-caulk door jambs, baseboards, countertops, etc. Then on to the next paragraph.......

Paint
Oh, everyone loves to paint (kidding). It's so important to bring the decor of your home to a more neutral state. We live in an era where Millennials are the largest purchasing group in the country. If you want to appeal to the masses you need to go neutral. Millennials love neutral colors, clean lines, and open spaces. Invite some friends, have a pizza party, and take your home back to Khaki. You will be rewarded in the end.
Unload Some Furniture
We all have stuff in our house that we don't use. Excessive furniture can really close rooms up making them feel smaller and reduce flow. Think about it. You're going to have to pack everything anyway, you might as well do it now. You don't want rooms to be bare either because buyers need to picture how things fit in the room. Find a balance.
Staging
You can either read the thousands of articles on staging or hire someone in your area that does professionally. Staging is a technique that features the highlights of your home while enhancing the size. You want your home to feel big, look clean and neutral, but lived in. It's an art.
De-Personalize
You have some time to work with if you're wanting to sell in the Spring so it's a perfect time to take everything out of your house that will remind buyers of you. This sounds harsh but buyers want to see themselves living in the home. Pack up family pictures, figurines, hobbies, and any taste sensitive decor.
Lighting
It sounds so simple but we may get so tied up in making repairs and staging that we forget how dark it looks. Most homes have an ample amount of fixtures so make sure to have all of those fixtures supplied with working light bulbs. If there isn't enough "fixed" lighting, consider lamps. People love open spaces that feel light and bright.
Don't Forget Your Closets
Buyers are encouraged to look into things that will go with the purchase of the home so that includes closets and cabinets. While you're packing up and de-personalizing anyway, go ahead and get rid of everything that you're not using in your closets. You want to project the idea of roominess, not only in the common areas but also your closets.
The Garage
I'm a Realtor in an area where half the people use their garage as a storage area (not for their car). Your potential buyer may not be all into woodworking so if you want to appeal to the masses, now is the time to pack it up. Buyers are interested in seeing themselves in the home - not you.

Think About Major Improvements
Making major improvements is personal and has everything to do with your budget. There are very few improvements that you can make where you'll get a 100% return on your investment when you sell this Spring. On the flip side, the roof that is falling apart may be the very reason your house sits on the market for 6 months. It's a tough pill to swallow, I know, but replacing the HVAC may be the thing to putting a Sold Sign in the front yard.
Clean Windows Are Inviting
This can be a big job but it pays off. For the outside, however, most people can get by with a power washer (but not too close).
The Yard
Spend some time outside to rake the yard, clean out the flower beds, and trim the hedges. I've had buyers who didn't even want to go inside the property because of how the yard looked. The believed the outside was a reflection of the inside.
Mowing and Edging
Try mowing your lawn at an angle. It sounds funny but this sends a signal to the buyer that you pay attention to detail. Also, no one likes grass that's growing over the sidewalk and driveway. No one.
Curb Appeal Is the First Impression
There are dozens of things that you can do to make your home look better from the road and most of them are fairly inexpensive. Just remember, it's the first thing the buyer will see when they drive up. Check out the link above for some ideas.
Spruce Up the Flower Beds
Spring is a great time to visit your local garden center to buy what's in season at the time. Seeing pops of color from the road can only help what you're trying to do - sell your home.
Accomodate the Buyer
"Spring showers bring May flowers." It would be a nice gesture to provide an outside mat and umbrella stand for buyers who are coming into to view your home. Plus, I'm sure you're carpets will appreciate it.
Power Wash
In our area (and I'm sure in most), mildew will build up over time especially if you have a lot of vegetation around the house. Power washers have a tube that you can dip into a bottle of bleach to take care of this problem. Make the outside of your house sparkle for a Spring sale.
Outside Living
Many people spend a ton of time in their backyards and patios so treat your outdoor living areas just like you would the inside. Clean up the decks and patio furniture to make it shine. The buyer wants to picture themselves in your space.

Plan Your Time
Most of us have jobs and family and doing everything on this list isn't rational. However, it's a guide. You'll need the time to prepare your home to sell. Once the For Sale sign is planted in the front yard the bulk of the time will be put on your Realtor but until then, don't stress. Don't hesitate to get your friends and family involved in the process either. This is exactly why I'm writing an article in January about selling in the Spring.
Pre-Home Inspection
I think most of us want to sell our home at its best and one of the ways to do this is to get a home inspection before your list your home this Spring. Yes, the buyer for your home will more than likely order a home inspection as well but this will give you a jump on repairs. Plus, getting a pre-home inspection will take away any surprises after you go under contract. This is a great idea and I highly recommend it.
Hire a Realtor
There are dozens of reasons why you should sell your home with a Realtor, especially in a competitive market. Of course you'll have to pay them but in many cases you may even "realize" a better profit in the end. In today's world you have to get your listing in front of the most people possible and most people just can't do that without the help of a busy and online savvy Realtor.
Choose a Realtor Who's Right for You
Just like in any industry, not everyone is created the same. You'll have some agents who communicate better than others. Some have been in the real estate business for 20 years and others for just 20 days. I'd suggest talking with a few different Realtors to see who has a strong track record and above all, someone who knows internet marketing. Marketing has changed and selling your home this Spring will take more than just putting a sign in the front yard.
Pre-Appraisal
A really good and seasoned Realtor will have the skills to analyze all of the current real estate data in order to price your home right. However, if you live in a rural area or there aren't many recent sales close to your home, you may need to pay for a pre-appraisal. One of the best aspects of hiring a licensed appraiser is that if your buyer tries to low ball your price, you have a professional document to back you up.
Know Your Market
Speaking of pricing, there have been numerous articles (many on this site) that talk about pricing your home correctly to sell. Understanding market conditions is so crucial to selling your home this Spring because it could mean the difference between your property selling quickly or going stale on the market. Your Realtor should be able to give you a solid idea of what homes are selling for and how long they've been on the market. It's a science. Know your market.
Stay Away from Over-Pricing
As mentioned earlier, correct pricing is the key and is the most important factor in selling your home this Spring. Spring is known as the kick-off to the home buying season so there will be an influx of homes that come on the market giving you more competition. Some sellers like to list high then agree to drop their price several times. Buyers and buyer's agents are smart these days so gradually reducing the price of a home is only a signal that more decreases are on the horizon.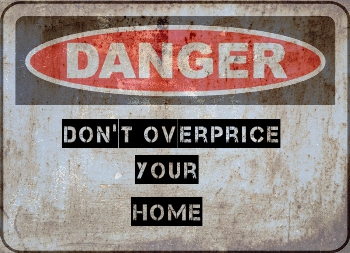 Hire a Photographer
In today's digital world, buyers make decisions based on pictures that they see online. We can't get around that fact. Yes, our phones do take good photos now but it's more than that. The lighting needs to be good. You have to have natural light. The camera lens needs to be cleaned. You know the little things! If your Realtor can't show you proof of excellent pictures, consider hiring someone who can. We live in a digital world, like it or not.
Timelines
Keep in mind that when you do get an offer on your home this Spring, you'll need to have a plan. Now is a good time to start looking for a new home if you haven't already. When you sign your name to an offer, you're agreeing to everything in that agreement, including the closing date. The last thing that you want is to have all of your stuff in storage and sleeping at a hotel while you wait to close on your new home. We Realtors can manage dual closings but you need to start looking.
Seller Disclosures
It may vary from state to state but I've been licensed in 3 of them and they all require sellers to disclose anything that is known and wrong with the property. Failing to do so could put you in a courthouse down the road. Your Realtor will provide you with this document.
Ugh the Pets
We all love our pets. I'm a huge dog lover but they can't be around when showing your house, so have a plan for Sparky. While selling your home this Spring, you want buyers to focus on your house not the cute and cuddly Pomaranian on the couch. I've been in well over 10,000 homes and many dog stories. It's not pretty.
Neighbors
Tell your neighbors what's going on. If you give them a heads up they may not be that negative when there are more than the usual cars parked on the road from people touring the property. I'm actually an advocate for my clients talking to neighbors to give them a gist of the area. You want your neighbors on your side.
Be As Flexible As You Can
Showing your home will be both exciting and annoying at the same time. Yes, you will be annoyed when you get a call from your Realtor that someone wants to visit in 30 minutes during dinner. Better yet, you hear "Hey, I'm in your driveway". Of course you need to accomodate buyers in order for it to be shown. Just try to be as flexible as you can.
Ice Filled Sink
How nice would it be for a buyer to come in to see a sink filled with ice and water bottles, with a note saying "Thank you for visiting, please take one"? A nice added touch.

Figure Out the Costs of Selling This Spring
Well, we all know that it's going to cost us to sell our home so get with your Realtor on this. They will be able to list out all of the costs that are involved including broker fees, taxes, potential repairs, title search, and closing fees. Sellers are often tempted to sell on their own to avoid having to pay broker fees, however, there are many reasons to use a Realtor versus selling FSBO. Be sure to do your homework before taking on that monster.
What's Your Payoff
Call your mortgage company to find out exactly what you owe on your mortgage (if applicable of course). Most of us have an idea of what it is but it's a good idea to know the exact amount. You'll need this information to compare with the costs that are involved in the sale in addition to letting you know how much money you'll get from the proceeds.
Save Your Money
You may be getting a nice return on your real estate investment when it sells but be sure to go easy until closing. Have money set aside for emergency funds, closing costs, and house payments, if you have to move before you actually close on your current home.
Check Your Property Taxes
Most people have their taxes rolled into their mortgage payment but it's good practice to go online to make sure that all of your property taxes are paid in full. This will alleviate any tax surprises at the closing table.
Check Your Credit
For selling, you'll want to look for any liens or judgements from the past that will go against the title of your home. You don't want any surprises at the closing table. Also, this is good information to have if you're getting a mortgage for your next home.
Improve Your Credit
Again, chances are you'll be wanting to live somewhere else after you sell your home this Spring so it's always helpful to limit your credit inquiries, limit new accounts, and pay down your balances. When you're ready to buy, you may be able to get a better rate by doing this. Yeah, it's not a tip to sell your home but good practice for your next home. Since you are selling, this is a great time to work on it.
Other Great Resources for Selling During the Spring:
Home Selling Tips for All Seasons - Bill Gassett
Spring Home Selling Tips - Luke Skar
Beat the Competition and Sell Your Home This Spring - Debbie Drummon
How to Prepare for the Spring Real Estate Market - Kyle Hiscock
About the author: The above Real Estate information on 40 Plus Tips to Selling Your Home This Spring was provided by Jeff Nelson of IXL Real Estate – Eastern Shore. Jeff can be reached via email at jeff@livegulfshoreslocal.com or by phone at 251-654-2523. Jeff has helped people move in and out of properties for nearly 12 years.
Thinking of selling your home? I have a passion for Real Estate and love to share my marketing expertise!
I service Real Estate sales in Baldwin County including the cities of Spanish Fort, Daphne, Fairhope, Foley, Gulf Shores, and Orange Beach.