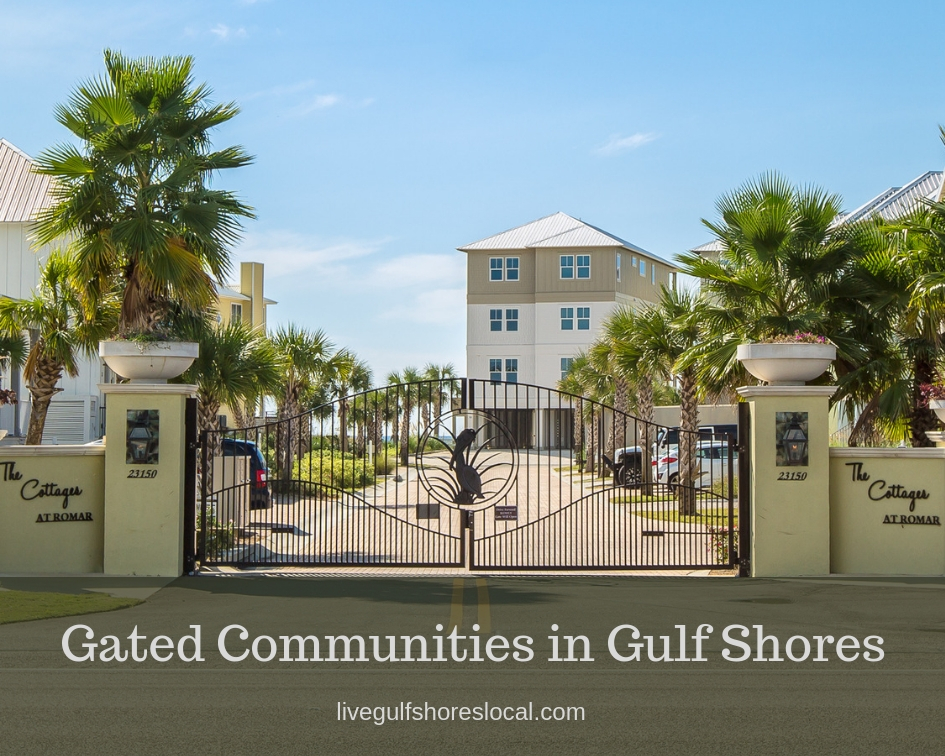 Living in a gated community is a matter of personal taste but here at the beach in Gulf Shores, potential buyers (for the most part) aren't particularly searching for neighborhoods or complexes that are gated.
I think most buyers search online for a property and when they find out that it's gated, they don't mind at all. That's what happened to me when I purchased a condo in Gulf Shores. I do think that the pros outweigh the cons for having a gate at the entrance of your neighborhood.
Gulf Shores does have its share of gated communities. So, for those who find this feature appealing, this article is for you.
All of the neighborhoods and condo complexes below have a gated entry. Just click on any of the links below to find out more about that area and see the homes or condos that are for sale there.
Neighborhoods
Just steps away from the beach in Fort Morgan
Located on a #1 rated Champion Golf Course
Tons of amenities that include multiple pools, clubhouse, fitness room, tennis, and much more.
Many different styles and sizes ranging from 1,000 to 5,000 square feet.
Very private and secluded neighborhood
Located at the west end of W. Beach Blvd
Many of these homes are beach front
Amenities include fishing pier, boat dock, outdoor pool, and tennis.
Nice neighborhood in the north part of Gulf Shores off of Route 8.
Offers a great lifestyle with a basketball court, tennis courts, clubhouse, and pool with waterfall.
Homes are priced at an average of $127 per foot.
On the Intracoastal Waterway and Oyster Bay
3 and 4 bedroom options
2,300 to 3,086 square feet
Offers a deeded boat slip, BBQ area, clubhouse, pool with a heated spa, and exercise room.
Unique property that sits in front of The Beach Club (condos).
2 to 5 bedroom options
Lakefront with the Gulf just steps away
Enjoy all of the amenities of the condo section (which are numerous).
Beach side neighborhood on the far west end of Fort Morgan
Clubhouse, pool, hot tub, and tennis courts
Gated community that includes a security guard
Homes from 1,500 to 4,700 sf
Large homes from 3,300 to 7,100 sf
Private setting on golf course
Exquisite living in the north section of Gulf Shores
Over-sized lots
Very large neighborhood located on a championship golf course
Gated with security guard
Homes are priced from app. $350,000 to $950,000.
27 hole golf course, 30 lakes, indoor and outdoor pools, fitness room, and much more
Brand new as of Feb 2019
Brick paved streets
2 blocks from the beach (not too far from The Hangout)
Most homes here offer 2 bedrooms with 3 full baths and have 1,452 sf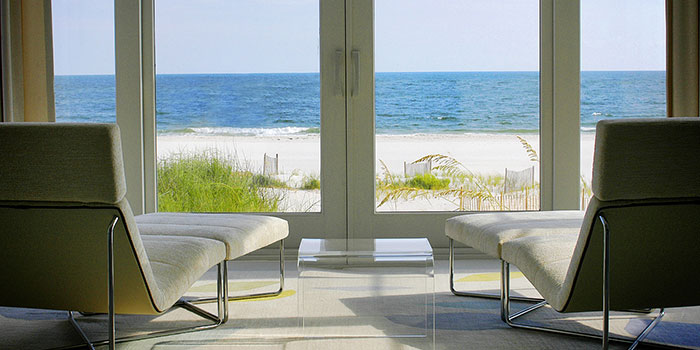 Kiva Dunes View

Condos

Located in quiet Bon Secour on Route 6
Intracoastal Waterway
Deeded boat slip, covered entry, pool, spa, and exercise room
1,200 to 1,700 sf
Inexpensive condos in gated community. Nice.
Priced from $112,000 to $160,000
Off Hwy 59, just north of Route 6
Low HOA fees
Is now called One Club
2 heated pools, hot tub, sauna, tennis courts, clubhouse, and fitness center
9 hole executive golf course - owners play for free
Low HOA fees for what you get
Located beach side, 13 miles down Fort Morgan Road
Priced in the low to mid $200's
Priced at around $295 per foot
Large private beach footprint
Located 13 miles down Fort Morgan Road
Situated on one of the top golf courses in America
Premier condo units
Multiple outdoor pools, fitness center, tennis, and restaurants
Guard at gate
Gulf front with over-sized balconies
2 outdoor pools (one zero entry), indoor pool, 2 hot tubs, sauna
Covered parking
Large 3 bedroom units
Attractive condo complex on the Gulf
13 acres of private beach
Green area and many amenities
boardwalk out to the beach
This neighborhood has single family homes in the front and condos along the Gulf.
Located 17.6 miles down Fort Morgan Road
Boat ramp and deeded slip
Situated on Bon Secour Bay
Priced at around $260 per foot
Gulf front
Modest sized units at modest prices
Next door to Kiva Dunes Golf Course
Many amenities
Secluded and quiet
Large marina. Every condo gets a boat slip.
Clubhouse pool and bay front pool
Views of Bon Secour Bay and Intracoastal Waterway
Great Gulf views and close to The Hangout
Covered parking
Indoor/outdoor pools, hot tub, fitness center
Walking distance to restaurants, shopping, and festivals
Quiet area on the Intracoastal Waterway
Separate ground level storage
Covered parking
Priced at around $185 per foot
Sunset Bay at Bon Secour IV II
Sits next door to its sister building
Deeded boat slips
Amazing views of the Intracoastal Waterway
Great amenities
Located 10 miles down Fort Morgan Road
Has one of the best amenity packages at the beach
Incredible Gulf views with large private beach footprint
4 towers with 600 units
Near the west end of Fort Morgan Road
Close to a marina and Tacky Jacks
On the Gulf but 200 yards from the beach
Well built and private complex
On Fort Morgan Road but near Hwy 59
Attractive complex with New York loft style units
10 foot ceilings with 8 foot doorways
Well priced at around $160 per square foot
Located next to The Dunes
Rooftop terrace
Covered entry
Luxury pool with waterfall
Attractive complex located inside The Peninsula
Upscale living in a private and secluded area
Located on the golf course
Enjoy all of the amenities of The Peninsula
Sits next to The Links
Complex, units, and pricing are very similar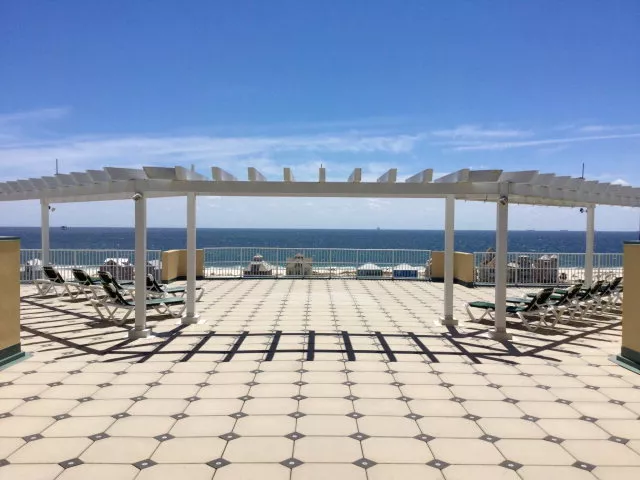 The Indies Rooftop Terrace
Thank you for taking the time to read this article on Gated Communities in Gulf Shores. If you would like additional information on any of these neighborhoods and condo complexes, please contact me from the information below.