Daphne AL is a little known gem of the south that is family-oriented, affordable, and quite frankly, full of southern charm. It's not often where you can find an area that has a hometown feel yet is progressively moving forward. Here you're going to find a plethora of information about Daphne AL and the goal is to provide you with the city's biggest "resource", including information hitting the following topics:
Geography & Statistics
Transportation & Commuting
Real Estate Information
Shopping and Restaurants
Activities & Entertainment
Hospitals & Medical Centers
Parks & Recreation
Schools & Daycare
Churches
Art
and a lot more......
I'm Jeff Nelson, a Daphne Realtor, and I've been working with home buyers and sellers for about 16 years. Fear not, this is not going to be a page about real estate, although a subtle mention may be found. I've created one of the region's largest community/real estate websites (and the Youtube channel isn't too shabby either). In doing so, there is a ton of research that goes on far beyond what homes are for sale in a particular neighborhood. It's really learning about the community so you can intelligently provide information that clients can use.
So, let's get into it and find out........
All About Daphne AL

Geography
Many people think that one of Daphne's best characteristics is where it's located in Baldwin County. You're not too far from our beautiful beach and the Gulf (about an hour), yet you can easily drive to other areas of interest. As you can see from the map below, Daphne is bordered by Interstate 10 to the north which will take you to Mobile AL to the west and Pensacola Fl to the east.
This part of Baldwin County is known as "The Eastern Shore", with Spanish Fort on the north side, Fairhope on the south end, and Daphne sandwiched in between. The Eastern Shore is also known as a Micropolitan area, which means that at least one of areas clusters must have at least 10,000 people with no more than 50,000 residents.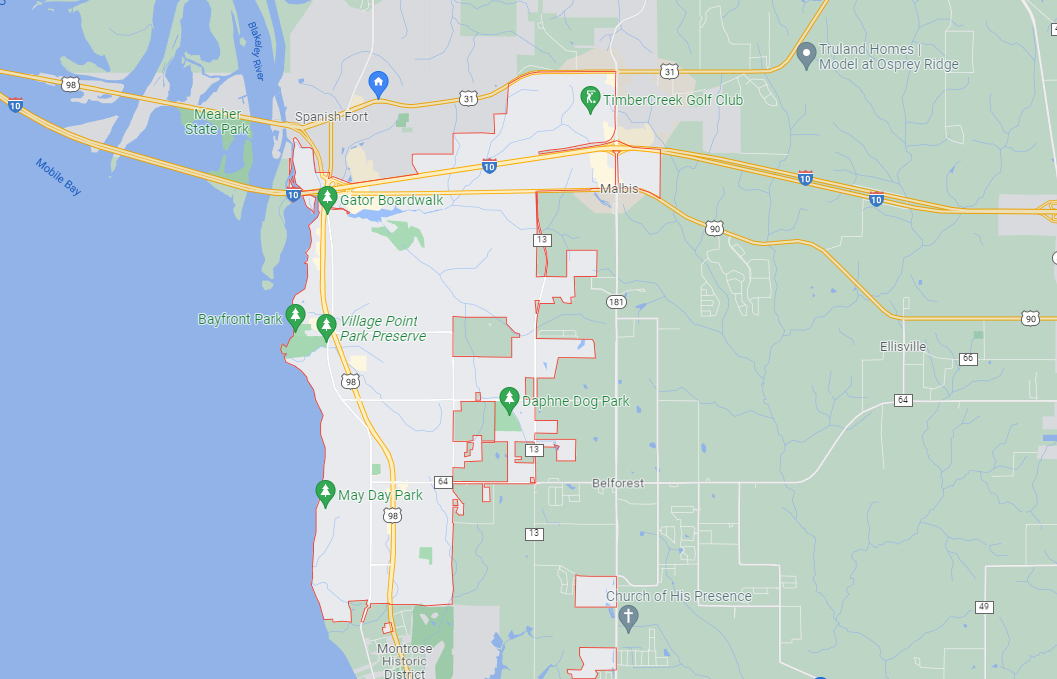 With a total land mass of 18.99 square miles, Daphne AL doesn't have a huge geographical footprint, however there is still a lot of rural space in Daphne that is bursting with the possibility of growth. With the exception of the massive Mobile Bay to the west, Daphne does not offer too many water resources. Yes, you'll find a pond or lake here and there but Mobile Bay is more than enough to provide for watersports and fishing.
Local's Insight: Did you know that Daphne AL is also known as the Jubilee City? A Jubilee is a natural event that occurs when an abundance of fish, shrimp, and crab rise to the surface of the water, allowing onlookers little question as to what's for dinner that night. If you're willing, able, and have great timing, you can fill your tubs full of the bounty that the bay is providing. A Jubilee always happens during the summer and usually just before sunrise.
Most people would think that the topography of Daphne AL is fairly flat but the further you move to the east the city does exhibit some elevation changes. In fact, the highest point in Daphne is 150 foot above sea level (0 being at the shore of Mobile Bay). A good example of this is Lake Forest. This is a very large community in Daphne that is heavily wooded with a lot of varying elevation changes. There is also a golf course here, providing players with a little more challenge and scenery versus a course laid out on an old bean field.
Stats
With a population of 27,462 (2020 Census), Daphne AL is the largest city in Baldwin County and the 20th largest in the state of Alabama. The zip code is 36526.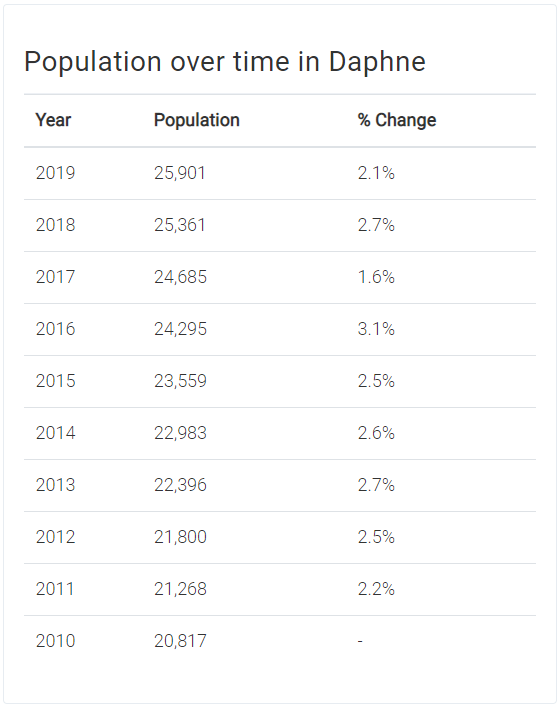 Notable Demographic:
27.95% growth since 2010
Median Age: 37.9
52.29% Female, 47.71% Male
Born in Daphne: 49.62%
US Citizens: 97.9%
Ave Family Size: 3.39
Marriage Rate: 51%
# of Veterans: 2,368
Over 65 years old: 16.6%
Average Earnings: $46,677
Median Household Income: $71,882
96.11% speak only English
Poverty Rate: 12.74%
Labor Force Participation: 62.6%
Unemployment Rate: 3.4%
Has at least a Bachelor's Degree: 41.56%
Public Transportation
There is a small public transportation sytem serving Daphne and all of Baldwin County called BRATS. And, of course, you can find both Lyft and Uber drivers to take you where you need to go. There are also two other private companies that can take you from point A to point B: Eastern Shore Shuttle and Bayside Taxi.
Commuting
The average commute time for the Daphne resident was 25.3 minutes. For all of those who work, 90.8% of Daphne drivers drove alone, 5.3% carpooled, and 3.24% worked from home. The latest figures that I could find were for 2019, so I imagine that those numbers are quite different since the era of COVID came into play in 2020.
The city of Daphne has a fairly simple grid of highways and roads. There are 4 main roadways that move in the direction of north/south:
Hwy 98 - This is used by most people. This is also where you will find the bulk of the businesses in Daphne.
Scenic 98 - This follows along side of Hwy 98. The name says it all. With the exception of a couple of churches, a school, and a short jaunt through Old Towne Daphne, this route is flanked by 100 year old oaks and beautiful homes.
Route 13 - Here you have a long road that will take you Daphne. The speed limits are lower and the road takes you mainly through residential areas. Many locals will use this as an alternative to get around.
Hwy 181 - Located on the east side of Daphne, this major highway has speeds from 45-55 mph and will take you from Interstate 10 all the through the sound end of Fairhope.
Local's Insight: You'll find that much of Daphne still has a lot of rural area. If you're needing to drive east while in the heart of Daphne, there are a few "back roads" that can be helpful. Route 64 (the light at Target) will take you all the way to Hwy 59 and even the Baldwin Beach Express, both of which will take you directly to the beach.
Traffic isn't terrible but it represents about what you would expect with a city of 27,000 residents during rush hour. I find that the biggest traffic headaches are actually on the interstate. Knowing a few of the roads that are off the beaten path should make your life a little easier.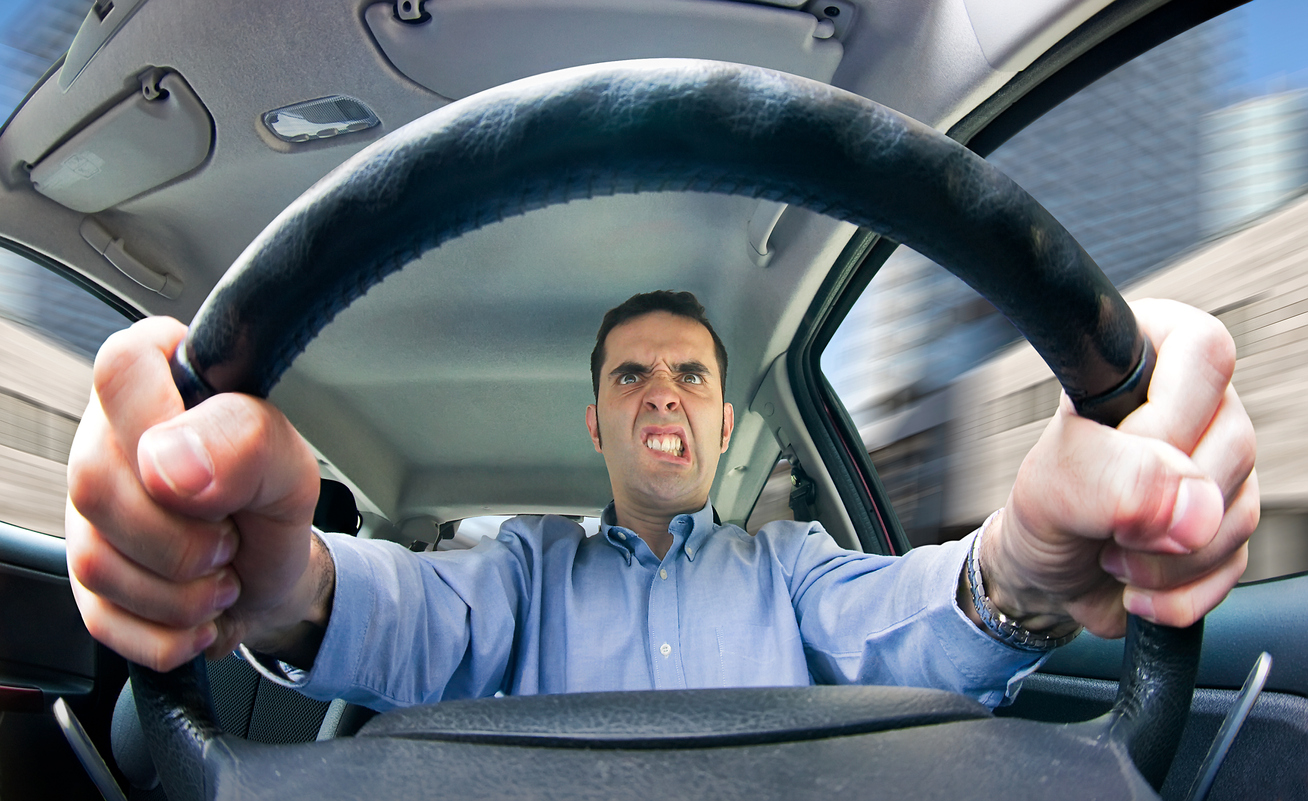 As mentioned earlier, Daphne is in a great location that allows you to get to other points of interest fairly quickly. Here are a few that may interest you.....
From Daphne AL to:
Eastern Shore Center in Spanish Fort (shopping) - 8 miles
Spanish Fort Town Center (shopping) - 4.7 miles
Downtown Fairhope - 5.5 miles
Mobile - 13.6 miles
Mobile Regional Airport - 29 miles
Foley - 25.3 miles
Tanger Outlets (shopping) - 27.6 miles
OWA Theme Park - 29.8 miles
Gulf Shores - 37 miles
Orange Beach - 40.8 miles
Pensacola FL - 53.2 miles
Biloxi MS - 74.6 miles
New Orleans LA - 156 miles

Well, here's the subtle mention of real estate and where I come in. Most of the home buyers who I speak with are from another state so if that's you or you're just thinking about moving across town, this section is a good starting point. First, I've written a few articles that could help you in the process:
All Daphne Single Family Homes for Sale by Price
$100,000 to $200,000 - $200,000 to $300,000 - $300,000 to $400,000
$400,000 to $500,000 - $500,000 to $600,000 - $600,000 to $1,000,000

The link above, Daphne Neighborhoods, contains just about every neighborhood in Daphne with a short description and a link to homes that are for sale in that neighborhood. Of course, you can find every home that is for sale in Daphne by price range above as well.
Pricing
Most of the real estate that can be found in Daphne consists of single family homes (there are only about 9 condo communities in the city). Daphne has a good mix of pre-existing homes as well as new construction neighborhoods. Most of the new construction that I'm seeing offer homes with prices ranging from around $300k-$400k. However, prices for all of the homes that are for sale could range from $100,000 to over $2 million.
I run real estate stats for our county each month and Daphne has either the lowest or second lowest average price per foot among the 6 major cities of Baldwin County.
For the most part, Daphne is fairly wooded so many of the homes that you will see will offer plenty of trees. On the other hand, most of the new construction neighborhoods are void of "mature" trees. As far as home styles go, you'll mostly see 1 story homes that have either a Craftsman or Traditional Style.
Property Taxes
Alabama has the second lowest property tax rate in the country which makes moving here yet another very appealing factor. When people contact me from other states and ask what the taxes are for a particular home, it always brings a smile to my face when I hear their reaction.
Here's how to figure out property taxes in Daphne. You take the value of the home and multiply that by the Assessment Rate which is 10% for a normal homeowner who doesn't rent. That amount is multiplied by the millage rate of the county and the city. For example,
Market Value: $300,000 - Assessment Rate: 10% - Millage Rate: 28 mills for county & 15 mills for Daphne
300,000 x 10% = 30,000
30,000 x 43 mills (.043) = 1,290
Property taxes are $1,290/year

Daphne is resourceful enough to have plenty of shopping and restaurant options within the city but, if you need more, it's not too far of a drive to get what you need. Let's take a look.......
Jubilee Square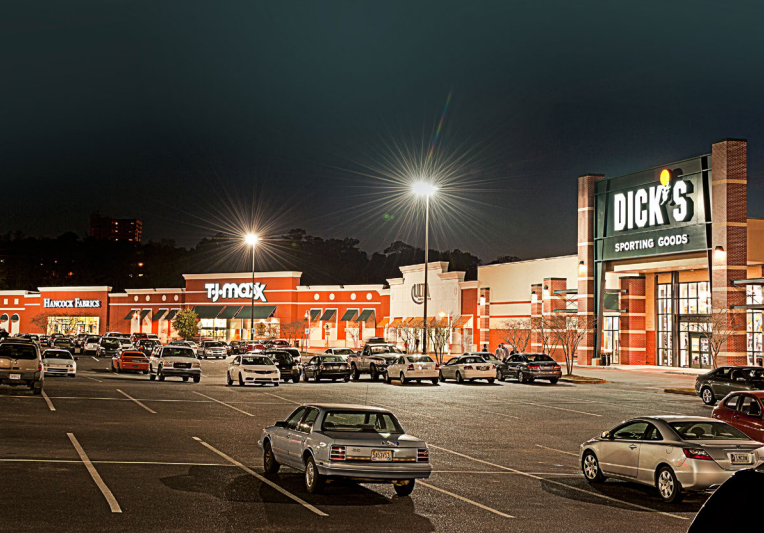 The largest shopping center in Daphne is called Jubilee Square and is located at 6850 US-90 (near the intersection at Interstate 10). There are 40 stores and restaurants in Jubilee Square but here are the most well-known:
Stores

Dick's Sporting Goods

TJ Maxx

Bed, Bath, & Beyond

Hobby Lobby

Home Depot

Office Depot

Fresh Market

Edible Arrangements

Ulta Beauty

Restaurants

Starbuck's

O'Charley's

Five Guys Burgers & Fries

Dickey's Barbeque Pit

Baumhower's Victory Grille

Mediterranean Sandwich Co.

Taco Mama

Firehouse Subs

Longhorn Steakhouse
Spanish Fort Center
Yes, I know we're supposed to be talking about Daphne, but the Spanish Fort Center is just on the other side of the interstate, anchored by Bass Pro Shops. You'll also find Kohl's and Cavender's Western Outfitter.
Here you'll also see one of the most unique entertainment venues around, called The Fort Container Park. The Fort is made up of repurposed shipping containers where patrons can enjoy a number of interesting eateries, craft brew/cocktail options, and live entertainment.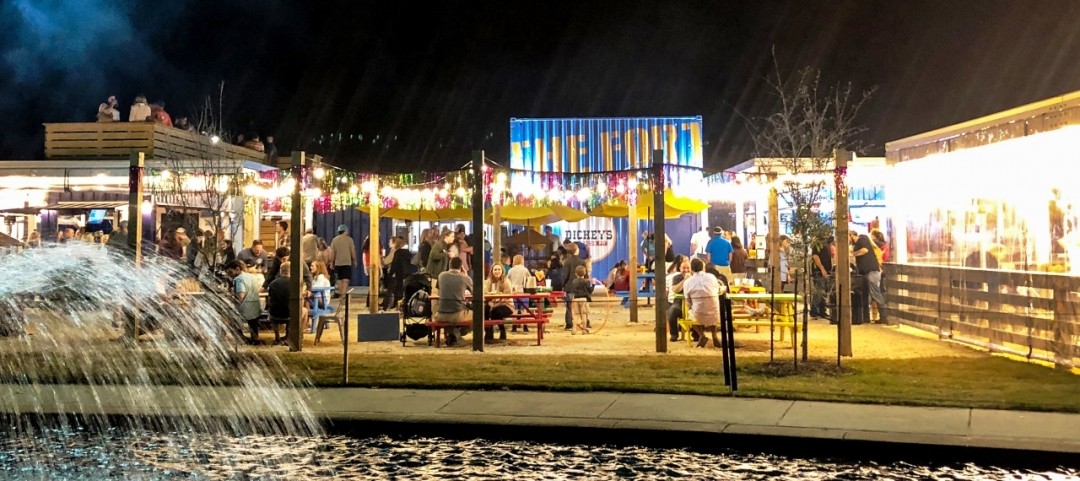 In addition to a multitude of smaller, locally owned stores there is also a Walmart and Target located in Daphne. Grocery and fresh produce markets include: Rouse's Market, The Fresh Market, Publix, Walmart (of course), Hazel's Fresh Produce, and Allegri's Farm Market.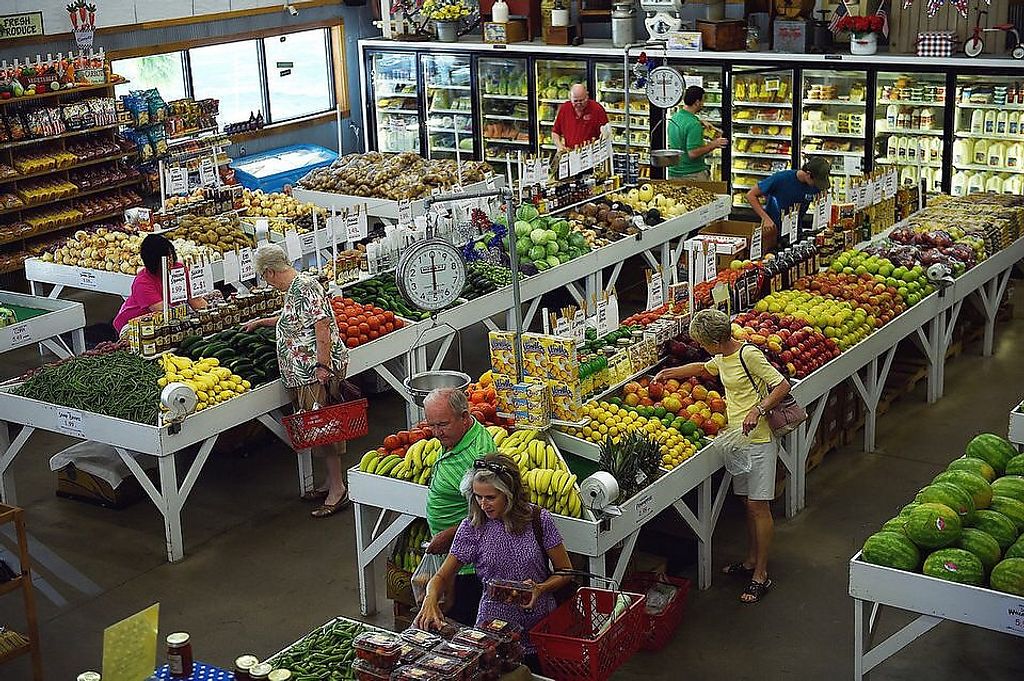 Allegri's Farm Market

If you're looking at a Pro's and Con's List for Daphne AL (that will be another article), the biggest con would probably be that Daphne doesn't really have a huge nightlife scene. So, if you want to go clubbing, you're likely to find more options at the beach or across the bay in downtown Mobile. However, Daphne is a very family oriented town and there are many options for all age groups.
Parks
Daphne has a no shortage parks with some that exude nature and offer wonderful sunset views.
Bayfront Park - located at 6200 Bayfront Drive on Mobile Bay. This is a well known park with the locals and visitors may overlook it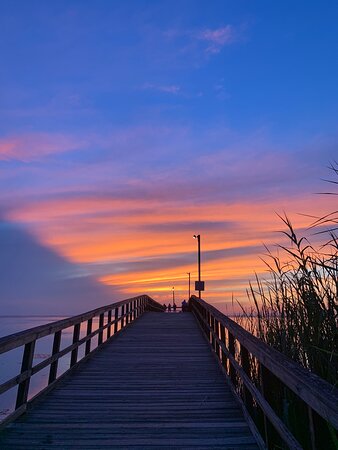 without an article like this one. It is, however, very easy to get there and it offers incredible views of the bay. Be sure to visit at sunset. You'll find kayak/canoe access, restrooms, a picnic/gazebo area, and wonderful boardwalk that meanders through nature, which connects to Village Point Park Preserve.
Belrose Bay Access - located at 90 Belrose Ave. Small area with bay access, a sandy beach,
and picnic area.
Centennial Park - 1706 Main St, across from Daphne City Hall. You'll find a playground, picnic area, and restrooms.
Daphne Central Park - 72 Lakeshore Drive. This is Daphne's very own 18 hole "disc" golf course with walking trails and picnic area.
Daphne Dog Park - 8600 Whispering Pine Rd. Inside the massive Al Trione Sports Complex,
there's a large dog park with 2 fenced areas for small and large dogs, dog play equipment, and dog water fountains.
Gator Boardwalk - 29281 North Main St (entrance is nextdoor
to the Exxon). Here's your chance to see alligators in their own natural habitat. This large boardwalk offers plenty of areas to spot one for yourself.
Dryer Avenue Bay Access - Dryer Avenue and Mobile Bay (by Bayside Academy). Small area that offers views of the bay.
McMillan Bluff - McMillan Ave at the bay. Daphne does have some areas that are perched above the water and here's one of them.
You'll find a deck with benches and stairs that lead down to the water.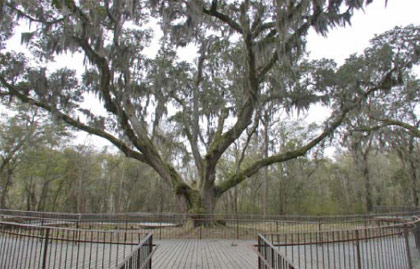 May Day Park - 100 College Ave at the bay. This is a large park that offers plenty of parking, boardwalk, pier for siteseeing/fishing, playground, and restrooms.
Village Point Park Preserve - 27717 Main Street. This is one of the finest and largest parks in the whole county, that's also steeped in history. There are a ton of walking trails and boardwalks, beach access, picnic pavillion area, restrooms, and grill area. Be sure to check out their website for all of the information.
Local's Insight: On the south side of Bayfront Park near the water, you'll find an entrance that leads into the trees. Here you'll find yourself immersed in true Alabama nature as you walk along its boadwalk. This path is several hundred feet long, giving you plenty to explore (you may even see a gator taking a nap in the brush). The boardwalk will eventually lead to Village Point Park where there is a lot more to explore.
Fun Things to Do
So, as you can see, Daphne does have plenty of natural parks but here are a few other things to do in or in close proximity to Daphne.......
Take in a movie at AMC Classic Jubilee Square 12 - Located in the back of Jubilee Square.
Bounce around at Urban Air Trampoline and Adventure Park.
Listen to live music at The Fort Container Park.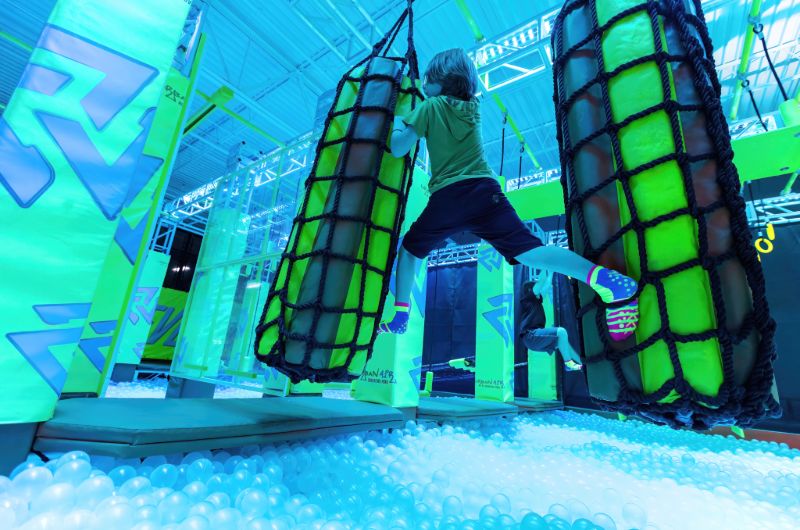 Check out the very cool, indoor glow in the dark mini golf course at Tortuga Adventure Golf.
See the Mobile-Tensaw Delta on an airboat at Airboat Adventures.
Take the kiddos to Brantley Farms Petting Zoo.
Go "old school" at Hot Wheels Skate Center.
Getting Fit and Moving Around
Years ago, a group of people who are dedicated to staying
fit and providing something for everyone created and are helping to maintain the Eastern Shore Trail. This is a 24.7 mile trek that runs from the battleship in Spanish Fort, through Daphne, and ends up at the southern end of Fairhope. This trail is mostly concrete and is perfect for runners and bikers. Check out their site for the map
of the trail.
Here are the gyms that are located in Daphne AL:
Planet Fitness - 29685 Renaissance Blvd
Anytime Fitness - 2020 US-98
Orangetheory Fitness - 6900 US-90
Daphne Fit Body Boot Camp - 26037 Capital Drive
Kayotic Fitness - 8720 Rand Ave
Jubilee Fitness & Nutrition - 27468 World Ct
Bounds Family YMCA - 8051 Whispering Pines Rd
Jazzercise - 26050 Equity Dr Suite F
RxSportFit - 10758 Co Rd 64
Fit Fusion Eastern Shore - 28260 US 98 Suite 1
F45 Training - 1501 US 98
Phy-sique Fitness - 900 Camellia Ln
For those who love to golf, Daphne offers 2 nice courses:


The closest major hospital for Daphne residents will be Thomas Hospital, located at 750 Morphy Ave in Fairhope. The other 2 hospitals in the general are Mobile Infirmary in Mobile, AL and South Baldwin Regional Medical Center in Foley.
Here are a few other medical facilities in Daphne:
Thomas Medical Center - 27961 US 98
Diagnostic and Medical Clinic - 9570 US 90
American Family Care - 6631 Park Dr
Infirmary Eastern Shore - 7101 US 90
Urgent Care by the Bay - 1208 US 98
Daphne Family Practice - 27961 US 98 Suite 20
Eastern Shore Urgent Care - 29710 Urgent Care Dr
Eastern Shore Family Practice - 27961 US 98 Suite 14
Thomas Hospital Emergency in Malbis - 29487 AL 181
Premier Medical Group - 1302 US 98
Urgent Care for Children - 6883 US 90

Daphne Public Schools
Daphne Elementary School - 2307 Main St
Daphne East Elementary School - 26651 County Rd 13
Daphne Middle School - 1 Jody Davis Circle
Daphne High School - 9300 Champions Way
Baldwin County Virtual Secondary School - 605 US 98
WJ Carroll Intermediate School - 1000 Main Street
Daphne Private Schools
Bayside Academy - 303 Dryer Ave
The Community School - 29964 St Basil St
Christ the King School - 1503 Main St
Renaissance School of the Eastern Shore - 10526 County Rd 64
Ascension Christian School - 8888 County Rd 64
Eastern Shore Montessori School - 980 Main St
So Daphne AL is one of the fastest growing cities in the fastest growing county in the state. Fact. It's important to know how Baldwin County is dealing with this. Here are some quick facts about the county's school system in general....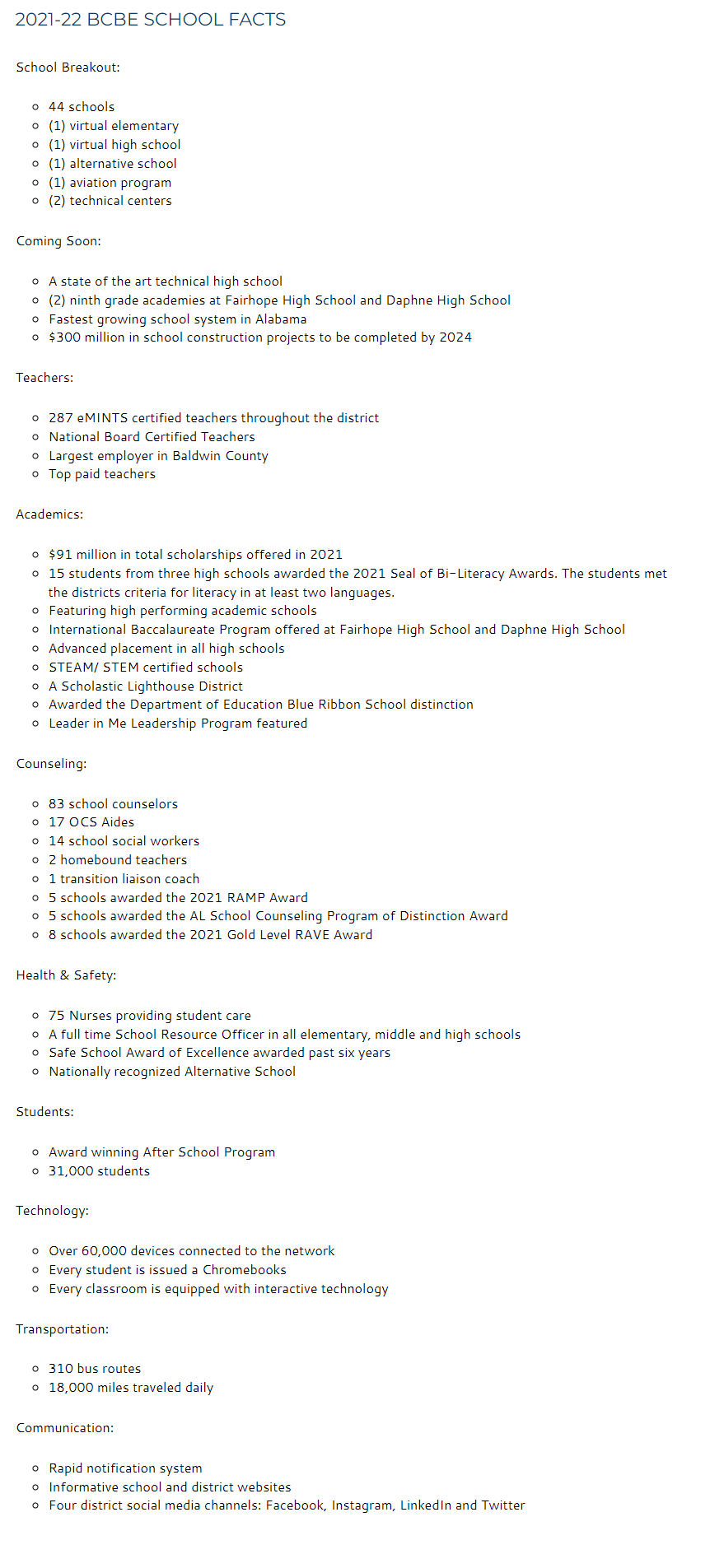 School systems are a very personal decision for you and your kids so I don't want to "influence" you in any way. However, I think you'll find that Daphne schools are ranked well and a good choice. Here are some links that can help you make your own decision...
The links below will take you right to the Daphne pages:
Daphne Daycare
Big Blue Marble Academy - 29669 Renaissance Blvd
Tiny Tots Academy - 25478 Friendship Rd
Kids Kabin Day Care Center - 27730 Main St
Our Little Sprouts Daycare and Preschool - 28848 N Main St
Color Us Kids Learning Center - 26000 Nelson St
Little Crusaders Learning Center - 9023 Lawson Rd
Hermes Enchanted Garden - 1005 Main St Suite 200
Weinacker's Montessori School - 28765 N Main St
Neighborhood School - 26481 Kensington Pl

Yes, we're in the bible belt and there are plenty of choices of Daphne churches no matter what denomination you prefer. I go to City Hope but here are a few others that you may want to consider.......
City Hope Church - 29964 St Basil Street
Eastern Shore Baptist Church - 6874 Park Drive
St. Paul's Episcopal Church - 28788 N Main Street
Resurrection Church - 2401 Main Street
Destiny Church International - 28328 County Rd 13
Exalt Community Church - 25558 Friendship Rd
Church of the Highlands - 2603 US - 98 (Daphne Civic Center)
Jubilee Baptist Church - 9264 Pleasant Rd
The Rock Church - 26471 County Rd 13
Daphne Baptist Church - 1515 6th Street
African Universal Church - 8355 Jonesboro Rd
Christ Presbyterian Church - 8450 Whispering Pines Rd
Eastern Shore Church of Christ - 1209 Daphne Ave
Church of His Presence - 24142 AL 181


Do you need a little more culture in your life? Daphne has some choices......
The Jubilee Festival usually happens during the fall where it takes over the streets at Olde Towne Daphne. Here you'll fine local artists from the region showcasing their talent in sculpture, painting, sketches, handmade jewelry, and a lot more.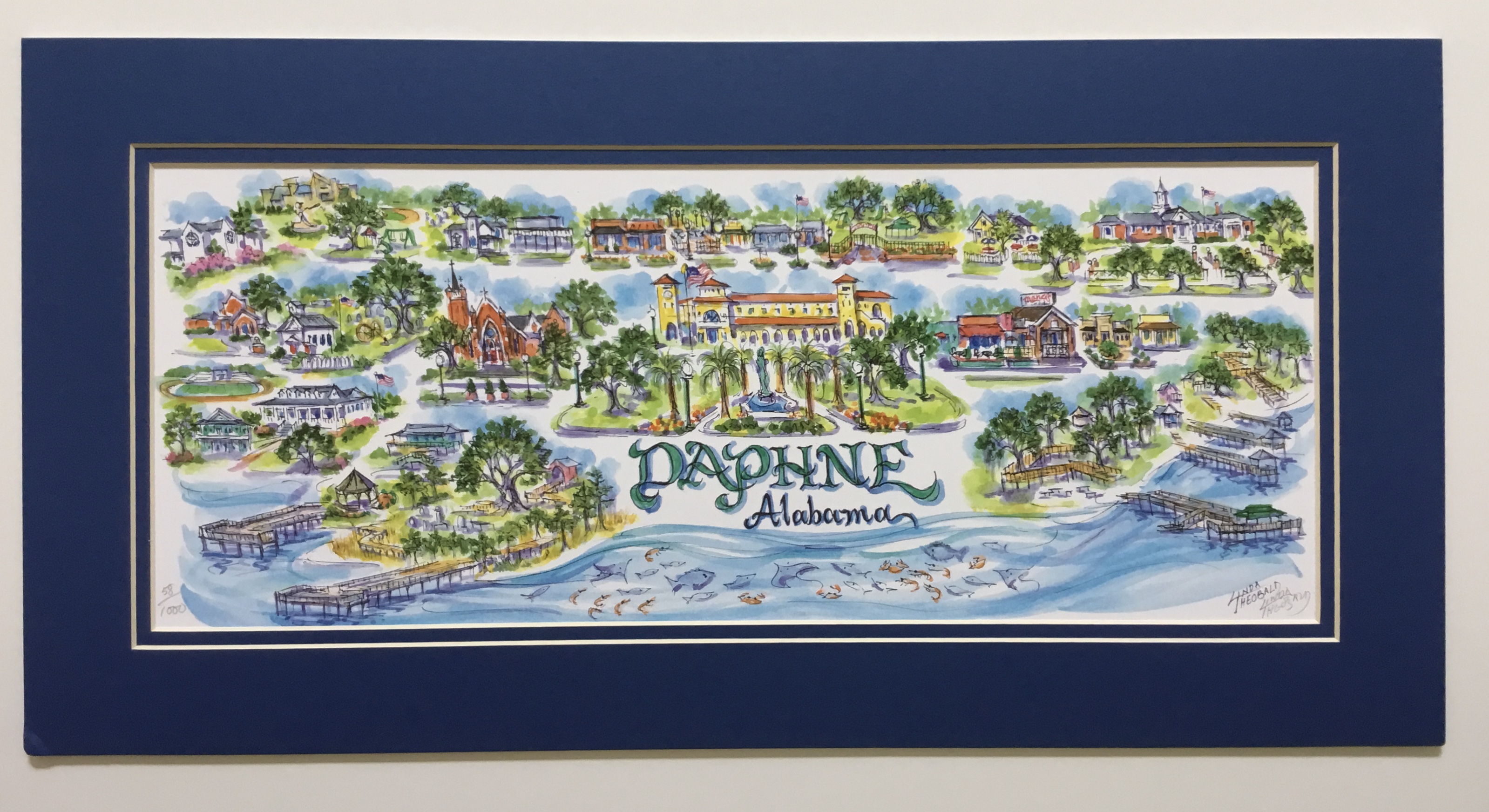 Thanks for taking the time to read this! My hope is that you found something useful for your life in Daphne and if you ever never need help in real estate, this is what I do.