Gulf Shores Real Estate Guide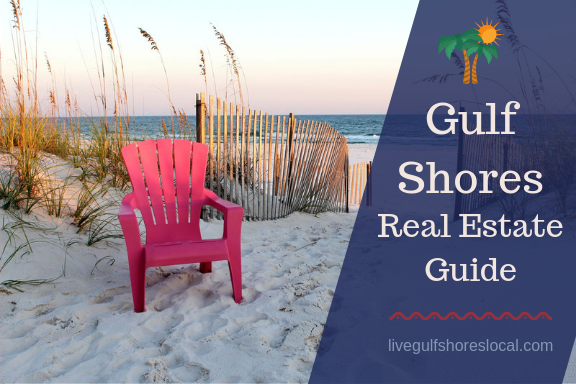 The following information is brought to you by Jeff Nelson of eXp Realty Southern Branch.
For those of you who are considering either buying or selling real estate in Gulf Shores, you should find this guide very helpful. It's going to cover many different areas including real estate market conditions, the surrounding area, demographics, and so much more. I've been selling homes and condos for over 13 years, loving what I do while working with new clients. After going through this real estate guide, please get in touch with me if you have any questions at all about a particular property, market conditions, or our community. I look forward to working with you!
As you probably already know, many buyers who are thinking about Gulf Shores are looking to invest in a beach front condo or a second home. However, we also have a ton of people who are moving to Gulf Shores to live here full time. Either way, this guide should prove itself useful in your real estate endeavors.
With a population of 11,358, Gulf Shores is the 4th largest city in Baldwin County, preceded by Daphne, Fairhope, and Foley. Although we do have millions of people who visit our beach every year, most people would agree that the city's population isn't that large at all. Gulf Shores definitely gives off a "small town" vibe where people say hi to each other at the store and willing to lend a hand to a neighbor in need.
Gulf Shores is of course located along the Gulf of Mexico with Orange Beach to the east and Foley to the north. According to Wikipedia, Gulf Shores has a total area of 32.92 square miles, 4.85 square miles of that is water.
Here are the topics that you'll find below:
The Gulf Shores Real Estate Market
Steps to Take for Buyers and Sellers
Popular Neighborhoods
Popular Condos
Housing & Population Statistics
Gulf Shores Weather
Economy
Population by Occupation
Gulf Shores Schools
Educational Statistics
Nearby Hospitals & Medical Centers
Gulf Shores Parks
Top 10 Restaurants
Gulf Shores Real Estate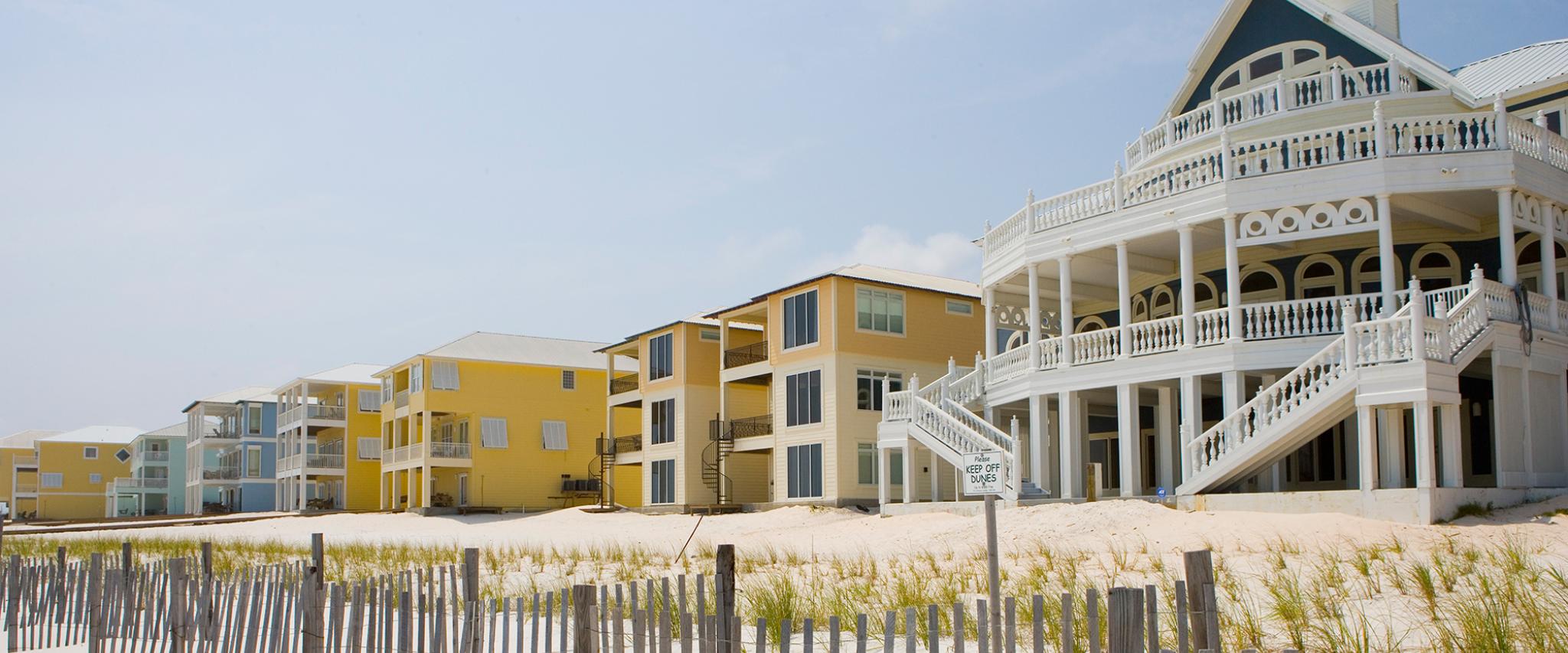 Gulf Shores has been in demand with home and condo buyers for a very long time and there are no signs of things slowing down in the near future. Our beautiful beaches, the Gulf, and laid back lifestyle continue to draw people in from all over the country.
Here are the Year-to-Date totals for July 2019:
685 homes and condos sold
Total sold real estate volume – $236,086,380
Average days on the market – 98
Average sales price – $344,651
Average price per foot – $232
Listing to selling price ratio – 96%
As you can see, our little part of the world is consistently closing on over 100 homes/condos per month and the demand doesn't seem to be backing down.
Current Gulf Shores Real Estate Market Conditions
Single Family Homes for Sale

| | | | | | |
| --- | --- | --- | --- | --- | --- |
| # of Units | Median List Price | Highest | Lowest | Ave Square Feet | Price Per Foot |
| 305 | $430,000 | $4,900,000 | $90,000 | 2,325 | $260 |
Single Family Homes That Recently Sold
| | | | | | |
| --- | --- | --- | --- | --- | --- |
| # of Units | List Price | Selling Price | Highest | Lowest | Price Per Foot |
| 52 | $418,570 | $398,496 | $1,295,000 | $92,500 | $176 |
Condos for Sale
| | | | | | |
| --- | --- | --- | --- | --- | --- |
| # of Units | Median List Price | Highest | Lowest | Ave Square Feet | Price Per Foot |
| 331 | $298,400 | $1,754,000 | $135,000 | 1,259 | $299 |
Condos That Recently Sold
| | | | | | |
| --- | --- | --- | --- | --- | --- |
| # of Units | List Price | Selling Price | Highest | Lowest | Price Per Foot |
| 44 | $307,552 | $297,417 | $775,000 | $129,000 | $266 |
All of the figures above regarding homes and condos that sold were taken from the real estate activity of the last 30 days. So, to put it in perspective, that's over 3 real estate closings every day of the month. That's not bad at all for a town the size of Gulf Shores.
You'll notice the listing to selling price ratio in the year to date totals as 96%. This means that (on average), buyers were able to get 4% off of the original asking price. So, this tells us that Gulf Shores is still in a slight buyer's market. Since the market is favoring the buyer "at the moment", this is a great time to purchase a home or condo.



I've written a thorough guide on the steps to take for both buying and selling real estate in Gulf Shores. It's too big to put all of the information here so please see below to check that information out. Here's what you'll see….
11 STEPS TO BUYING A HOME
Establishing a Budget
Work with a Realtor (that would be me)
Become Pre-Approved for a Loan
Identifying Your Needs and Wants
House Hunting
Writing Your Offer
Final Approval for your Loan
Contingencies and Terms of the Contract
Set Up Your Insurance and Utilities
Your Final Walk-through
Closing on Your new Home or Condo
Go to the following link to continue reading, 11 Steps to Buying a Home.
9 STEPS TO SELLING A HOME
Deciding to Sell Your Home or Investment Property
Making Preparations to Sell
Hire a Realtor
Pricing Your Home or Condo Right the First Time
Marketing Your Property
Handling Showings
Negotiating the Offer
The Contract
Close on Your Property
Go to the following link to continue reading, 9 Steps to Selling Your Home.

The Cottages at Romar

When most people think of Gulf Shores real estate, they think of towering condo towers along the beach. Well, there are plenty of very nice single family neighborhoods here as well. Here are a few areas that are popular among home buyers...
The Peninsula - This well-appointed neighborhood is gated and situated along one of the areas most popular championship golf course.
The Retreat at Bon Secour - Quiet neighborhood located off of Route 4, along the Intracoastal Waterway. You'll find new homes from $400,000 to $500,000.
Martyn Woods - This is a secluded area off of Route 6 in Gulf Shores. Nature abounds in the sought out neighborhood. Homes are priced from $137 to $260 per square foot.
Laguna Key - Laguna Key is a very nice beach-side community that is located at the far end of West Beach Blvd. Many of the homes here are very large and face the Gulf.
Craft Farms - Craft Farms is a large neighborhood that's situated around 2 Arnold Palmer golf courses. You'll find homes in a variety of styles with varying prices.
Fort Morgan - This part of Gulf Shores is more like a section than a neighborhood. We locals consider the majority of the peninsula in Gulf Shores as Fort Morgan. Here you'll mostly fine single family homes on stilts that are either on the water or just a block or two away.
Not seeing what you're looking for? Click on the following link to see all Gulf Shores neighborhoods.
ALL GULF SHORES SINGLE FAMILY HOMES FOR SALE BY PRICE

$100,000 to $200,000 – $200,000 to $300,000 – $300,000 to $400,000
$400,000 to $500,000 – $500,000 to $600,000 – $600,000 to $1,000,000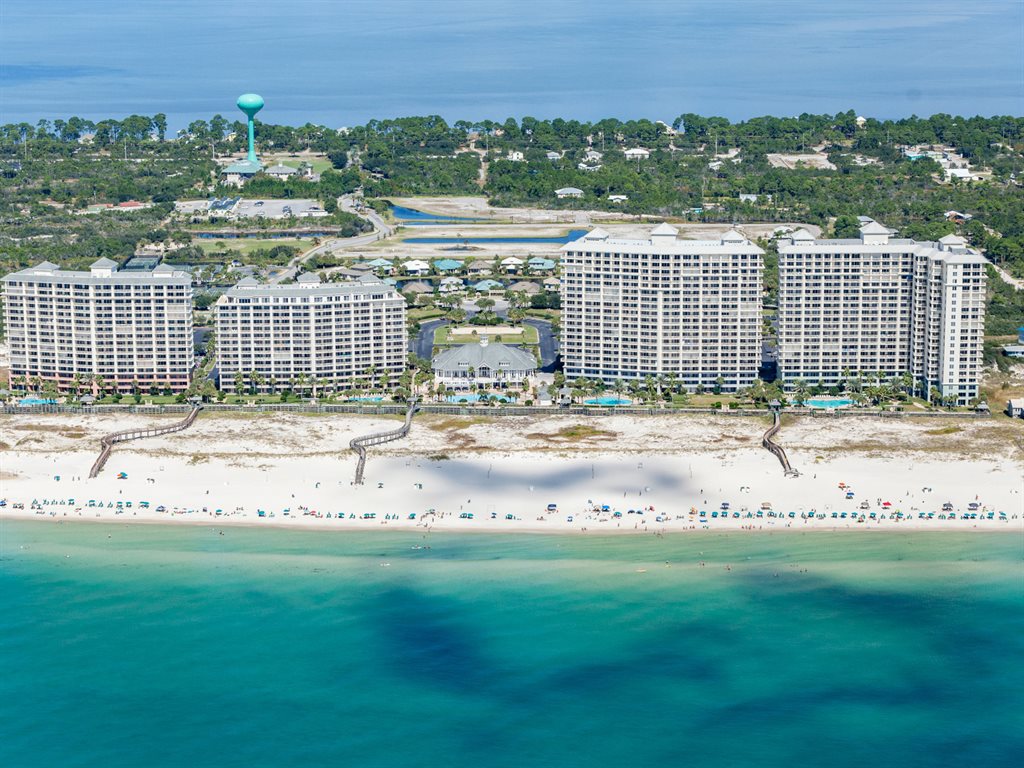 The Beach Club
Now this is what most people think of regarding real estate in Gulf Shores. Condos! Most of the condos in our area will be associated with some sort of water view, whether it's the Gulf, Little Lagoon, or the bay. We have some incredible properties here that attract buyers from all over the country. Here are some of the most popular....
The Beach Club - This is one of the most popular complexes on the Alabama coast. The Beach Club has 4 towers on 86 acres of prime beach real estate. This community also offers a fantastic amenity package.
Sailboat Bay - Here you'll find a very different community in Gulf Shores. Located on Bon Secour Bay and the Intracoastal Waterway, SBB offers boat slips, 2 pools, tennis courts, peace, and quiet.
San Carlos - This gulf front tower is located on the beach and very close to The Hangout and activities.
Seawind - Seawind is another gulf front complex that's near "downtown Gulf Shores". You'll find units with 2 bedrooms plus a bunk room.
Crystal Tower - Crystal Tower is unique as it is the only complex at the beach with an enclosed walkway over to the beach. 2 outdoor pools and indoor pool make for great amenities.
Find a list of all Gulf Shores Condo Communities here.
ALL GULF SHORES CONDOS FOR SALE BY PRICE

$100,000 to $200,000 – $200,000 to $300,000 – $300,000 to $400,000
$400,000 to $500,000 – $500,000 to $600,000 – $600,000 to $1,000,000

Gulf Shores' population of 11,358 is the 4th largest of the 6 major cities of Baldwin County and has increased by 16.6% from 2010. This increase is the 2nd largest for the area. Population density is 430 people per square mile, which is the 3rd largest in the area.
The median age is 51.6 overall, 50.7 for men, and 52.6 for women. The male population is 20.8% smaller than the female population. 54% of the total population are married.
The community is vibrant and growing at a steady pace with an increasing number of home buyers moving here from other parts of the country (namely the north).
Other Real Estate Statistics for Gulf Shores
There are a total of 12,959 homes and condos in Gulf Shores with a home density of 491 housing units per square mile. This is largely due to the amount of condo communities in the area. The total number of homes and condos represent a 9% increase since 2010.
60.2% of homes are owner occupied and 39.8% are occupied by renters (most of which are short term rentals by tourists).

This chart shows homes that have sold within the last 6 months.

Gulf Shores' hot season lasts from May 27th through September 26th with an average daily high of 84 degrees. The cooler season lasts from December 4th through March 5th with an average daily high temperature of 67 degrees. The coldest day of the year is January 29th.
The temperature rarely drops below 30 degrees or rises above 94 degrees.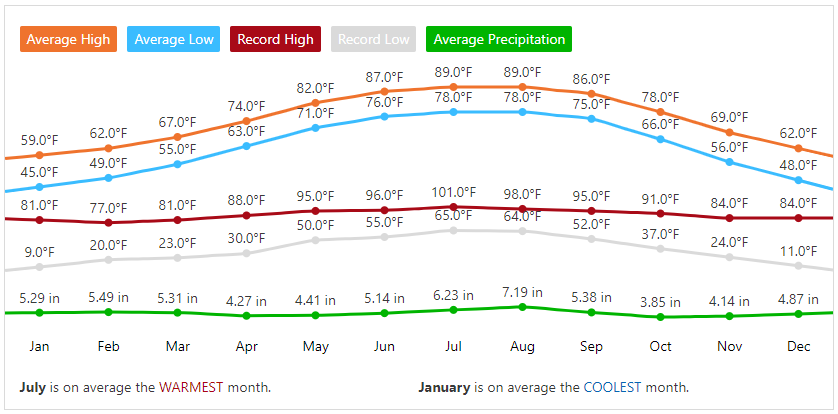 The wettest time of year in Gulf Shores is the 31 day period centered around July 21st, with an average of 5.8 inches of rain.

The job market in Gulf Shores has increased by 3.3% over the last year and is expected to increase by 43.8% over the next 10 years. This is nearly 10 points higher than the national average. At 88.48%, the vast majority of the workforce in Gulf Shores have white-collar jobs. The most prominent occupations are in sales, management, and food service.
The highest paying industries in Gulf Shores are:
Legal Occupations
Business and Finance Operations
Management
Personal Care and Service
The cost of living is 3.40% higher than the national average.
| | |
| --- | --- |
| Unemployment Rate | 3.6% |
| Recent Job Growth | 3.3% |
| Future Job Growth | 43.8% |
| Sales Taxes | 10.0% |
| Income Tax | 5.0% |
| Income Per Capita | $38,449 |
| Household Income | $50,227 |
| Family Median Income | $77,300 |
Household Income Brackets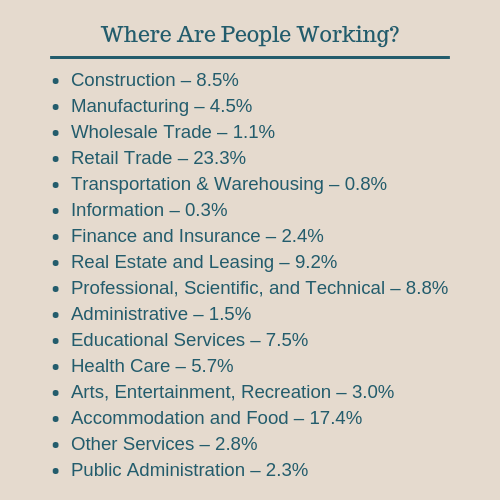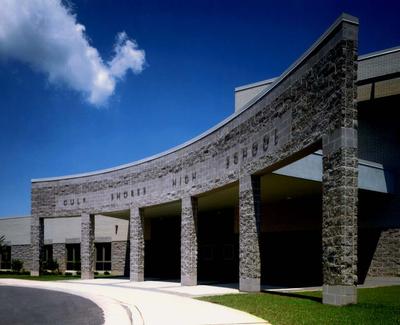 For Gulf Shores public schools, the student to teacher ratio is 17.3 and $8,731 is spent per student.
Gulf Shores Elementary School
1600 E 3rd St
251-968-7375
website
Gulf Shores Middle School
450 E 15th Ave
251-968-8719
website
Gulf Shores High School
600 E 15th Ave
251-968-4747
website
South Baldwin Christian Academy
6900 AL-59
251-968-1230
website
Grace Christian Academy
521 Windmill Ridge Rd
251-968-4352


Education Highlights for Gulf Shores:
97% is at least a high school graduate

25% have an Associate's Degree
35% have a Bachelor's Degree or better
20% have a Master's Degree
3% have a Doctorate Degree
92% of students are enrolled in public school, 8% in private

South Baldwin Medical Center
101 E 15th Ave
251-962-1250
website
Sacred Heart Medical Group
1700 W 2nd St
251-967-4000
website
Gulf Shores Medical Center
200 Office Park Dr B
251-968-7379

South Baldwin Regional Medical Center (Foley)
1613 N McKenzie St
251-949-3400
website
Orange Beach Medical Center
4223 Orange Beach Blvd #A1
251-974-3820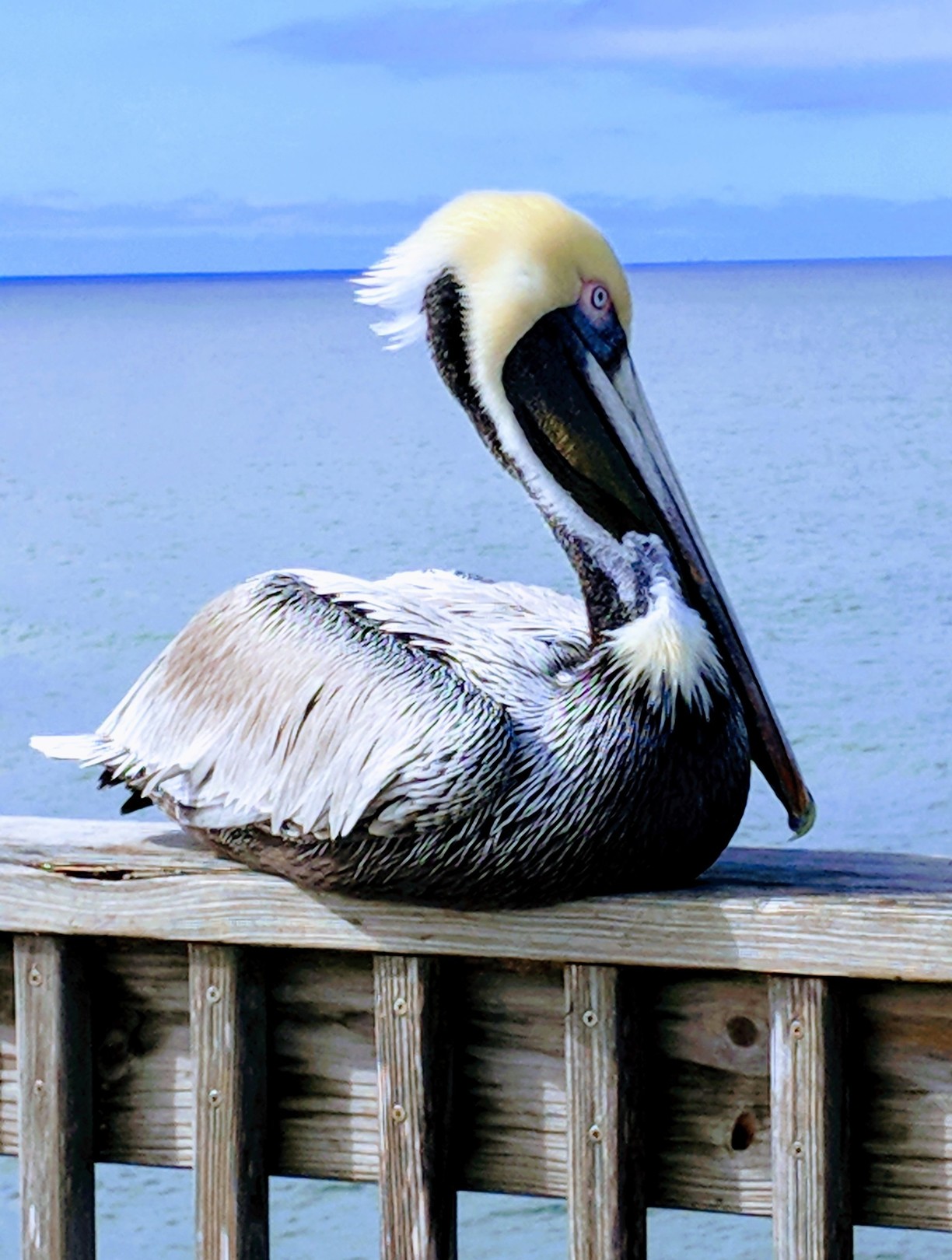 If you're purchasing Gulf Shores real estate for yourself or for your renters, there are plenty of wonderful parks to enjoy to explore nature and have some fun.
Gulf State Park
20115 AL-135
251-948-7275
website
Wetlands Park
19025 Oak Rd W
251-968-1420
website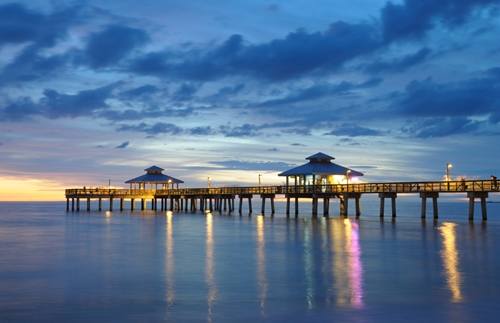 Johnnie Sims Park Pavilion
348 W 19th Ave
251-968-2425
website
Meyer Park
400 E 22nd Ave
251-968-1173
website
Wade Ward Nature Park
500 Gulf Shores Pkwy
251-968-1420
website
Bon Secour National Wildlife Refuge
12295 AL-180
251-540-7720
website

Gulf Shores has plenty of great places to eat from Royal Reds to Snapper to Steak. According to Yelp, here are the Top 10 Places to Eat in Gulf Shores.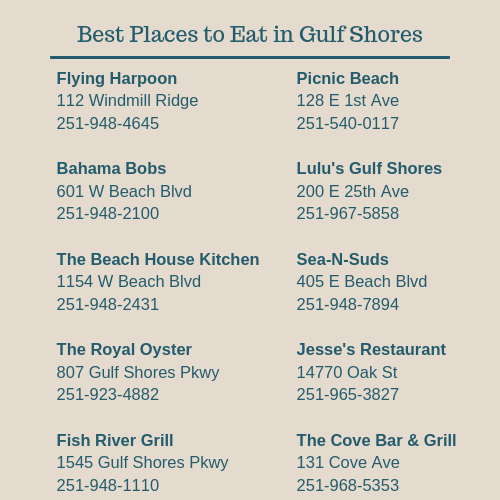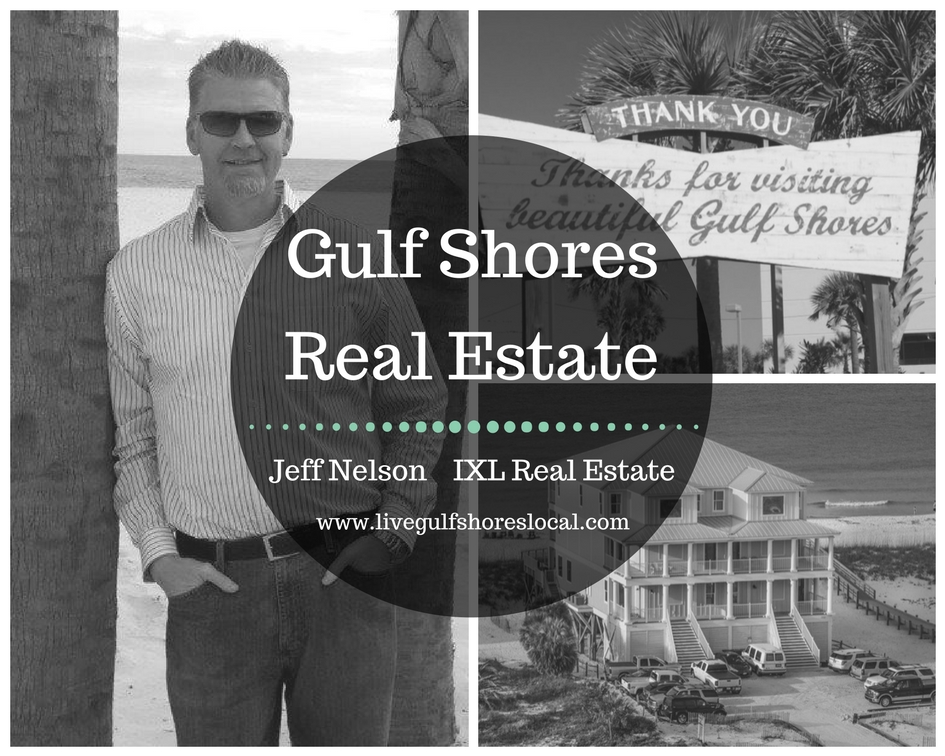 Thanks for taking the time to read through this guide for Gulf Shores real estate. With over 13 years experience selling homes and condos, I'll provide you with top notch customer service as well as market expertise and negotiating skills.
Having an experienced real estate professional on your side will save you time, money, and stress. I'll take care of you throughout the process looking only out for your best interest. From finding the perfect property to working through the purchase agreement, my goal is to create an environment that is enjoyable, productive, and organized.
Whether you are buying or selling a home, I'm committed to helping my clients make excellent real estate decisions. Put me to work! If you're in the market to buy or sell your home or condo, call/text/email me today!
Jeff Nelson
251-654-2523
jeff@livegulfshoreslocal.com